Allen Duke's 1964 Chevrolet Impala SS
From Kustomrama
1964 Chevrolet Impala SS owned by Allen Duke of Wilmington, California. Born in 1947, Allen grew up in the Harbor Area of South Los Angeles. His early interests included model cars, bicycles and later, motorbikes. In his early teen years, Allen began driving the family car when his parents attention was diverted elsewhere! By the time he was old enough to legally drive, he had acquired a 1951 Ford. The car had a broken transmission, and Allen had to pay $15 for it. He replaced the transmission with one from a junkyard and started cruising the streets. A number of cars followed, mostly tri-five Chevys, before he ended up buying his parent's 1958 Chevrolet.[1]

In late 1964 Allen decided it was time to make his mark in the custom car world that he was seeing daily on the streets of the community. With his parents as co-signers to a loan, he purchased a brand new 1965 Chevrolet Impala from Seaboard Chevrolet on Pacific Ave. in San Pedro. The payments were $106 a month. Custom wheels and other mild modifications followed shortly. Unfortunately, less than a year later the car suffered an unfortunate accident and was wrecked front and rear. Repairs were made but he ended up trading it in for an almost new 1964 Chevrolet Impala Super Sport that was on the lot of Cormier Chevrolet in Carson. Allen remembers that the completion of the deal was delayed a couple of hours by a power failure caused when the Goodyear blimp crashed into electrical lines near the ARCO refinery![1]

When Allen bought the '64 Impala it was stock white with a blue factory interior. No time was wasted in turning the newly acquired car into a custom cruiser. The exact sequence of events is hard to pin down now, but probably the first order of business was custom wheels. Early photos shows the car rolling on chromed wheels with slots radiating out from the center, probably a product of Appliance Plating in nearby Gardena. Soon though, the standard cool wheel of the day, the Astro Supreme, would be in place and the coils would be cut front and rear for the highly desired lower stance. And of course, at some point duel glass pack mufflers were added, along with a 45rpm record player and 8 track stereo player to provide the proper accompanying sounds. This was cruising in style in the mid-1960s.[1]

A lowered car was great, but Allen figured that if some was good, some more must be better, and he wanted to go even lower. Hydraulic lifts were popping up on cars around town, and Allen doesn't remember who he contacted, except that it was two black guys from Compton. He turned the car over to them and in a short while got it back, with cylinders in the front. This was way cool for the time but before long he would have an opportunity to acquire two more cylinders and another pump. He installed these in the rear himself. The car was now capable of being laid out front and rear, making Allen a serious player in the game! The time had come to think about a custom paint job for the Impala. As Allen's budget didn't allow for a full on professional treatment from the likes of Larry Watson or Joe Andersen, he had a local body shop repaint the Impala in a two tone light blue enamel. As an added custom touch, and in keeping with the style of the day, two sunken radio antennas were added just behind the driver's door. About this time it became obvious that the Chevy's stock interior no longer fit in well with the numerous exterior modifications, so Allen contacted Slim's Top Shop in Carson for a complete redo of the inside. The result was diamond pattern button tuck upholstery applied to the seats, door panels and package tray in pearl white Naugahyde. Even the sail panel of the top got the treatment! The dash on the car was not padded originally so Allan painted it in a matching pearl white and chromed the glove box door and a part of the instrument panel. At this time a custom three spoke steering wheel of smaller diameter was installed. The car was now looking like a very credible boulevard cruiser, thanks in large part to a squad of neighborhood kids who waxed the enamel paint until it looked like clear lacquer. Allen was busy putting it to good use on the on the streets and in the drive-ins around the area.[1]

At first glance the installation of hydraulic lifts might seem like a clever solution to the long standing problems (both physical and legal) of ground clearance for custom cars. That wasn't quite the case though. The early efforts at using hydraulics to adjust the ride level of a car were centered around surplus military aircraft equipment, much of it left over from WW2. Since it wasn't anticipated that these items would see reuse in planes there was no regulation or oversight as to the quality of the product. Some of the components available were new, never before used. Some of it had been overhauled to US military specs. And some of it was worn out junk. The good part was that there was plenty available and at a reasonable cost. The two big suppliers in the LA area were Palley's and Earl's. But an even bigger problem was the people installing the hydraulic setups. Some were talented backyard mechanics and some were enthusiastic amateurs. But none were trained engineers and few were professional craftsmen. An additional problem was a lack of information on how hydraulic systems worked. There was of course no Internet and magazines of the era rarely featured custom cars, much less technical articles about them. So it was that the quality of the workmanship and, as an end result, the reliability and safety of the vehicle was all too often an issue.[1]

With the safety of the motoring public being brought into question it was inevitable that law enforcement would become involved. Lowered cars, and in fact all types of modified vehicles operated by youthful drivers, had long been a thorn in the side of the police. As a result vehicle code enforcement was vigorously pursued in many communities. Some felt that it appeared as though "the MAN" seemed all too eager write up any car that could be found with even the most minor violation and in many cases these suspicions were well founded. In the case of hydraulic lifts there seemed also to be an extra element of anger directed at a lowered car that, at the flip of a switch, could be raised to a legal ride height. This was like a slap in the face to many cops, seemingly making them somewhat the butt of a big joke. And they didn't like that. Also. many saw it as an extension of the youthful rebellion already prevalent in the news of the day, hippies, war protesters and a general changing of society as it had been. Since there was no specific law against an adjustable suspension officers were forced to improvise by citing cars for "unsafe suspension". The fact that few, if any, patrol officers had the qualifications to make such a judgement was often beside the point when the case came before a judge in court. As with most traffic related offences, the cop's word was golden to the judge on the bench. While many times a ticket could be cleared by paying a fine, legend has it that at least one magistrate required offenders to bring the hydraulic components to court in a box in order to assure they were not still being used in the car! But another widely told story had it that another judge in the South Bay court was sympathetic to lowered cars because his son drove one. In the end, a hydraulic system could prove to be more of a starting point for problems than an answer to them.[1]

Allen had his share of problems as well. More than once the A frames cracked and had to be re welded. This was a common problem that resulted from modifications to the suspension in order to accommodate the hydraulic cylinders. Most cars of the period had one pump and one battery. No one thought about hopping, or other lowrider tricks, because there simply wasn't enough power available. But you could drop the car until it scraped on the pavement and Allen did plenty of that. On one memorable occasion he did this right in front of a two man patrol car on Avalon Blvd! Fortunately he had in his wallet a professional courtesy card from another LAPD officer he was friendly with and was let go with a warning. The cop kept the card though! On another evening, while cruising Harvey's Broiler in Downey, Allen's luck, and supply of courtesy cards, ran out and he was ticketed for lifts two times in one night, and told that if he was seen on the streets again he'd be going to jail.[1]

By 1967 Allen was working at a ARCO gas station on the corner of Lomita Blvd. and Avalon Blvd. This was in the days when an attendant still filled your tank, with gas costing 25 to 30 cents a gallon, and cleaned the windshield. At many stations around town you'd see a custom car or hot rod parked in a prominent spot, usually the personal ride of an employee or the owner. So of course Allen too usually kept his Impala laid out for passersby to view. This practice would eventually cause the oil company's district manager to complain to Allen's boss that it wasn't the image corporate headquarters liked to cultivate.[1]

On a summer day in 1967, Allen's pancaked Chevy did catch the eye of Carl Darling and Howard Gribble as they drove by the ARCO station in Carl's customized 1956 Pontiac. The quad headlight equipped Pontiac attracted Allen's attention too, and he vigorously motioned for them to pull into the station. Allen introduced himself and soon learned that Carl had opened a small body/custom shop a few blocks away. Within a month or two Allen had Carl paint the Impala a pearl blue with a light cobweb effect on the side panels. This time acrylic lacquer was used and the effect was dramatic, yet somehow subtle too. It was a major step up for the already good looking Impala.[1]

After about six months, Allen began to feel that he needed a paint job that would stand out more by utilizing some of the spectacular techniques that were beginning to become available to custom car painters. Again he contacted Carl Darling, who had closed his shop but was now working out of his home garage in North Redondo Beach. Though he didn't know Carl well, Allen nevertheless delivered up his ride and over the next several months a full on custom paint job was applied to the Impala. The sides and top were done in a purple Moreno pearl that reflected a gold hue. The inset panels along the sides received a purple metal flake followed by many coats of clear. The horizontal surfaces of the hood and trunk were painted pearl white with a lace pattern overlaid in candy purple. Lace panels on the top were also sprayed in pearl white. To finish the car off in style it was taken to Walt Prey in Van Nuys for pinstriping. As an extra added touch Walt painted the visage of that 1960s counter culture icon, the ZIG ZAG MAN, right in the middle of the hood! Thanks to Carl Darling, the Chevy Impala now had a custom paint job fit to be seen with the best of them.[1]

Allen's Impala was now a real show car. The sign displayed next to the car at show presented this version of the Impala as "High but Low." According to the sign, this version featured an upholstery by Erickson's Top Shop in Wilmington. He was entering the car in Southern California car shows, and he had no plans to change it. But fate stepped in and took a hand on a night in the fall of 1968. While driving with a friend on the Pacific Coast Highway a drunk driver rear ended them at a stop light. Allen and his buddy were not seriously injured but the Impala was a mess. At first it seemed to be a total loss. But with much time and effort already invested Allen was again not to be deterred. By early the next year plans were underway to rebuild the custom and hopefully even improve it. Of course the first step was to repair the damage. At this point Richard Madrigal entered the picture. He worked in the body shop at a Chrysler-Plymouth dealership in Gardena, and repairs got underway there under his supervision. But Richard was a very talented custom painter as well, with several award winning show cars to his credit. With the body now straightened, along with the removal of a few more trim pieces and the door handles, it was time for another killer custom paint job. The car was moved to Richard Madrigal's house, and paint preparation was begun. Allen and Richard wanted the paint job to be nothing short of spectacular. To achieve this, the body was first sprayed in a pearl white lacquer, before 50 coats of greatly thinned red candy were applied. With each coat the red became a little darker, while still allowing the pearl white to show through. At some point Allen, who was present at this stage, and Richard decided that the right hue and degree of transparency had been achieved and many coats of clear lacquer were then applied over the surface. For contrast the top and side panels were sprayed in silver metal flake. This area then received a dusting of the cobweb paint effect in black. Today Allen remembers the total cost as being $1067.00, an unheard of sum for a paint job at the time. But the result was as hoped for -- truly spectacular! A few more changes were also made. Up front an after market tubular grille had been installed prior to the wreck and it was undamaged. Allen journeyed to Gene's Muffler Shop in Bellflower to have the very desirable, so called "Bellflower" exhaust pipes installed. It was decided to mount them slightly different from the norm, located a little more inboard than usually seen. As a result, though still visible from the side, they maintained a more horizontal attitude and better emphasized the low stance of the car. And In keeping with current custom trends, a new accessory steering wheel of even smaller diameter was installed. At this time, as is customary with custom cars, the Impala acquired a name, appropriately enough it was dubbed "Bloody Mary". The result of all this effort was a world class custom.[1]

Gary Canning, through his organization known as Car Show Headquarters, promoted the two most important shows. One was held in the spring at the the Los Angeles Sports Arena, sponsored by the Tridents car club, and the other in the fall at the Long Beach Arena. Most of the important show cars were included at these events. In addition, shows were also held at the Great Western Exhibit Center in East Los Angeles. In 1969 there was a show scheduled at the Great Western shortly before the event at Sports Arena was to take place. On the night that the Great Western show was being set up Gary Canning and some of the Tridents walked through the building noting the cars present that were also entered in his show at the Sports Arena, now just a few weeks away. Having already notified owners of cars entered in his upcoming show that they would be disqualified from participation if the car appeared at the Great Western event, Mr. Canning made good on his threat and eliminated the cars he saw there from his show. There was considerable displeasure with this turn of events and Canning, claiming his interest was in providing fresh exhibits for his customers, came in for considerable criticism. Most just cursed Canning and moved on. But not Allen. Not one to be easily denied, on move in day he brought his Impala to the Sports Arena. Parking outside, with the car being watched over by one of his posse of car polishers, he entered the building armed with photos of his pride and joy. Throughout the day he would plead his case with the various functionaries present and late in the day, when it became obvious that the ban had left a number of empty spaces on the floor, the officials relented and allowed Allen's Impala to be in the show. That's the kind of guy Allen Duke was, and is to this day![1]

Now the car once again became a regular at car shows and cruising spots in the LA area, attracting attention everywhere it went. Unfortunately, since the early 1960s the automotive press had almost completely forsaken custom cars. As a result there were no offers of photo shoots for this very worthy car, and of course there was no Internet to spread its image around the world. The rest of the story is probably typical of most of old customs and hot rods built in that era and before. Allan's interests were being directed elsewhere, mainly towards marriage and a family. Within the next couple of years the "Bloody Mary" was sold to two brothers residing in the San Fernando Valley area. They showed it briefly before they traded it to Allen's old friend Danny Jones, and it came back to Wilmington. Danny traded the Impala for Howard Gribble's 1967 Buick Riviera, that he had bought from Howard. Danny owned it a short while and then it disappeared for a couple of years. Then one day Allen's mom told him she had seen it in a garage a block or two away. Allen investigated the case, and found out that the current owner was none other than a kid who had been part of the youthful polishing crew that, a few years before, had enthuastically made the Chevy shine! By then the car was in a neglected and sad shape. It was no longer the stunning show piece it had once been. Without really knowing what he'd do with it Allen was able to buy the car on the spot for a minimal amount. But without any desire to rebuild the car Allen ended up quickly selling it to someone from, once again, Wilmington. Today some locals have vague memories of the Candy Red Impala known as "Bloody Mary" but to date there is no definitive word as to its fate.[1]
In 2011 custom car and early lowrider historian Howard Gribble of Torrance, California decided to recreate Allen Duke's Bloody Mary. Starlite Rod & Kustom installed hydraulic lifts and performed the body modifications and paintwork for Howard. The build was completed in December of 2014, and it made it's first public appearance at the 2014 Mooneyes X-Mas Party.[1]
Addendum
Most of the material in this article has been compiled, collected and provided by Howard Gribble.
Magazine Features
Gasoline Magazine No. 11 2014
Gasoline Magazine No. 12 2014
Gasoline Magazine No. 1 2015

References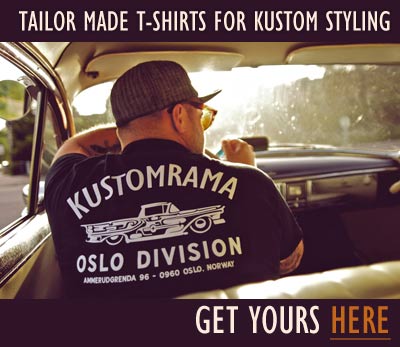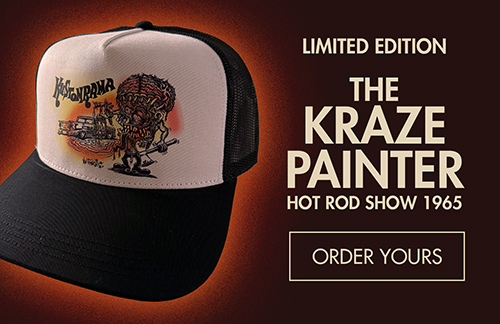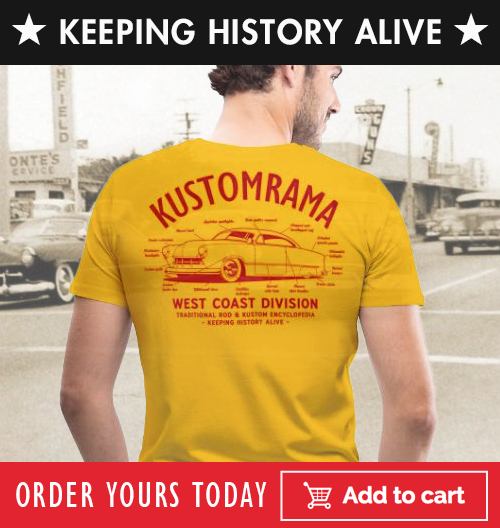 Did you enjoy this article?
Kustomrama is an encyclopedia dedicated to preserve, share and protect traditional hot rod and custom car history from all over the world.
Can you help us make this article better?
Please get in touch with us at mail@kustomrama.com if you have additional information or photos to share about Allen Duke's 1964 Chevrolet Impala SS.



This article was made possible by:
SunTec Auto Glass - Auto Glass Services on Vintage and Classic Cars
Finding a replacement windshield, back or side glass can be a difficult task when restoring your vintage or custom classic car. It doesn't have to be though now with auto glass specialist companies like www.suntecautoglass.com. They can source OEM or OEM-equivalent glass for older makes/models; which will ensure a proper fit every time. Check them out for more details!

Do you want to see your company here? Click here for more info about how you can advertise your business on Kustomrama.