Featured Stories
From Kustomrama
Harold Johnson's 1938 Ford Tudor Sedan
Harold Johnson grew up in Inglewood, California in the 1940s. He had two older brothers-in-law that introduced him to custom cars after WWII. In 1948, when he was old enough to drive, Harold bought a 1938 Ford tudor sedan that he set out to customize. The build was started the same year, and it was a typical mild custom that would roam the streets of Los Angeles at the time.
Click here for more information and photos



Dennis McPhail's 1960 Ford Fairlane
1960 Ford Fairlane owned by Beatniks member Dennis McPhail of Wellington, Kansas. In 2010 Dennis told Kustoms Illustrated that he had been chasing the Fairlane around Wellington for 16 years before he was able to buy it. Being from Kansas, Dennis wanted to restyle the car in an early 1960s Starbird/Wichita style. Darryl Starbird's Predicta was the main inspiration for the build.
Click here for more information and photos



Arthur Lellis' 1939 Ford Convertible
Arthur Lellis ran Art & Jerry Custom Shop together with Jerry Moffatt in Los Angeles, California. In 1946 Art and Jerry built two, almost identical, 1939 Ford convertible customs that they could use as daily drivers. Both cars were chopped, channeled and ran padded tops. Art's 39 ended up on the East Coast in the mid 1950s, where it was damaged, and the front end was replaces with a 1940 Ford DeLuxe front end.
Click here for more information and photos



Jerry Moffatt's 1939 Ford Convertible
1939 Ford convertible owned and restyled by Jerry Moffatt at Art & Jerry Custom Shop in Los Angeles, California. Jerry restyled his Ford in 1946. At the same time, Jerry's companion in the shop, Arthur Lellis, restyled a 1939 Ford as well. The two buddies built two, almost identical, customs which they could use as daily drivers. Jerry's car featured a deeper channel job than Arthur's.
Click here for more information and photos



Josie Celeste's 1957 Chevrolet Bel Air - Angel Lust
It looks like it is straight out of the little books and Watson's Bellflower shop, but Josie Celeste's 1957 Chevrolet Bel Air is one of the new builds that hit the streets last year. It has been an in-progress build since 2000, and it has been trough several different versions over the years. Angel Lust is part of our 2016 Kavalcade, and it is without doubt one of our favorite Custom Paint Jobs of 2016!
Click here for more information and photos



Dan and Ken Hiramoto's 1941 Buick Super Convertible - Raven
1941 Buick Century convertible owned and restyled by Dan and Ken Hiramoto of Cleveland, Ohio. Dan and Ken were brothers, and they bought the Buick from their uncle. The original color on the car was maroon, so they sanded it down and gave it a Robin's Egg Blue paint job. The car went trough several iterations between 1951 and 1961, and in 1962 it gained national recognition when it was featured in Speed and Custom February 1962 Click here for more information and photos



Richard Mikami's 1961 Chevrolet Impala - The Ant Killer
Richard "Froggy" Mikami grew up in Gardena, California looking at dropped 59 Impalas with scavenger pipes, scalloped Bonnevilles, and Oldsmobiles with Candy paint jobs. In 1964 he bought a 1961 Chevrolet Impala that he decided to have restyled. After installing a 1959 Imperial grille, the car received a beautiful black Naugahyde tuck and roll interior by Russ and Bess, a striking Pearl paint job by Joe Andersen, and hydraulic lifts by Bill Hines. Click here for more information and photos



Bob Hagerty's 1931 Ford Model A Tudor Sedan - Jade East
Bob Hagerty's Jade East began as a $60.00 bet in 1963. Bob who had been interested in cars for 6 years had to prove that he was man enough to actually finish a car. During the build he learned how to weld, paint, be a body and fender man, and do mechanical work. Two years of hard work paid of, and in 1965 Car Craft Magazine did a story on the car where they named it one of the wildest sedans ever built.
Click here for more information and photos



Dick Owens' 1940 Mercury Convertible - Another Early Barris Kustom Identified
Dick Owens involvement with custom cars goes back to post-war Los Angeles. At the time Dick was going steady with a girl named Betty. Betty had a sister named Helen, who was dating Jim Kierstead, a fellow from Inglewood. Jim was a buddy of Sam Barris, and he had a 1939 Mercury coupe that Sam helped him chop and restyle. Dick was also in the possession of a Mercury, a 1940 convertible, so it didn't take long time before he approached Sam about helping him restyle his car as well. Click here for more information and photos



Alf Rasmussen's 1936 Ford
After WWII you needed a special permit to buy cars in Norway, as the Norwegian government wanted to reduce consumption of imported goods. Alf Rasmussen of Bergen was a secretary for the Norwegian Civil Defence, so he got a special permit to buy a car as he needed it for work purpose. Around 1951-1952 he bought a chopped, channeled and sectioned 1936 Ford from a British or American pilot that had worked in the Independent Norwegian Brigade Group in Germany after WWII, and was now returning home to his girlfriend! Click here for more information and photos



Martin Oja's 1931 Ford Model A Coupe
In 1960, after finishing high school, Martin Oja of Sault Ste, Marie, Ontario, Canada decided to build Hot Rod Model A. The build was completed in 1962, and it went trough three owners before it was parked in 1970. It stayed 44 years in storage before Jeremy Callahan finally got the car back on the road. Jeremy has done a great job preserving the car, and it looks exactly like it did in 1962.
Click here for more information and photos



Ron Brooks' 1940 Chevrolet Convertible
Ron's Chevrolet was originally restyled by Fred Crellar of Concord, California. The build was started in 1948 and completed about 1951-1952. Fred sold the custom to his brother Don in 1958. Don kept on to it for 16 years, before he in 1974 sold it to Satan's Angels member Ron Brooks of Castro Valley, California.
Click here for more information and photos



John Svedberg's 1929 Ford Roadster Pickup
Yesterday we shared the story of Frank Bertuccio's 1929 Ford Roadster Pickup. John Svedberg saw it and came forward with his survivor custom. At first glance it almost looks like the same cars, and who knows? It might be. The builder is currently unknown, however it was built in California. John bought it five years ago and got it shipped to Sweden where he made it drivable and reliable.
Click here for more information and photos



Frank Bertuccio's 1929 Ford Roadster Pickup
There used to be a lot of neat old hot rods roaming the streets of the San Jose back in the days. Frank Bertuccio of the San Jose Igniters was one of the guys. His Roadster Pickup is a perfect example of a typical 1953 era teenage hot rod I would imagine sitting at a high school parking lot. Who knows, the car might still be around today!?
Click here for more information and photos



Jim Stockton's 1939 Ford Convertible
1939 Ford convertible owned by Jim Stockton of Springfield, Ohio. When Jim bought the Ford in the early 1990s it had been trough an amateur restoration, and it was in need of some work. Jim began by lowering the car. He also dressed it up with 1937 DeSoto bumpers, Appleton spotlights, new Firestone whitewall tires and single bar flipper hubcaps. In 1994, when Tim Gavern brought back Hop Up Magazine, it was featured in the first issue.
Click here for more information and photos



Jim Beeson's 1960 Ford Starliner
In 1959 Jim Beeson became a member of the Dutchmen of Paramount car club. At the time he drove a mildly restyled 1953 Plymouth two door. In the spring of 1960, when he was a senior at Paramount High School, Jim decided to buy a brand new 1960 Ford Starliner. He special ordered the Starliner with power windows, seats, steering and brakes and upgraded to the 352 cubic inch 360 horsepower engine and interceptor suspension.
Click here for more information and photos



Ray Giovannoni's 1936 Ford Roadster
Ray Giovannoni's 1936 Ford roadster was restyled by Bud Unger of Hancock, Maryland. Bud began customizing cars in 1947, and Ray's roadster was his second attempt on a custom car build. In 2012 Bud told us that Ray's 36 was the best custom he ever did. It was his pride and joy, and he never put as much into any other custom as he put into Ray's.
Click here for more information and photos



Allan Kipp Winward's 1936 Ford Coupe
One of the greatest customs to come out of Salt Lake City, Utah recent years has to be Allan Kipp Winward's 1936 Ford 5-window coupe. When Kipp began the build in 2010 his plan was to build a late 1940s custom, using as many parts as he could that were 1949 and older. The build was completed early this year, and the result speaks for itself. Mission completed.
Click here for more information and photos



Kevan Sledge's 1940 Mercury Coupe
Like James Dean, the Matranga Mercury had a short, but fast paced life. It was completed late in 1950, and wrecked while street racing in 1952. For many years the Matranga Mercury has been considered one of the best 1939 - 1940 Mercury customs to roll the face of the earth, and it has inspired countless builds all over the world. That was until Kevan Sledge came along and changed the game.
Click here for more information and photos



Bill Pearce's 1939 Ford Convertible
Bill Pearce of Hacienda Heights, California bought his 1939 Ford convertible in 1942. In the late 1940s or early 1950s he decided to turn it into a custom. It is not known who restyled the car, but the body was lowered radically by channeling it over the frame. The overall height was also reduced by chopping the top. After the top had been chopped, the car received a padded top by Carson Top Shop.
Click here for more information and photos



Adam Woodhams' 1959 Buick LeSabre - The Lone Wolf
Adam Woodhams' 1959 Buick LeSabre is a modern take on a traditional 1960s "Bellflower" custom. A custom painted roof and dash, and an over the top interior, makes this San Jose, California custom a real crowd pleaser. The radical 1959 Buick body doesn't need chrome to stand out, so Adam shaved most of it before the car received a metallic cobalt blue and metalflake paint job.
Click here for more information and photos



Joe Roth's 1959 Chevrolet Impala
In 1959 Joe Roth's mother bought a brand new 1959 Chevrolet Impala. After being involved in a front end collision, her son took over the car. He brought it to Cudahy Auto Body in Milwaukee to have it repaired and restyled. At Cudahy, the car received canted quad headlights, rolled pans, a custom grille opening, and more. The build was completed in 1961.
Click here for more information and photos



Jerry Silvester's 1950 Ford
1950 Ford owned by Jerry Silvester of Inglewood, California. Jerry's mildly restyled Ford is a typical example of a custom car that would be seen on the streets of Southern California in 1957. It featured body and paintwork by Alex & West Body Shop in Los Angeles, and a white and blue rolled and pleated upholstery by Johnny's Top Shop.
Click here for more information and photos



John Rae's 1951 Ford
In the Summer of 1962, John Rae of Kenilworth, New Jersey bought an already customized 1951 Ford from Hanover, New Jersey. John can't remember the sellers name, but he believes the car was originally done by Korky's Kustom. Painted green with gold scallops, modifications included a 1954 Chevrolet Corvette grille, 1954 Mercury taillights and a continental kit.
Click here for more information and photos



Keith Hunt's 1952 Ford Convertible
In the winter of 1956 - 1957, 18 years old Keith Hunt of Salt Lake City, Utah was a carpenters helper, working with his grandfather. One day, while working at Petty Ford, in a snowstorm, Keith spotted a customized 1952 Ford convertible on Petty's used car lot. The louvered hood had come unlatched, blown open, and the front had been damaged in the wind. Keith thought the car was a diamond in the rough, so he landed a deal with one of the senior salesmen. Click here for more information and photos



Bruce Bartlett's 1953 Studebaker Starlight Coupe
In September of 1953, Ramblers of Long Beach members Bruce Bartlett and Don Chapman bought a brand new Studebaker each. Don's father ran his own Studebaker agency in Huntington Park, so Don picked a '54 hardtop, while Bruce went for a '53 Starlight Coupe. The friends brought their cars to Barris Kustoms to have them restyled. While George Barris worked with Don on his car, Sam Barris worked on Bruce's Studebaker!
Click here for more information and photos



Ray Ellis' 1934 Ford 5-Window Coupe
In February of 1965 Ray Ellis of Sydney, Australia became the proud owner of his first hot rod. He had just turned 17 years old, and the car was a gift from his dad. The same year he became a member of the Romans Hot Rod Association, the first hot rod club of New South Wales. Due to a blown out header, and an enthusiasm to build a hot rod, Ray started rebuilding the car early in 1966. It was time to channel it.
Click here for more information and photos



Robert Martinez' 1949 Ford
1949 Ford owned and restyled by Robert Martinez of San Diego, California. Around 1955 - 1956, Robert worked with Carroll "Red Eye" Gentry at Styler's Custom Shop. By November of 1956, he had started his own shop, Broadway Auto Body Shop in Chula Vista, California. The Ford was built before, or while he worked with "Red Eye" at Styler's.
Click here for more information and photos



Bob Creasman's 1940 Ford Coupe
In 1943 Bob Creasman of Los Angeles, California bought himself a 1940 Ford coupe. Bob was a body man, and late in 1943 he began to restyle the car. According to a featured story in Hop Up October 1953, Bob's custom was the first 1940 Ford coupe in the Los Angeles area to be channeled, and the second to be chopped.
Click here for more information and photos



Robert Martinez' 1950 Oldsmobile 98
In the 1950s, Roger Honey used to ride his bicycle down to Styler's Custom Shop in San Diego, to see what they were up to. One of the guys that worked at Styler's was Robert Martinez. According to Roger "Robert always had a custom project in the works," and he can't remember seeing him driving a stock car.
Click here for more information and photos



Leo Lyons' Ultra Modern Merc - From Kustomrama to Pebble Beach
The story about Leo Lyons' Ultra Modern Merc has a very special place in our hearts here at the Kustomrama headquarters. In addition to being recognized as the last significant Custom Mercury built in the 1950s, it is also the first car to go from the Kustomrama For Sale section to the prestigious Pebble Beach Concours d'Elegance. And that in just two years! An incredible journey we are proud to be part of.
Click here for more information and photos



Clarence Patterson's 1939 Ford Convertible
At age 16, Clarence "Slick" Patterson altered his birth certificate, dropped out of school and joined the Navy at the end of World War II. On the way up and back, he found himself stationed in Long Beach, California. He returned to Glen Allen, where he in 1948 began building what is known as the first custom car of Virginia.
Click here for more information and photos



Henrik Forss' Bucket T
In 2001, Henrik "Hank" Forss of Stockholm, Sweden, bought a stranded t bucket project from a fellow in Eskilstuna. The project looked like a tractor when he got it, so Hank tore it down and rebuilt it for the summer season. When the season ended, Hank wanted a traditional 1960s show rod, so he tore the bucket down again. The result, completed during the winter of 2001 - 2002, was a fresh breath on the Scandinavian scene.
Click here for more information and photos



Larry Hughes' 1926 Ford Model T Roadster Pick Up - The Bomber
If you think about Colorado built hot rods, I guess a finned, futuristic 1926 Ford Model T roadster pick up is not the first that comes to mind. Popular Customs Winter 1963 presented the world with one such creation 52 years ago. Owned by Larry Hughes of Boulder, Colorado, the bed sides of the Bomber incorporated two huge fins that housed a pair of 1960 DeSoto taillights. Powered by a 327-cubic-inch 1959 Pontiac engine, the little hot rod was made for both show and go! Click here for more information and photos



Don Tubbs' 1951 Mercury Coupe
1951 Mercury coupe owned by Glendale Esquires member Don Tubbs of Glendale, California. Don bought the Merc late in 1953, while he was drafted in the Navy. The car was in white primer when he bought it. It was mildly restyled, and it had been shaved for the door handles and the hood ornament. According to Don, Johnny Hagan was best in town when it came to body work and paint, so Johnny was commissioned to paint the car for Don. Click here for more information and photos



Lee A. Jagla's 1923 Ford Model T Pickup
1923 Ford Model T roadster pick up owned and raced by Hayward V-Eights member Lee A. Jagla of Hayward, California. Lee got the hot rod as a gift from his parents for his high school graduation from Hayward High School in 1960. He enjoyed it for 5 years before it was put into dry storage. It stayed in storage for the next 48 years. After Lee passed away, the historic hot rod was sold to Norway in 2014. Click here for more information and photos



Fred Cain's 1940 Ford Coupe
Fred Cain's 1940 Ford coupe is an early East Coast Custom built by Fred Cain of Wilmington, Massachusetts. The first version of the build was completed in 1948, and Fred raced it the same year. Over the years the car has been lost, resurrected, and restored. It spent some time on the West Coast and in Texas, but will now return to the East Coast in October for the 2nd annual Customs by the Sea car show in Wildwood, New Jersey. Click here for more information and photos



Larry Ernst's 1952 Ford Convertible - Pharaoh's Pacer
After having Barris Kustoms restyle a brand new 1951 Chevrolet Bel Air, Larry Ernst of Toledo, Ohio decided to have Clarkaiser Custom Shop restyle his 1952 Ford Convertible in 1954. The build took 1 1/2 year, and it was completed in 1955. Larry was a Roman Catholic priest who later became a monsignor. In order to hide his dark side from the church, he used to enter the car at shows as Grant Macklin. Click here for more information and photos



Jerry Drake's 1957 Ford Fairlane - The Candy Cane
Jerry Drake is a legendary Lansing, Michigan custom painter and pinstriper. In the 1950s and the 1960s he operated under the name "Spider the Crazy Painter". Jerry had a passion for customized cars, and in 1959 he bought what would later become the Candy Cane. At the time he drove a customized 1955 Ford known as "India Ivory." One day, while driving down South Cedar street in Lansing he spotted the clean looking '57 on a used car lot, so he decided to pull in and take a look. Click here for more information and photos



Buzz Pitzen's 1923 Ford Model T Roadster - The Glass Image
In the late 1950s, Buzz Pitzen had a hard time locating a 1923 Ford Model T roadster bucket for sale, so he decided to make his own from aluminum. That project stranded, and one evening as he was reading trough an issue of Hot Rod Magazine, he came across a small print ad for Diablo Speed Shop, who advertised a Fiberglass T-Bucket body for sale. Buzz bought a body and went on to build what is known as the worlds first known Fiberglass T-bucket hot rod. Click here for more information and photos



Lou Kimzey - The Magazine Man
Lou Kimzey was the first art director for Hop Up Magazine back in 1951. He graduated from Woodbury College in Burbank, California in 1950, with a degree in Art and Design, specifically related to the business world of publishing. He began working as Art Director for Road & Track magazine in 1950. In 1957 Lou left Petersen Publishing for form his own publishing company Teenage Publications. Click here for more information and photos



John Bozio's 1939 Buick Century Convertible
John Bozio, of East Hartford, Connecticut, always played to the tone of a different drummer. When he bought his first custom in 1951, all young guys buying their first car wanted Fords or Chevrolet coupes and convertibles! John decided to go for a Buick! He was 15 years old at the time, and he had to pay $300 for the old convertible. John had earned that money by working on tobacco farms in his summer vacation, and by delivering the morning newspapers. Click here for more information and photos



Egeo Barci's 1934 Ford Roadster
By 1966 hot rodding had become an international movement, and hot rod creations started to pop up all over the world. In April of 1966 Egeo Barci bought a 1934 Ford roadster that he turned into what might have been the first hot rod of Brazil. The sensational build was completed in 1966, featuring a metallic burgundy paint job, a custom white upholstery, and plenty of chrome!
Click here for more information and photos



Bruce Olson's 1932 Ford 5-Window Coupe
In 1951 Bruce Olson of Beach, North Dakota decided that he wanted to build a hot rod. He spent two years looking for a roadster project until he came to the conclusion that Ford didn't sell many roadsters in North Dakota. The old timers told him it was too cold. After seeing Lynn Yakel's 1932 Ford 5-Window coupe in Trend Book 102 Hot Rods, Bruce decided to base his build on a coupe instead.
Click here for more information and photos



Dell Chandler's 1960 Pontiac Ventura
In 1960 there were two custom painters in Lansing, Michigan you could go to if you wanted a custom paint job. These two were Jerry "Spider the Crazy Painter" Drake and Gary Glenn. When Dell Chandler wanted to make his brand new 1960 Pontiac Ventura stand out from the rest, he turned to Spider. Today, Spider still considers Dell's Pontiac as one of his best creations.
Click here for more information and photos



Frank Sandoval's 1936 Ford 3-Window Coupe
Frank Sandoval of Wilmington, California was born in 1927. He served in the US Army, and was supposedly in Europe near the end of WWII, so he most likely bought his 1936 Ford 3-Window Coupe after he returned from Army service, around 1946 - 1947. Main modifications includes a flipped 1940 Nash grille, smooth hood sides and 1937 DeSoto bumpers. It is not known if Frank bought an already restyled car, or if he had it done after his own likings. Click here for more information and photos



Paul Vona's 1950 Oldsmobile Coupe
At age 19, in 1957, Paul Vona of Salinas, California bought a 1950 Oldsmobile that he wanted to turn into the custom of his dream. Being a custom painter and pinstriper, Paul gave the car a radical scallop paint job. The final result was striking, and the Olds landed the cover of Custom Rodder October 1958. September 15, 2014 Paul passed away. His legacy lives on and we are currently working on a series of stories showing Paul's work. Click here for more information and photos



Jerry Drake's 1955 Ford Fairlane - India Ivory
Jerry Drake is a well known Michigan pinstriper! Born and raised in Lansing, Jerry started his custom paint and pinstriping career in 1958. Operating as Spider the Crazy Painter, Jerry's personal transportation at the time was a semi-custom 1955 Ford Fairlane known as "India Ivory." Jerry bought the Ford in 1957, and over the next two years it went trough several modification under the direction of local customizer Ed Blaisdell at Blaisdell Body Shop. Click here for more information and photos



Gordy Kordowsky's 1932 Ford 5-Window Coupe
White Bear Lake is a small city in Minnesota. Back in the mid 1950s there were about three hot rods in town. One of these were Gordy Kordowsky's 1932 Ford 5-Window coupe. In 1964 Gordy sold the coupe to Louie LaBossiere, another White Bear Lake hot rodder. Louie put it into a longterm storage, and it basically sat untouched until 2012, when East Side Speed Shop completed a mechanical restoration for Louie. Click here for more information and photos



Gordy Brown's 1963 Ford Thunderbird
Gordy Brown was originally from Salt Lake City, Utah, but he decided to move to Southern California in the early 1960s, after Utah passed a law against altered suspension. The law pretty much killed the custom scene in Utah, so Gordy decided it was time to move. The Thunderbird was built at his shop House of Customs around 1963/1964, and it featured hydraulic lifts on all four corners so he could raise it up by the touch of a switch. Click here for more information and photos



Frank and Charles Gilardone's 1953 Ford Victoria
The first version of Frank and Charles Gilardone's 1953 Ford Victoria was restyled by Clarkaiser Custom Shop around 1953-1954. In 1955 it was shown at Ford's Rotunda auditorium in Dearborn. This version was painted black. It returned to the Rotunda in 1956 for the Rotunda Custom Car Show. This version was silver. In October of 2014 the car will be shown at the first Customs by the Sea car show, presented by Kustomrama. Click here for more information and photos



Joe Siclari's 1957 Ford Custom 300 - The Pearl necklace
1957 Ford Custom 300 owned by Joe Siclari of Union, New Jersey. Joe's Ford is known as the Pearl Necklace, and most of the restyling on the car was done at Moonlite Kustoms. The Pearl Necklace made it's debut at the 2010 Detroit Autorama, were it also won the Alexander Brothers Award. In October the car can be seen at the Customs by the Sea car show in Wildwood, New Jersey.
Click here for more information and photos



Maximilian King's 1940 Mercury Convertible
Maximilian King's 1940 Mercury convertible is one of the earliest known surviving East Coast customs. In 1946 Max had Meekers Body Shop of Morris Plains, New Jersey restyle the car. Modifications included a new grille, a 1936 Cord windshield and a steel lift off tonneau cover. In 1959 current owner Ray Henyon had Korky's Kustom Shop modernize the car, this version will be part of the special exhibit at the Customs by the Sea car show in Wildwood, New Jersey in October. Click here for more information and photos



Harry Fry's 1937 Ford Cabriolet
Harry Fry used to race circle track dirt cars in the 1950s, and he won the cabriolet in a grudge match race against some of his race buddies. The car wasn't in a great shape, but he owned his own body shop, and decided to fix it up. Named Fryer's, Jack's shop was the place to go to for hot rod paint jobs back in the day. The build was completed in the early 1960s. In October you can see Harry's survivor at the Customs by the Sea car show in Wildwood, New Jersey. Click here for more information and photos



Vic Collins' 1955 Chevrolet Truck - The Kopper Kart Klone
The construction of Vic Collins' Kopper Kart Klone started in 1999, three trucks, thousands of hours, and 9 years later the completed build made it's debut at the 2008 Detroit Autorama. The original Kopper Kart is long gone, so Vic's tribute was a nice addition to the custom car scene. In October of 2014, Vic's Kopper Kart Klone will be shown at the special exhibit at the Customs by the Sea car show in Wildwood, New Jersey. Click here for more information and photos



Bill Kelly's 1932 Ford 3-Window Coupe
Bill Kelly's 1932 Ford 3-window coupe was built in Warminster, New Jersey in 1948. The first version was powered by a flathead V8, but it didn't take long before Bill had installed a more powerful Oldsmobile OHV engine. As new engines and more horsepower found it's way to the engine compartment during the 1950s, the basic appearance of the car stayed the same. The car resurfaced in the 1990s, and in 2001 The Rodder's Journal ran a story on it. Click here for more information and photos



Herb Conway's 1954 Mercury
In January of 1953, Herb Conway bought a mildly restyled 1950 Ford. He sold the car to his little brother, Hersh "Junior" Conway, who turned it into one of the most famous shoebox customs of the 1950s. After selling the Ford, Herb bought a 1954 Mercury in December of 1954 that he decided to give a mild custom treatment.
Click here for more information and photos



Jim Robertson's 1961 Ford - The Graveyard Train
In the 1950s high school parking lots in Southern California were filled with custom cars. From mild to wild, a regular day at the parking lot looked like a good car show today. The trend decreased in the 1960s, and at the end of the decade most of the cool kids drove muscle cars. Jim Robertson of Simi Valley was one of the few white kids that held on to customs, and in 1969 Bill Carter and Walt Prey laid a fadeaway paint job on his 1961 Ford. Click here for more information and photos



Bob Schremp's 1954 Chevrolet Bel-Air
The first car to ever receive a scallop paint job by Larry Watson was Bob Schremp's 1954 Chevrolet Bel-Air. After painting the car in 1956, Bob pulled up into Larry Watson's driveway with a bunch of runs on the trunk and hood. He knew pinstriping wouldn't hide the runs, and he didn't like flames, so he asked Larry for an advice. Larry told Bob that he would cover the runs with scallops.
Click here for more information and photos



Fred Rowe's 1951 Mercury Convertible
In 1953 Fred Rowe of Los Angeles, California had the Barris Brothers restyle his 1951 Mercury convertible. The result was striking and the car landed the cover of Rod & Custom August 1953. The car returned to Barris for further modifications in 1954. This version landed a lead role in the movie Running Wild along with another famous Barris creation, the Hirohata Merc.
Click here for more information and photos



David Rolin's 1957 Ford
After building up four hot rods, David Rolin of Sacramento, California decided late in 1956 that he wanted a custom car. He went out and bought a brand new 1957 Ford that he brought over to talented customizer Dick Bertolucci of Bertolucci Body & Fender Shop. Over the next two years, David's daily driver was slowly transformed into a radical custom called the Tormentor.
Click here for more information and photos



Doug Osterman's 1957 DeSoto
A couple of weeks ago we ran a story on Doug Osterman's 1937 Plymouth coupe. While building the Plymouth, Doug was also busy restyling a 1957 DeSoto. The first version of the DeSoto was just as the Plymouth restyled by Flyers Body Shop in San Jose. Later on, Doug brought the DeSoto to Hayward, to have Joe Bailon alter it's appearance.
Click here for more information and photos



Pete Limpert's 1936 Ford Tudor Sedan
Pete Limpert's 1936 Ford tudor sedan, of Gardena, California, was fit with hydraulic lifts by Dennis "Red" Pierce around 1966 - 1967. At the time, Pete's 36 was older than most of the other cars that utilized hydraulic lifts. A mid 1930s car laying on the ground was almost unheard of at this point.
Click here for more information and photos



Doug Osterman's 1937 Plymouth Coupe
In 1958 Doug Osterman of San Jose, California bought his first car, an old beaten up 1937 Plymouth coupe. Doug, who was not old enough to have a driver's license at the time, spent the next year hunting parts and fixing up the car. In 1959 the build was finished off featuring a beautiful Bahama Blue paint job by Flyers Body Shop.
Click here for more information and photos



The Kustomrama Dream Truck
The Kustomrama Dream Truck is a tribute to Jerry DeVito's 1957 Ford Fairlane, know as the Maze, and custom cars of the late 1950s - an often forgotten era when it comes to modern builds. The build was started by Kustomrama contributors Olav Kvipt and Sondre Kvipt in January of 2014, and the plan is to have it in primer, ready for paint in February of 2014.
Click here for more information and photos



Adrienne Hooper's 1956 Mercury Convertible - The Wild One
Adrienne Hooper's 1956 Mercury convertible was restyled by Cooper's Body Shop in Lansing, Michigan. Named "The Wild One", there is no doubt that the inspiration for the scallop paint job came from California, as it is very similar to the paint Bob Heinrichs gave Jerry DeVito's 1957 Ford Fairlane, better known as the Maze, in 1958.
Click here for more information and photos



Jerry DeVito's 1957 Ford Fairlane - The Maze
One of the most radical paint jobs of the 1950s can be found on Jerry DeVito's 1957 Ford Fairlane, known as the Maze. In 1958 Jerry and Bob Heinrichs spent 4 weeks masking the spectacular scallop paint job on Jerry's car. The final result was not like anything else around, and even though it received a radical restyling and a new paint job the following year, the shortlived version of the Maze left a huge impression on enthusiasts all over the world. Click here for more information and photos



Jay Greer's 1951 Ford - The Tahitian
Jay Greer's 1951 Ford Victoria was originally restyled by a cheap custom shop in 1953. He got what he paid for, and the car detoriated fast. He decided to take it to Valley Custom, receiving good quality work that would last forever! Jay's Tahitian was transformed to a tasteful mid 1950s custom, but where is it now?
Click here for more information and photos



Joe Cirimele's 1955 Ford
Hats off for Joe Bailon of Bailon Custom Shop. He is probably most known as "Candy Apple Joe", and has probably built more Candy Apple Red cars than any other person in the world. Here is a nice and subtle 1955 Ford that shows that less is more.
Click here for more information and photos



Dick Katz' 1949 Chevrolet
This 1949 Chevrolet Business Coupe was restyled by Dee Wescott of Portland, Oregon. It shows a typical example of how a late 1950s style custom was done based on an early 1950s style body. Dee built quite a few cars, and we would love to see more of them.
Click here for more information and photos



Buzz Pitzen's 1929 Ford Model A Roadster
Buzz Pitzen's 1929 Ford Model A roadster gained national recognition when it was featured on the cover of Hot Rod Magazine March 1959 as John Rasmussen's 1929 Ford Model A Roadster. Buzz started the build around 1954, completed it in 1959, and sold it off to John Rasmussen shortly thereafter so he could buy his first house in Redondo Beach.
Click here for more information and photos



Roger Squires' 1947 Chevrolet Fleetline - Pastime
Roger Squires' 1947 Chevrolet Fleetline was restyled in the late 1960s with Roger doing most of the work himself. It is a surviving example of the early lowrider style and was engineered and built to a standard that was unusual for the time. As such it is remembered today as a historically important car.
Click here for more information and photos



Arne Lindstrand's 1955 Chevrolet
Arne Lindstrand's 1955 Chevrolet was restyled by Arne Lindstrand of Stockholm, Sweden in the 1960s. Arne worked with Swedish hot rod and custom legend Bosse "Gamen" Sandberg at a Volvo repair shop in Stockholm, and this version of the car, featuring a Turquoise paint job by Gamen was shown at the first Stockholm Hot Rod Show in 1965.
Click here for more information and photos



Nick Dunkavich's 1940 Hupmobile Skylark Roadster
Nick Dunkavich's 1940 Hupmobile roadster was restyled by Nick Dunkavich of Meriden, Connecticut in the early 1950s. It was built from a sedan that Nick converted into a sports roadster through hand-formed side panels and a 1949 Dodge roadster trunk lid. Ed Moore inherited the car from his dad in the 1960s. He put it into storage, and it sat like that until 2011.
Click here for more information and photos



Robert L. Darling's 1949 Buick Sport Custom
Robert L. Darling's 1949 Buick is a sport custom built in Jeffersonville, Indiana some time between 1949 and 1953. When current owner John Brumder bought the remains of the car in 2000, he was told that the car was shipped to Europe in the 1950s. A furniture buyer found it over there on a business trip, bought it, and had it shipped back to the US.
Click here for more information and photos



John Bozio's 1953 Buick Roadmaster
The first version of John Bozio's 1953 Buick Roadmaster was restyled by John Bozio of East Hartford, Connecticut between 1956 and 1957. Since then, the Buick has had a rough life. Luckily, it's still around, enjoying it's retirement days in Sweden. John has helped us track the history of his old custom, providing a lot of old and never before seen photos.
Click here for more information and photos



Robert Fulton's 1936 Ford Sedan Convertible
From 1947 to 1949 Rober "Bud" Fulton drove around Hollywood in a 1936 Ford two-door sedan that had been chopped and fit with a padded top, supposedly by Carson Top Shop. Bud's granddaughter, Jill Graham, have no clue how he ended up owning the car, as it was his one and only custom car, but she has a strong feeling that he won it in some kind of a bet.
Click here for more information and photos



Stan Makrush's 1955 Chevrolet Convertible - The Gypsy
The Gypsy is a 1955 Chevrolet Convertible restyled by Stan Makrush of Foxboro, Massachusetts. Stan's custom creation was completed around 1957/1958, featuring custom treatments such as canted quad headlights, frenched Packard taillight lenses, fender skirts and a continental kit. After owning it for some years, Stan sold tickets for the Gypsy, and the car was eventually raffled away at a car show.
Click here for more information and photos



Robert Stack's 1931 Ford Model A Roadster
In 1960 Robert Stack of Hollywood, California won a Best Actor Emmy-award for his role as Elliot Ness in the television drama series, The Untouchables. 22 years earlier, In 1938, Bob drove his 1931 Ford Model A roadster to a record of 115.68 mph on the Muroc Dry Lake. Al Jepson and Ed Winfield helped Bob achieve a time not too many other four-cylinder Fords could match in 1938.
Click here for more information and photos



Chuck O'Malley's 1956 Dodge Convertible
From 1958 to 1962 Chuck O'Malley's 1956 Dodge Convertible of Cheltenham, Pennsylvania was restyled at least three times. The first version, named "Mariette" was shown at the 1958 Hot Rod & Custom Car World's Fair in West Springfield, Massachusetts. The third version, named the Granada gained national recognition when it was featured on the cover of Rod & Custom March 1963.
Click here for more information and photos



Bob Huffman's 1965 Chevrolet Impala
In September of 1964 Bob Huffman of Norwalk, California bought a brand new 1965 Chevrolet Impala from Paramount Chevrolet in Downey. He started restyling the Impala right away, and the first version of the car was completed in 1966. In October of 1967, after seing a concept drawing by Harry Bradley, Bob and his buddy Tom Chafin started restyling the car again.
Click here for more information and photos



Glenn Johnson's 1937 Ford Coupe
In 1947, Glenn Johnson of Las Vegas, Nevada was inspired to customize his coupe after seing a chopped and channeled 1936 Ford his buddy Carl Gratz had bought from California. The coupe was Glenn's first custom job, and before he started the build he studied Carl's Ford thoroughly before he constructed his future dream build on paper.
Click here for more information and photos



Jerry Berg's 1934 Ford 3-Window Coupe - The Northern Star
A coupe of months ago we ran a featured story on Jerry Berg's 1934 Ford 3-Window Coupe, The Northern Star. Since then we have been able to locate the car, and its current owner Larry Moe of Federal Way, Washington has helped us fill some of the gaps in the history of this great hot rod. If you read part one of this saga, be sure to check out the story again.
Click here for more information and photos



Joe Brienza's 1934 Ford Convertible - The Brienza Special
In 1958 Joe Brienza of West Islip, New York debuted a 1934 Ford Convertible he had spent two years building. Named The Brienza Special, Joe's chopped, channeled and sectioned convertible hit the Eastern show scene as a comet, winning trophies at most of the shows he attended. Joe has shared the full story, and almost 100 photos of the car with Kustomrama.
Click here for more information and photos



Bob Davis' 1935 Ford 5-Window Coupe
While attending Long Beach City College in 1960, Bob Davis bought an old 1935 Ford coupe for $85. It barely ran, and it had dents and holes, but with help from good friends and professionals, Bob managed to convert the car into a tastefully done mild custom. It was his only mean of transportation, and it is a perfect example of a mild custom car you could spot in high school and college parking lots in the early 1960s.
Click here for more information and photos



Louis Banto and Jack Perre's 1927 Ford Model T Roadster
In 1950 Louis Banto and Sal Macchia landed a featured story in Hot Rod Magazine July 1950 with their channeled 1927 Ford Model T Roadster. This car was sold shortly after it was completed in order to build a similar, but track nosed 1927 Ford Model T Roadster. Louis built this car with another business partner named Jack Perre. Due to their similar overall look, these two cars are often mixed together.
Click here for more information and photos



Bengt Wennergren's 1931 Ford Model A Roadster
Bengt Wennergren's 1931 Ford Model A Roadster belongs to the second generation of Swedish hot rods. Completed in 1966, Bengt took his newly built "Street Rod" on a vacation to Monaco only hours after it was completed. He stopped by Ramstein on his way down, as he had read in Hot Rod Magazine that there were drag races being held at the Ramstein Air Base air-strip.
Click here for more information and photos



Allen Duke's 1964 Chevrolet Impala SS - Bloody Mary
Allen Duke's 1964 Chevrolet Impala SS went through several changes between 1965 and 1969. It started mild with cut coils, chromed wheels, glass pack mufflers and a 45rpm record player and 8 track stereo player. Hydraulic lifts front and back followed before Allen decided to give it a custom paint job by Carl Darling. Howard Gribble has helped Kustomrama document the story of this long lost 1960s custom.
Click here for more information and photos



Lars-Erik Johansson's 1931 Ford Roadster - The Orange Fink
The Orange Fink is a Swedish show rod built in the 1960s. The build was started by Jonas Qvarnström who assembled a pile of parts into a hot rod. Matti Johansson did a lot of work on the car for Jonas and performed the radical sectioning before the unfinished build was sold to Lars-Erik Johansson in 1966. In 1967 Lars-Erik debuted the first version of The Orange Fink.
Click here for more information and photos



Jack Schleich's 1932 Ford
This chopped and channeled 1932 Ford 3-Window Coupe ran the streets of Oceanside, New York in the late 1950s and the 1960s. The owner, Jack Schleich, was a gifted mechanic that worked at legendary Bill Frick Motors, and the coupe ran many different engines set-ups, including a full house 1960 Oldsmobile 394 cubic inch engine with six carbs and dual McCulloch blowers.
Click here for more information and photos



G. L. Harlander's 1939 Ford V-8 Sedan Convertible
Luckily for us, the legacy of many backyard restyled 1940s customs have been preserved due to general-auto interest magazines such as Motor Trend featuring some hot rods and customs in their early issues. G. L. Harlander's 1939 Ford V-8 convertible sedan is one such car. Two small photos of Harlander's custom was featured in the "Custom Creations" section of Motor Trend October 1949.
Click here for more information and photos



Bud Unger's 1946 Ford Convertible
This chopped 1946 Ford Convertible was restyled by legendary East Coast customizer Bud Unger. It was his personal driver, and he started customizing the car shortly after opening up his own business Unger Auto Body Company in 1950. Once completed, Bud's wife used to drag youngsters at the stop light with the hopped up family-custom. A nice grocery getter for sure!
Click here for more information and photos



Jerry Berg's 1934 Ford 3-Window Coupe - The Northern Star
The Northern Star is a 1934 Ford 3-Window Coupe owned and built by Seattle Headers member Jerry Berg of Seattle, Washington. Jerry bought the old coupe from a couple in 1956. By 1958 he had transformed it into a potent hot rod, and that gained national recognition through a featured story in Hot Rod Magazine November 1958. Jerry was 21-years old at the time.
Click here for more information and photos



The Juxtapod
It is about a year since The Juxtapod made its first public debut at the Röhsska art museum in Göteborg, Sweden. The amazing Juxtapod is a Swedish show rod built by Mattias Andersson of LeBeef Kustom Metal Works. Built in a 1960s show rod style, the truck is a rolling art project incorporating Swedish state of the art crystal design by Ludvig Löfgren.
Click here for more information and photos



Art Fortin's 1953 Ford Sunliner Convertible
This radically restyled 1953 Ford Sunliner Convertible was restyled by Art Fortin of Adams, Massachusetts between 1960 and 1962. Art got the Sunliner at age 14. It was his first car, and his first ever custom attempt. Having no experience customizing at all, Art set off to restyle the car into a wild show car inspired by cars he had seen in current magazines from California.
Click here for more information and photos



Mel Lehman's 1940 Mercury 4-Door Sedan
If you can't afford a coupe or a convertible as base for your next custom build, why not start with a more affordable sedan? Mel Lehman, a real estate agent from Fresno, California decided to turn his 1940 Mercury 4-door sedan into a ground scraping cuustom in the early 1950s. Gordon's Custom Shop was responsible for the transformation, a job good enough for a featured story in Rod & Custom November 1954.
Click here for more information and photos



Neil Sidders' Outlaw
When Ed "Big Daddy" Roth built his first fiberglass show rod, The Outlaw in the late 1950s, he made a four-piece female mold that he could use to build and sell additional bodies to customers. We don't know for sure how many bodies he built and sold, but in 1972 one of the bodies found its way to West Monroe, Louisiana as Neil Sidders bought the remains of an old Altered Class drag car.
Click here for more information and photos



Wally Troy's 1953 Buick Convertible - The Troy Custom
After winning the "Special Award for Outstanding Design" with the Troy Special at the 1952 Indianapolis Custom Auto Show, Wally Troy was invited to attend the Speedorama Auto Sports Show in Minneapolis, Minnesota in 1954. For that show he set off to build another full custom, dubbed the Troy Custom, out of a 1953 Buick convertible. The build was completed in time for the show, and Wally's second full custom attempt was awarded "Best Custom".
Click here for more information and photos



Ed Roth's Outlaw
The Outlaw, or The Excaliber that it was first named, was Ed "Big Daddy" Roth's first experience with fiberglass. The build was started in 1957, and as Ed had no one to ask for advice and no experience at all working with fiberglass, he had to learn the trade by trying. The sensational build was completed in 1959, and it made its debut at the first, and last, Disneyland Car Club Day and Autocade show September 5th, 1959.
Click here for more information and photos



Wally Troy's 1950 Oldsmobile - The Troy Special
After running a body shop with his brother in law for a couple of years in Glendale, California, Wally Troy decided to pack his bags and move back home to his hometown of Springfield, Illinois in 1947. Back home he bought a Standard Oil station that he turned into Wally's Garage. In 1952 Wally wanted to prove to himself that he was as good, if not better than the big boys at customizing autos, so he started converting a wrecked 1950 Oldsmobile into the Troy Special.
Click here for more information and photos



Ralph Lysell's Rally
In 1951 Swedish born industrial designer Ralph Lysell, the father of the iconic Ericofon, wanted to mass produce a bubble-topped sports car in Norway. Ralph's low slung car was called Rally, and it featured an aluminum body and a Mercury flathead engine. Ralph's Rally never made it into production, and for many years it seemed to be long gone. It wasn't, and thanks to Norwegian made car collector Eirik Bøle the Rally is soon back on the roads again.
Click here for more information and photos



Jim Arkin's 1965 Chevrolet Impala
During the summer of 1966 San Fernando Valley Illusions member Jim Arkin of San Fernando Valley decided to turn his 1965 Chevrolet Impala into a lowriding boulevard cruiser, so he had Joe Andersen of Joe Andersen's Custom Shop apply a custom paint job. After Joe had given the car a rainbow paint job, Jim had Dick & Ron's of Huntington Park install lifts on all four corners.
Click here for more information and photos



Peter Billing's 1932 Ford Cabriolet
A letter from Peter Billing of Lidingö, Sweden, and an image of his 1932 Ford Cabriolet, can be found in the "Post Entry" section of Hot Rod Magazine February 1959. Peter was a 20 years old hot rodder that had just completed his first hot rod build when he sent the letter. In fact, his car is actually one of the first known hot rods of Sweden. The car is luckily still around, but it was unfortunately street rodded in the late 1990s.
Click here for more information and photos



Walt Prey
December 24, 2011 we lost another custom paint and pinstriping legend as Walt Prey passed away. Walt began pinstriping in the 1950s. In his 20s he worked out of Dave Kent's shop. Later on, in the late 1960s he left Kent to work for Bill Carter at Carter Pro Paint. Howard Gribble, who has owned two cars that Walt striped in the 1960s, has provided Kustomrama with a great bio on Walt and his accomplishments.
Click here for more information and photos



Chuck Sanders' 1951 Oldsmobile
Chuck Sanders of Haskell, New Jersey wanted his 1951 Oldsmobile to go just as good as it looked. So shortly after buying it in 1955, he pulled out the stock engine and replaced it with a fully chromed 1954 Oldsmobile Rocket engine. In February 1958, Chuck's Olds, called the Black Panther, was displayed at the Hartford Autorama. By then it had been fully customized and dressed up wearing a set of brand new 1957 Cadillac hubcaps.
Click here for more information and photos



Larry Quatrone's 1955 Ford Crown Victoria
In 1957 Larry Quatrone of Long Beach, California bought a "full" semi custom 1955 Ford Crown Victoria from Long Beach Renegades member Bill Burnett. The car was supposedly restyled by Barris Kustoms and Dick Williams, or Schelhaas Custom Shop. Larry paid $1800 for the car. As he was only 15 years old at the time, it sat in his backyard until he turned 16 and had a driver's license. After being hit by another car the car was freshened up by Larry Watson.
Click here for more information and photos



Frank Livingston's 1949 Chevrolet Fleetline - The Caribbean
Ex Satan's Angels president Frank Livingston has literally owned tons of 1949 - 1951 Chevrolets over the years. We have featured his first 1949 Chevrolet custom, The Caribbean, on Kustomrama before, but as Frank has filled us in with more info on his first full custom, and even shared some very rare never before published photos with us we had to run it one more time. But we promise to return with another one of Frank's customs in the near future.
Click here for more information and photos



Kenny Controtto's 1939 Ford
The streets of Southern California were filled with elegantly and carefully restyled cars in the 1940s. But due to the lack of magazines covering hot rods and customs prior to 1948, most of these beautiful cars have gone into the history books leaving few marks behind. Luckily the internet has brought this cars back recent years, and when Chris Eichert ran some photos of his uncle's chopped 1939 Ford Convertible on the HAMB I just had to do a little story on it.
Click here for more information and photos



Bruce Rosengren's 1936 Ford Cabriolet
There weren't many hot rods and customs running the streets of White Bear Lake, Minnesota back in the 1950s. One of the few restyled cars you could bump into was Bruce Rosengren's 1936 Ford Cabriolet. Bruce bought the car at age 17 in 1955. He was originally looking for a hot rod he could afford when he stumbled across an older custom creation located in St. Paul. The price was right, and since it was some sort of 3-Windo with its padded top, Bruce decided to bring the Ford back home with him.
Click here for more information and photos



Bob Hart's 1932 Ford Roadster
1928 - 1932 Fords are seldom considered custom cars today. That was not the case back in the 1930s, as many customized Model A's and 1932 Fords could be seen cruising the streets of Southern California. Bob Hart's 1932 Ford Roadster is a very rare early east coast custom car. It was restyled between 1938 and 1939 in Nassau, New York, and it looks Bob got much of his inspiration from the Southern California Plating Company's 1931 Ford Model A delivery truck during the build.
Click here for more information and photos



Lasse Mäenpää's 1958 Chevrolet Impala
Back in the mid 1950s, legendary custom painter Larry Watson started a revolution called "Custom by Paint". It took some time, but the trend has without doubt spread throughout the whole world. Back in 2005, Lasse Mäenpää of Åtorp, Sweden, wanted to transform his newly acquired 1958 Chevrolet Impala into a Watson styled mild custom. With good help from Finish pinstriper Pekka Wizzzard Mannermaa, Lasse's stock Impala was turned into the "Tropical Pearl".
Click here for more information and photos



Ray Giovannoni's 1936 Ford
Ray Giovannoni's 1936 Ford Roadster was restyled by Rockville, Maryland cusrom car builder Herbert "Bud" Unger around 1947/1948. Bud had learned the bodywork trade in the air force during WWII forming aluminum panels for airplanes. Back home he became manager at a body shop. Having a passion for custom cars and hot rods, he began studying the California styling trends. Ray's roadster is an outcome of Bud's thoroughly research and fabulous fabrication skills.
Click here for more information and photos



Lee Talbot and Sam Chakries' 1953 Studebaker Pickup
1953 - 1955 Studebakers were popular cars to customize back in the 1950s. Much of this due to their European and modern look. In 1958 Lee Talbot and Sam Chakries decided to transform their 1953 Studebaker Starlight Sport Coupe in a pickup. The build was completed in 1958, just in time for the 10th annual National Roadster Show. 60 years later, the restored version of the old custom made its second debut at the 50th National Roadster Show.
Click here for more information and photos



Howard Gribble's 1961 Ford Starliner
In 1965, Howard Gribble of Torrance, California had his friend Carl Darling restyle his 1961 Ford Starliner. Influenced by local customs such as Mike Perello's 1960 Ford Starliner, that we featured a couple of weeks ago, Carl and Howard set off to transform Howard's Starliner into a fully flaked boulevard cruiser. The car made its debut at a show in January 1966. Shortly after the show, the car was smashed by a pickup that ran a red light.
Click here for more information and photos



Gil Lippincott's 1934 Ford Tudor
Even though old small sized rod and custom magazines are filled with cars that the guys at Barris Kustoms restyled, most of the cars that were restyled at the shop in the 1950s never made it into a magazine. One of these is Gil Lippincott's mildly restyled 1934 Ford Tudor that Sam Barris and a helper painted it in nitrocellulose lacquer in 1950. In 1951 the engine blew in the car, and it was put in storage until 1998.
Click here for more information and photos



Yaril Quintana's 1950 Ford Convertible
Yaril Quintana's 1950 Ford Convertible has been known worldwide as the "Cross Country Custom". After 6 months of hard and dedicated work by its young owner, Yaril's second full custom job was completed in January 2011. 4 hours after he picked the car up from the upholstery shop in Florida, he hit the road with the newly completed car, heading for California and its big debut at the prestigious Grand National Roadster Show.
Click here for more information and photos



Larry Purcell's 1941 Ford Coupe
This 1941 Ford Coupe was restyled by Larry Purcell of Colorado Springs in the late 1970s. Even though he ran a custom body shop in the 1950s, he had never chopped the top on a car before he started this project. It took 2 1/2 years, $6,500 and more than 7,000 hours to complete the build. Larry's '41 made its debut on the 4th of July, 1978 and the result is as close to a traditional custom you could come in the late 1970s.
Click here for more information and photos



Mike Perello's 1960 Ford Starliner
Mike Perello's 1960 Ford Starliner was restyled in 1964 while Mike was working off a six month suspension of his driving license. Catching a ride with a friend to the local A&W, Mike spotted Jim Boyd's 1963 Ford Galaxie on the way, parked at the curb lying on the ground as Jim had recently installed "lifts" on his car. When Mike learned about hydraulics, and how you could raise and lower a car from the inside with a switch, he flipped out.
Click here for more information and photos



Steve Drale's 1958 Cadillac Brougham
Frank Sinatra and Larry Watson had a lot of things in common. They were both actors, popular with the girls and they both drove rare 1957 Cadillac/1958 Cadillac Brougham's. But did you know that Watson actually painted Sinatra's Brougham in the 1960s? He did, but at the time it was owned by Steve Drale of Torrance, California. With its stock factory air bags, the old movie-car was perfect for boulevard cruising.
Click here for more information and photos



Calvin Wiekamp's 1958 Ford Thunderbird
Except for a couple of details, Calvin Wiekamp's 1958 Ford Thunderbird is very similar to Larry Watson's 1958 Ford Thunderbird. Cal, who also had a 1955 Mercury that was painted by Larry Watson, had Dick Jackson of Advanced Custom Paints restyle and paint his Thunderbird. While Larry's Thunderbird was painted silver and burgundy, Cal's Thunderbird was pearl blue and pearl.
Click here for more information and photos



Roland Larsson's 1932 Ford Roadster
In the autumn of 1959, Roland Larsson of Hammarö, Sweden decided to tear down his 1932 Ford Roadster. Inspired by the real hot rods of California, he wanted to channel his roadster over the frame. The build was completed in the spring of 1959, and Roland entered the history books with one of the first, if not the first channeled roadster of Sweden. The car is luckily still around today, basically untouched since 1964.
Click here for more information and photos



Hank Fournier's 1936 Ford 5-Window Coupe
Some weeks ago we featured Willy Ouimette's 1939 Ford Coupe on Kustomrama. Willy's coupe was originally channeled and restyled by Hank Fournier in 1959, and it is still around today. Another channeled Hank Fournier creation that still is around is his own 1936 Ford 5-Window Coupe. Hank's own coupe was restyled in the late 1950s as well. The car has been restored and modified a little since it then, and it resides now in Caryville, Tennessee.
Click here for more information and photos



Calvin Wilkes' 1960 Ford - Candy Cane
Calvin Wilkes' 1960 Ford custom, also known as the Candy Cane took one year of hard work and $10,000 USD to complete. The front and rear pans on Calvin's Ford were rolled, and a custom grid-type grille was installed up front. The headlight were mounted inside the hood compartment behind the grille. A notable feature on Calvin's Ford is the radical handmade Jimmy Jones "Inkster Skirts", often found on Michigan area customs in the 1960s.
Click here for more information and photos



Bruce Schwartz' 1958 Chevrolet Bel Air
In 1959 Bruce Schwartz of Los Angeles, California bought himself a 1958 Chevrolet Bel Air. Shortly after buying the car, he met legendary custom painter Joe Andersen of Joe Andersen's Custom Shop in Gardena, California. Bruce was impressed by Joe's paint jobs, and went to work for him at his shop. It didn't take long time before Bruce's Bel Air had been mildly customized and received its first of many Joe Andersen paint jobs.
Click here for more information and photos



Dave Jenkins' 1957 Chevrolet Bel Air
October 19, 1956, 20 years old Dave Jenkins of Ypsilanti, Michigan became the proud owner of a brand new 1957 Chevrolet Bel Air. As so many other Michigan custom car owners, the first thing Dave did to his car after he got it was to install a set of hand formed Jimmy Jones "Inkster Skirts". After messing around with the car for a while Dave had the Alexander Brothers restyle the Chevy for him. Dave still owns the car, and it was restored back to its 1959 version in 1990.
Click here for more information and photos



Leroy Semas' 1937 Chevrolet Coupe
Last week I featured Dick Bertolucci's 1938 Chevrolet Coupe on Kustomrama. While researching Dick's coupe, I stumbled across new information on another good looking 1940s Chevrolet custom that was restyled by Harry Westergard for fellow Thunderbolts member Leroy Semas. For a long time nobody seemed to know what happened to this early custom car after Leroy sold it. Thanks to Lawrence Brocchini we now know a little more.
Click here for more information and photos



Bobby Yamazaki's 1954 Mercury
The name of the owner who lost his full custom 1954 Mercury at the Barris Kustoms shop fire December 7, 1957 has been unknown for a long time. George Barris called him "Chimbo", and could not remember his real name. Larry Watson knew all the time, and thanks to Howard Gribble's great movie Custom Cars Painted by Larry Watson in the 1950s we now know that the Merc belonged to Bobby Yamazaki.
Click here for more information and photos



Dick Bertolucci's 1938 Chevrolet Coupe
In the 1990s Dick Bertolucci's 1938 Chevrolet Coupe was found in Eugene, Oregon. The current owner wanted to convert the old custom into a 4-wheel drive, but he got scared by all the lead on the car. Thank god for that. For a long time it wasn't' known what happened to the car after Dick's dad sold it in the late 1950s. That was until Tom McHenry, who owned the car between 1963 and 1966 decided to share his old photos and stories with Kustomrama.
Click here for more information and photos



Willy Ouimette's 1939 Ford Coupe
This chopped and channeled 1939 Ford Coupe was originally built by Hank Fournier for Ken Costello in the late 1950s. In 1965 Willy Ouimette found the remains of the car while driving down a backroad in Warwick, Rhode Island. Willy bought the old custom, fixed it up, and sold it shortly after it was completed. Willy never forgot the old custom, and 45 years later he was able to locate the remains of his old car again.
Click here for more information and photos



Ron Weiskind's 1935 Ford Roadster
When Rods and Customs magazine was introduced in May 1953, the three or four first issues contained basically unused material from the sister publication Hop Up magazine. One section in the new magazine was called "our readers' customs...", and one of these readers rides was Ron Weiskind's 1935 Ford roadster from Seattle, Washington.
Click here for more information and photos



Lars Erik Ljungkvist's 1932 Ford
According to the Swedish magazine Teknik för alla December 1963 there were about 30 hot rods in Sweden in 1963. One of these were owned by 20 years old Lars Erik Ljungkvist from Huddinge. Lars' roadster was in fact featured on the cover of the magazine along with a caption that stated that the hot rod sport had reached Sweden.
Click here for more information and photos



Tommy Ivo's 1952 Buick
I guess most of you have heard about the legendary drag racer Tommy Ivo. I'm also pretty sure that most of you haven't heard about or seen his 1952 Buick Super Straight 8 custom. The Buick was Tommy's first car, and he bought it from money he had earned as a successful child actor. After trying the Buick on the drag strip, Tommy decided that the huge Buick would be better suited as a custom car.
Click here for more information and photos



Jack Rushton's 1941 Ford Pickup
At first glance Jack Rushton's 1941 Ford looks like an ordinary customized 1941 Ford with its nosed hood and frenched headlights. If you hit the link, you'll find what may have been the forerunner for the 1957 Ford Ranchero. When Jack restyled his 1940s Ford pickup, he decided to mate the truck with a 1941 Ford passenger car front clip. Based in Montebello, California, Jack did all or most of the work himself.
Click here for more information and photos



Ron Luchs' 1956 Chevrolet - Miss Taboo
When Ron Luchs of Beaverton, Oregon began to cut up his 1956 Chevrolet in 1957, his father thought it was a taboo to cut up such a nice car. Due to this, Ron decided to call his evolving custom "Miss Taboo". The car would progress and change until 1961, and then again in the early 1990s when Ron Luchs found it cruising the streets of his hometown and was able to buy it back.
Click here for more information and photos



Ken Bausert's 1950 Mercury Convertible - The Mint Julep
May 11, 1959, was the day Ken Bausert of Richmond Hill, New York bought his first car. He was 15 years old at the time, and for $125 he was able to buy a 1950 Mercury convertible. After buying the car, Ken spent two years converting his car into the Mint Julep. The first incarnation of the Mint Julep was completed in the summer of 1961, just days before Ken turned 18 years old and his "junior" license became a "full" license.
Click here for more information and photos



Phil Curry's 1957 Chevrolet Bel Air
This 1957 Chevrolet Bel Air was restyled by by Junior Conway of Junior's House of Color for Phil Curry of Compton, California in the early 1960s. The car was a moderated custom, and in addition to shaving away emblems and handles, the most notable feature on this car is the 1957 Buick grille. In 1963 the car was featured in Rod & Custom July 1963. Early in 1964, Phil sold the car to Terry Crary of Palm Springs, California.
Click here for more information and photos



1309 Figaro Avenue
In 1946, Gene Winfield opened up his first shop, "Windy's Custom Shop" in an old chicken coop behind his mothers' house on 1309 Figaro Avenue in Modesto, California. The old chicken coop is still around, and it was recently sold to Albert Coito and his brother. At the time, the shop was about to be torn down. Albert jumped on the chance to make an offer in order to save the historical building, and luckily the owners agreed on the offer.
Click here for more information and photos



Dennis McKee's 1958 Chevrolet Impala
in 1962, 16 years old Dennis McKee bought himself a 4 years old 1958 Chevrolet Impala. Dennis was a Sophomore at North Torrance High at the time, and as he wanted to turn his stocker into a mildly customized street cruiser, he shaved some of the emblems on the car before handing it over to legendary painter Joe Andersen of Joe Andersen's Custom Shop for a pearl Tangerine paint job.
Click here to read more



Alex Xydias' 1934 Ford Cabriolet
In 1941 Alex Xydias found this 1934 Ford cabriolet it in the basement of the Ambassador Hotel in Los Angeles. The car had already been customized when he found it, and it had been fit with hydraulic brakes and a column shift. Alex brought the car to Jimmy Summers and he had him lead in the rear fender skirts on his cabriolet, as he wanted a smooth look on the fenders.
Click here to read more



Bob Caldwell's 1957 Chevrolet Corvette
Chevrolet's sporty Corvette was a popular car to customize in the late 1950s and early 1960s. This slammed Corvette was restyled by Hoeck Chevrolet Company for Corvette enthusiast Bob Caldwell of Lebanon, Oregon. Most notable changes included frenched and hooded headlights, a molded and modified grille shell, and finns on the rear fenders.
Click here to read more



Charles Kemp's 1941 Plymouth
Al Twitchell of Hollywood, California started to restyle Charles Kemp's 1941 Plymouth Convertible in his backyard in May, 1948. The body was smoothened by shaving the hood and deck lid. The door handles were removed as well, and fadeaway-fenders and fender-skirts were built from sheet stock. After performing this and several other modifications, the build was completed in July the same year.
Click here to read more



John Benson's 1956 Chevrolet
In order to make his 1956 Chevrolet stand out from the rest of the Chevrolets in Gardena, California, D'Amours So. Cal. member John Benson had George Cerny of Cerny's Custom Shop restyle his car. After George had done his thing, Dean Jeffries applied some contrasting scallops that enhanced the new lines of the car. Carson Top Shop completed the build by installing a white pleated Naugahyde upholstery.
Click here to read more



located it in the 1990s. Hopefully the restored version of the car will make its debut in the near future.

Clif Inman's 1957 Chrysler
Like many other San Jose teenagers Clif Inman could often be found hanging out at John's Drive-In. One day in the late 1950s Clif saw a sleek 1957 Chrysler cruising the Drive-In. Clif was hooked and in 1960 he sold his Oldsmobile and bought a black 1957 Chrysler. He took the car to Joe Wilhelm of Wilhelm's Custom Shop and had him give it a mild restyling. In 1962 Clif was involved in an accident and he had Joe fix it up and restyle it further.
Click here to read more



Link Paola's 1940 Ford Convertible
Link Paola's 1940 Ford Convertible was probably the first 1940 Ford ever customized. Link worked in the bodyshop of a Glendale Ford dealership in 1939 and about a week before the 1940 Fords were released to the public the dealer got a load of cars for his shop. Link bought one, and managed to restyle his car before the other cars went public. The day people came to see the new Ford, Link had parked his car in front of the agency and it drew a larger crowd then the stock cars.
Click here to read more



Dick Gonzales' 1955 Studebaker Speedster
Dick Gonzales' 1955 Studebaker Speedster went through a lot of modifications during the 1950s. While |Dick was responsible for designing the look of his car, he had Art's Custom Shop perform the actual work. In the summer of 1959, the car received a candy yellow paint job by legendary painter Larry Watson of Watson's House of Style. This version of the car gained national recognition when it was featured on the cover of Rod & Custom December 1959.
Click here to read more



Mike Budnick's 1960 Pontiac Ventura - The Golden Indian
Earlier this week we lost Larry Alexander of the Alexander Brothers kustomizer duo. Larry and his brother Mike Alexander are recognized for their neat and clean creations and one of their most famous builds belonged to a teenager from Detroit named Mike Budnick. In January 1961, 18 year old Mike rolled into the Alexander Bros. shop in Detroit; he wanted to make his car stand out from the rest of the cars currently cruising on Woodward Avenue.
Click here to read more



Chet Herbert's Beast III
After working for three or four days (and nights) on August 27, Chet Herbert entered his Bonneville Streamliner as the "Herbert Cams Special" at the 1952 Bonneville Nationals. With the number 666 on its side, and Art Chrisman behind the steering wheel, the Beast III became the fastest single engine car in America. After being stored away for 55 years, the restored version of the Beast III made its debut at the 60th annual Pebble Beach Concours d'Elegance August 14, 2010.
Click here to read more



Doug Rice's 1939 Ford Coupe
Known as the Bonneville Boomer after its appearance in Hot Rod Magazine December 1954, Doug Rice's chopped and channeled 1939 Ford Coupe was clocked at the Bonneville Nationals in 1953 turning a top time of 126.58 mph running on straight alcohol in the "C" coupe class. The car was found under a pile of crap in 1983 and restored back to its 1954 configuration by Don Richardson. In 2010 the car was back at the salt flats of Bonneville for the 62nd annual Bonneville Speed Week.
Click here to read more



Arthur Lellis' 1939 Ford
In 1946 Arthur Lellis and Jerry Mofatt of Art & Jerry Custom Shop in Los Angeles built two almost identical Ford Customs. After being clocked at 120.35 mph at El Mirage and being sold to actor Alan Young, Art's car ended up on the East Coast. While there, the car was in an accident and some parts including the front end were modified. In 1988 Bill Dreist found the un-restored remains of the car and restored it back to its 1952 version. August 14th, 2010 the car was offered for sale at the Pebble Beach Auctions.
Click here to read more



Ray Strappazon's 1958 Chevrolet Impala
In 1959 Ray Strappazon of Joliet, Illinois had Barris Kustoms restyle his 1958 Chevrolet Impala Convertible. After a make over, the once blue Chevy had been converted into a creation known as the "Wild Cherry". The car was nosed, decked and fit with a custom grille made out of mesh screen, bullets and chrome trim. The doors were shaved of handles and push-button operated. Lakes pipes, dual spotlights and fender skirts were added to the car, while the chrome strips on the front fenders and in the rear fender scoops were removed.
Click here to read more



James Hetfield's 1936 Ford Coupe
In 2006 Beatniks member and Metallica frontman James Hetfield brought his 1936 Ford 5-Window Coupe over to the talented guys at Blue Collar Customs in Sacramento, California. After 5 weeks the first version of the coupe made its debut at the 2006 Cruisin' Nationals. In 2008, after building a 1956 Ford Extended Cab Pick Up for James, the coupe returned to Blue Collar Customs for a serious make over. After hand building a new roof and several other body panels from sheet metal, the coupe has finally now made its bare metal debut.
Click here to read more



Frederic Schaffnit's 1949 Dodge Roadster
This European flavored custom car was restyled on the American west coast by Frederic Schaffnit of San Fransisco, California. Frederic, or Bud that his friends called him, built the car for his wife Virginia. In 1998 the car was listed for sale as an old Barris Kustoms. John Wetzel, from the east coast of USA knew it wasn't a Barris car, but he had always wanted a sectioned car, so he bought it and brought it with him across the continent. John is currently restoring the car back to its first version, and would be glad if anyone could help him out with more info on his roadster.
Click here to read more



Yaril Quintana's 1951 Buick Special
When Yaril Quintana bought his 1951 Buick Special in 2003, his intensions was to keep the car as a daily driver. Yaril was the 3rd owner of the car, and when he got it still had its original paint, so he knew there was no rust to worry about on it. Shortly after buying the car, Yaril nosed, decked, and shaved the handles off the car. He also installed airbags on the old Buick. After putting many miles on its odometer, the 3 on three went out, and the rear end started making noises. This was the start of a long custom journey for Yaril's Buick, a journey that hasn't ended yet.
Click here to read more



Larry Watson's 1958 Ford Thunderbird
After selling his 1950 Chevrolet known as the Grapevine, Larry Watson wanted to start a new trend in painting, and wanted to use a brand new car as his canvas. What he really wanted was a brand new 1958 Cadillac Brougham, but that was far to expensive, so he decided to go for the newly redesigned Thunderbird instead. As soon as Larry got his new ride, he brought it over to Barris Kustoms so Bill Hines and Bill DeCarr could restyle it slightly before Larry would paint it.
Click here to read more



Larry Watson (1938 - 2010)
Earlier today we lost another great custom hero. After struggling with brain cancer for a while, Larry Watson left us all July 20, 2010. Inspired by Von Dutch, Larry began striping in his parents backyard at age 16. It didn't take long before he opened up his first shop Watson's House of Style in north Long Beach, California. Being the most influential custom car painter ever, Larry's legacy will live on forever amongst enthusiasts all over the world!
Click here to read more



Larry Ernst's 1952 Ford Convertible
In 1951, after buying a brand new 1951 Chevrolet Bel Air reverend Larry Ernst of Toledo, Ohio packed his bags and drove the car to California in order to have Barris Kustoms restyle it. Around 1953 Larry bought himself another car, a 1952 Ford Convertible. After buying the car, Larry packed his bags again, and went on another custom journey. This time the trip went to Detroit, Michigan and the Clarkaiser Custom Shop.
Click here to read more



1955 Chevrolet Biscayne
Even though the 1955 Chevrolet Biscayne Concept Car was officially condemned in 1958, styling treatments from the car can be found on GM cars well into the 1960s. As luck had it Harry Warholak, Sr. of Warhoops Junkyard saved the Biscayne by scattering pieces of it all over his junkyard. In 1989, custom and concept car collector Joe Borts bought the remains of the Biscayne. Restoring the car has been a long journey, but July 24, 2010 the restored version of the car will make its debut at the Concours d'Elegance of America at Meadow Brook
Click here to read more



Ken Leake's 1959 Chevrolet
A couple of weeks ago we featured Jim Cirivello's 1959 Chevrolet Impala on Kustomrama. Jim's Impala was basically restyled by Dick Jackson and his steady paint gun. Ken Leake, another Long Beach area citizen, also choose Dick Jackson of Advanced Custom Paints to restyle his Impala. Ken's Impala received a similar paint job consisting of violet and white scallops over a silver pearl base under violet. I wonder who if Ken was influenced by Jim, or if it was the other way around?
Click here to read more



Frank Poli's 1950 Ford
This mildly restyled 1950 Ford Shoebox was restyled by Modesto Century Toppers president Gene Winfield at Winfield's Custom Shop for Frank Poli. Up front it looks like Gene has made a custom grille bar for Frank, but the item is taken from a 1951 Ford Meteor. A similar grillebar can also be found on Bill Hines' 1950 Ford known as The Bat. Frank seldom drove the car in fear of damaging the car in the fender-bashing traffic, but luckily the car received a couple of magazines features.
Click here to read more



Jim Truscott's 1956 Ford Victoria
When Jim Truscott of Shawnee, Oklahoma wanted to restyle his 1956 Ford Victoria he wanted the very best for his car, so he packed his bags and drove the car all the way west to Compton, California were he had George Cerny of Cerny's Custom Shop restyle his beloved car. Once George had done what Jim commissioned him to do, he hit the road to Southgate to have Baron, Roth and Kelly apply some eloborate gold and Candy-apple scallops.
Click here to read more



Larry Ernst's 1951 Chevrolet Bel Air - The Bel Air Royal
Even though Jesus built Ministry's Hot Rod, reverend Larry Ernst of Toledo, Ohio decided to let the Barris Brothers restyle his 1951 Chevrolet Bel Air Hardtop in 1951. Beeing a roman catholic priest, owning a custom car was not easy in the 1950s. As the story goes, Ernst was asked to park his car around the block from the Catholic Charities Mission where he worked so it would not offend members of the congregation or make it seem like he lived a better life than he should.
Click here to read more



Benny Furtado's 1948 Ford
After opening up his own shop behind his mothers chicken house, Gene Winfield did a lot of custom work for friends and family. One of the first "strangers" to have Windy's Custom Shop restylle his car was dairyman Benny Furtado. Benny, who came from a nearby town had acquired his 1948 Ford brand new off the showroom floor. After driving it around for about a year, he decided to have Gene Winfield improve the cars appearance in 1949.
Click here to read more



Sam Gates' 1947 Ford Club Coupe
In 1948, Sam Gates of Pasadena, California decided he wanted a custom car more than anything else. He looked around, seeking the best shop that could make his dream come true. After a while he decided that his car could only become the car of his dreams if he did the work himself. Not having any experience, he attended metal work classes to learn the trade. After two years of learning Sam landed a job at Link's Custom Shop, where he worked at the car after work.
Click here to read more



The Ohanesian / Reichert 1934 Ford Coupe
This bad ass 1934 Ford 3-Window Coupe was originally owned and raced by Sacramento Thunderbolts member Harold "Buddy" Ohanesian. In 1952 the flywheel blew on the car on a Drag Strip. The driver, a guy who occasionally ran it for "Bud" was badly injured in the accident, so "Bud" donated the car with no engine to an auction were the money went to the wounded driver. This is were Orvel Reichert enters the story.
Click here to read more



Jim Cirivello's 1959 Chevrolet
Dick "Peep" Jackson began hanging around Barris Kustoms at age 14. After a while he became a broom boy in the shop sweeping floors, from there he advanced into becoming a mighty fine painter. After learning the trade from some of the best men in the industry, Dick started his own body shop and custom car studio called Dick's Custom Shop. One of the first cars he restyled in his own shop was Jim Cirivello's 1959 Chevrolet Impala.
Click here to read more



Gary New's 1949 Chevrolet Coupe - The Batmobile
What's your favorite Batmobile? Mine is a 1949 Chevrolet Coupe restyled by Walkers Body Shop for Road Barons member Gary New of Bakersfield, California. The car was built about a half decade earlier then the more famous Batmobile by Barris Kustoms. Once the bodywork was done, Gary's Batmobile was scalloped and pinstriped by "The Crazy Painter" Ed "Big Daddy" Roth. France's Top Shop upholstered the car with amatching Bat insignia in the back seat.
Click here to read more



Ken Sowers' 1956 Plymouth
1956 Plymouth restyled by Bill Babb of Wirth Body Shop for Ken Sowers. The profile of Ken's 1956 Plymouth appeared almost stock, giving no hint to the extensive frontal modifications on the car. The front was modified to accept a 1958 Buick grille. 1958 Edsel inner grille rings were used as headlight housings, and large airscoops were cut into the front fenders. The hood was louvered and shaved.
Click here to read more



Robert E. Roeder's 1934 Ford Convertible - The Roeder Sport Custom
Robert Roeder of Emmaus, Pennsylvania learned his sheet metal fabrication skills while working at the nearby Mack Truck Company. In 1948 he used his skills to turn his 1934 Ford Convertible into a Sport Custom known as the "Roeder Sport Custom". Robert kept the car almost unchanged until he died in 1974. After he passed away, the widow kept the car unchanged for another 20 years. In 1994, Terry Bean who had admired the car since he was a little kid was able to buy the car from the widow.
Click here to read more



Donald J. Hyland's 1939 Ford Coupe
February 23, 1955 Donald J. Hyland of Springfield, Massachusetts debuted his newly restyled 1939 Ford Coupe at the fifth annual Hartford Autorama. Donald bought the car brand new, and drove it around for a while before he decided to have it customized. The coupe was then chopped, channeled, and dechromed. The fenders were molded, and fit with fender skirts in the rear. The stock bumpers were replaced by ripple-style bumpers. Donald kept the chassis stock, but swapped the stock engine for an 125 hp Mercury V8
Click here to read more



Ron Guidry's 1936 Ford 5-Window Coupe
December 6th, 1957 Long Beach Renegades member Ron Guidry drove his 1936 Ford 5 Window Coupe over to the Barris Kustoms Shop. He had just been invited to display his car at the Oakland Roadster Show, and wanted Dean Jeffries to give it a new paint job for the show. The next night the shop caught fire and Ron's Ford was lost among 13 other cars, fellow Renegades member Ed Cousins bought the remains of the car for $150.
Click here to read more



Alfred A. Berton's 1932 Ford Cabriolet
In 1955 Alfred A. Berton displayed his neat 1932 FordCabriolet at the fifth annual Hartford Autorama in Connecticut. The car featured many unusual parts such as Kinmont Disc Brakes and a Carson Top by Glen Houser of Carson Top Shop. I'm really curious about the top, was Alfred's roadster originally built in California, or did Alfred drive it to Los Angeles in order to have Glen make him one of his legendary padded tops?
Click here to read more



Clarence Schaaf's 1937 Cord Special
When Clarence Schaaf of Erlton, New Jersey wanted to build himself a Sport Custom he started his build with a 1937 Cord chassis. The chassis was fit with a 200hp Lycoming V8 engine, and a hand built body. After the contours of the body were made, Clarence fit his car with a set of 1950 Studebaker front-fenders, and a set of 1950 Buick rear fenders. The build took 14 months of spare time, and $3,700 USD to complete. But once completed the build was valued at $7,000 USD.
Click here to read more



Roger Cunningham's 1950 Ford Convertible
When Roger Cunningham of Portland, Oregon wanted to have a different, cool, and comfortable custom car, he turned to Bob Mead of Forest Grove, Oregon. Roger had owned several other customs before, and decided wisely what car to purchase as his next project. After considering several different makes and models, the decision fell upon a 1950 Ford Convertible. After completing the build, the car was featured on the cover of Rod & Custom November 1956
Click here to read more



Sig Monson's 1949 Dodge
When I first saw Sig Monson's 1949 Dodge in Trend Book 105 Restyle Your Car an old suspicion I had was confirmed. 1949 and 1950 Dodge's and Plymouths have huge custom potential! A 1949 Dodge more-door will cost you about one tenth of a 1949 Mercury, so I really hope Sig's Dodge will inspire someone out there to do the same as he did 58 years ago. The result could be a low-budget custom that really stands out next to many big-budget cars.
Click here to read more



Ronny Green's 1941 Ford
When Ronny Green bought his 1941 Ford, it had already been chopped and fit with a padded top. Most of the chrome had been removed, and the doors had been push-button operated. When he got the car it was in a bad shape, so Ronny had Studio Custom Auto Body Shop in Burbank, California fix it up again. Once completed, this version of the car was featured in the first issue of Custom Cars Magazine.
Click here to read more



Robert Johnson's 1951 Oldsmobile 98
When members of the Renegades Car Club in Long Beach wanted to have their cars restyled, they often had Larry Watson apply one of his famous paint jobs. When members of the Satan's Angels Car Club wanted to restyle their cars, they would often turn their cars over to Joe Bailon of Bailon's Custom Shop. When Satan's Angels member Robert Johnson bought his fifth custom car, Joe Bailon was hired to make it stand out from the crowd.
Click here to read more



1957 Townsend Typhoon MK2
The Townsend Typhoon was the brainchild of Frank Townsend of Tucson, Arizona. The car started as a wood model in the early 1950s while Frank was still in high school. By 1957 Frank was busy building his third full scale Townsend Typhoon called the 1957 Townsend Typhoon MK2. This car was found in a field on a ranch in Arizona in 1999, and has since then been restored to its 1957 version by T2V Racing and Restoration.
Click here to read more



James L. Price's 1950 Oldsmobile
A year, or two before Valley Custom Shop sectioned Jack Stewart's 1950 Oldsmobile the Polynesian, Spohn Coachworks sectioned James L. Price's 1950 Oldsmobile. We have featured a lot of Spohn creations heavily influenced by the 1951 GM LeSabre Concept Car here on Kustomrama, so I thought it was about time to show a Spohn creation not influenced by Harley Earl's masterpiece.
Click here to read more



Bob Alexander's 1948 Plymouth
WhenEsquires member Bob Alexander of Glendale, California wanted to have his 1948 Plymouth restyled, he handed the car over to the guys at Studio Auto Body also of Glendale. Studio Auto Body converted the business coupe into a club coupe by installing rear seats. They also restyled the coupe by remodeling the grille shell, and by installing a shortened 1949 Mercury grille.
Click here to read more



Ralph Stefano's 1955 Lincoln Capri
After Ralph Stefano was drafted from the navy, he wanted a nice car to cruise the streets of Pueblo with. He got hold of a 1955 Lincoln that he wanted to have restyled. The young bodymen Bill Dickey and Otto Krueger of G&D Body and Paint were chosen for the job. After the bodywork was done, Jack's Upholstery in Trinidad reupholstered the interior.
Click here to read more



Tony Ferreira's 1954 Mercury
It is important to support local businesses. So when Tony Ferreira of San Diego, California wanted to restyle his 1954 Mercury he handed the car over to a local shop called House of Custom. After House of Custom had done their work, Tony's car was featured on the cover of Custom Cars September 1957 where they reffered to it as the "Modernized Mercury".
Click here to read more



Bob Clark's 1946 Cadillac Sedanette
This 1946 Cadillac Sedanette was restyled by Valley Custom Shop for their part-time employee Bob Clark. The car was mildly kustomized by removing much of the chrome, and by lowering it 2 inches. After Valley Custom had painted the car in a two tone Mandarin Red and Black, Bob drove it to his hometown Denver, were he had a 1952 Cadillac overhead engine installed.
Click here to read more



Phil Schmidt's 1952 Mercury
Wonder if Phil Schmidt's 1952 Mercury was inspired by the Barris Kustoms built Nobby Miyakawa's 1952 Mercury? Or if it was the other way around? Anyway, the two cars has many similarities. While Phil was in the Navy, he did not want spend his weekly paychecks into a lot of excess baggage, neither would he save it. Instead he had Styler's Custom Shop of San Diego customize his car. Phil helped out a lot during his hours of liberty as well.
Click here to read more



Bill Faris' 1932 Ford Roadster
Bill Faris' 1932 Ford was restyled by Neil Emory and Clayton Jensen of Valley Custom. The hopped up roadster clocked 132 mph at the 1951 SCTA Lakes Meet, and was chosen to be the ultimate Roadster Hot Rod by Hop Up Magazine in 1952.
Click here to read more



Richard Lee Tiago's 1957 Ford Ranchero
Since my brother has left for the Lonestar Roundup, I guess it's up to me to keep Kustomrama alive in the meantime. I've chose to featuren this sleek Ranchero since I have a weak spot for Rancheros. It was bought brand new by Richard Lee Tiago in 1957, however it did not last long before he ended up in a traffic accident, damaging the top pretty bad. While Ward's Body Shop was fixing it up, Richard decided he wanted to have it customized as well.
Click here to read more



Arthur Cooper's Comet
It's tuesday, and it's time for another 1951 GM LeSabre inspired creation. I have added so many 1951 GM LeSabre inspired creations by Spohn Coachworks these last weeks that I start to wonder if Harley Earl was inspired by the bodybuilder of Ravensburg, Germany?
Click here to read more



Tom Piantkoski's 1948 Mercury
On his way from New Jersey to Los Angeles in the early 1950s, Tom Piantkoski was involved in a traffic accident in Zanesville, Ohio, and totaled his customized 1941 Mercury. Still eager about coming to Los Angeles, he continued his trip by bus. In Los Angeles Tom bought an uncompleted 1948 Mercury custom that he drove back to New Jersey and completed.
Click here to read more



Larry Shinoda's 1932 Ford 3 Window Coupe - The Chopstick Special
Larry Shinoda is an automotive legend, responsible for designing the second generation Corvette and the BOSS 302 Mustang. In the beginning of his career, Larry was an active Californian hot rodder building and racing his Chopstick Specials cars. Larry built this 1932 Ford 3-Window Coupe in 1953 while working for Phil Weiand.
Click here to read more



Robert Mooselli's 1948 Mercury
Robert Mooselli's 1948 Mercury was built by Spohn Coachworks in Ravensburg, Germany in 1952. The complete chassis on the car was bought new from Ford Motor Company in Belgium for a cost of $1,100. The body was built entirely at Spohn for an additional cost of $6,000, and is heavily inspired by the 1951 GM LeSabre Concept Car.
Click here to read more



Ed Webster's 1951 Buick Convertible
1955 Plymouth taillights were popular custom taillights in the mid and late 1950s. When Ed Webster of Aurora, Illinois restyled his 1951 Buick Convertible, he decided to rework the fenders of his car to accept a pair of inverted and frenched in 1955 Plymouth taillights.
Click here to read more



Phil Hernandez' 1951 Mercury
1951 Mercury four-door restyled by Toigo's Auto Body & Paint Shop of San Diego, California for Phil Hernandez. The deck lid, hood and doors were shaved for chrome. Push buttons were used to operate the doors and deck lid. The headlights were shaded in order to simulate 1955 Chevrolet units.
Click here to read more



Arvi Hänninen's 1949 Checker
Built between 1953 and 1956, this 1949 Checker Coupe is probably the first custom car of Finland. Arvi Hänninen owned a bus body builder company called "Suonenjoen Autoasennus", and had the employees restyle his Checker when they didn't have anything else to do. The car is still around, and is currently being restored back to its first version.
Click here to read more



Tom Pollard's 1929 Ford Roadster
Known as "Dragnets Big Rod", Tom Pollard's 1929 Ford Model A Roadster was originally built by Kazar "Cozy" Simonian in the late 1940s. Once completed Cozy had spent all his paychecks building the car, and had to sell it on order to get some money. Tom bought it, and made it famous as the Hot Rod from NBC's Dragnet even though it never appeared in any episodes of Dragnet.
Click here to read more



The Donz Lancer
The last few weeks I have featured some custom cars influenced by the 1951 GM LeSabre Concept Car. Some are built as lookalikes, while others are inspired by certain design elements on the Harley Earl creation. This weeks featured car was built by Donz Custom Shop in Orlando, Florida and has a rear end treatment very similar to the 1951 GM LeSabre.
Click here to read more



Carl Cerny's 1949 Chevrolet
This clean 1949 Chevrolet custom was Carl Cerny's personal ride. Carl ran Cerny's Custom Shop together with his brother George. The boys turned out some really nice customs during the 1940s and the 1950s. George received a lot of ink with his chopped 1950 Plymouth Suburban, but I haven't been able to find out much on his brother Carl.
Click here to read more



Ralph W. Angel's 1950 Chevrolet
As many other American soldiers serving occupation duty in Germany, Ralph W. Angel had Spohn Coachworks build him a 1951 GM LeSabre influenced custom creation. After his time in Germany, Ralph brought the car with him back to the USA. Back home the car attracted so much attention that Ralph decided to sell it.
Click here to read more



GAZ GL-1
With roots going back to 1933 Ford V-8's, I think it is safe to call the GAZ GL-1 a Russian Hot Rod. The car is a factory race car that was built by the Russian auto manufacturer GAZ in 1938. The original car is lost forever, but a recreation of the 1940 version of the car was recently debuted at the Moscow Museum. The cold war is over, so I hope the guys who built it will bring it over for this years Bonneville Speed Week. (Would this be kool or what? RtR)
Click here to read more



Bill Moore's 1957 Ford Ranchero
This nifty Ranchero was owned by Long Beach Renegades member Bill Moore of Garden Grove, California. According to Custom Cars October 1959, Bill's Ranchero was one of the first 1957 Fords that were fit with 1958 Edsel taillights. The modification looks really good and if I owned a 1957 Ranchero, I would have made an eBay auto search for a pair of those taillights as soon as I got the car home.
Click here to read more



Dick White's 1941 Ford Convertible
It's been a while since we have featured any Canadian built cars here on Kustomrama. Many nice hot rods and kustoms were also built north of the American border in the 1950s, and Dick's 1941 Ford is one of those. Before the build was completed, Dick sold his car to Don Sherwin, another Canadian kustomizer who completed the build.
Click here to read more



Glenn Stauffer's 1949 Chevrolet
Last week we featured Nickolas M. Staranick's 1947 Buick 1951 GM LeSabre lookalike built by Spohn Coachworks in Germany. This week we have added another 1951 GM LeSabre inspired creation to Kustomrama. Glenn Stauffer's 1949 Chevrolet is not a lookalike, but it's rear end treatment is very inspired by Harley Earl's creation.
Click here to read more



Gary Heliker's 1926 Ford Model T Roadster
1926 Ford Model T Roadster owned and built by painter and bodyman Gary Heliker of Lawndale, California. The trunk on Gary's car was welded shut and fit with taillights from an Oldsmobile F-85 station wagon. The front fenders on the car was made from old Ford wheel covers, and the grille shell was a cut down 1932 Ford grille shell.
Click here to read more



Bob Metz' 1950 Buick
In 1983 Brett Johnson bought a restyled 1950 Buick that was advertised locally in Old Cars Weekly. Not aware of its past, Brett began to modify the car after his own likings. in 2009 somebody recognized his Buick and suggested that it could be an old Bob Metz creation. The lead turned out to be true and after some investigation it turned out that Brett's Buick was actually Bob Metz' first custom attempt.
Click here to read more



Nickolas M. Staranick's 1947 Buick
In the 1930s Spohn Coachworks gained fame with their Bugatti, Mercedes-Benz, and Maybach creations. During the World War II the once prominent name was forgotten. In the 1950s American soldiers on occupation duty in Germany rediscovered the talented coachbuilder and had him build them unique custom cars. The result was another era of Spohn, and many of the cars he built were based on the design of the 1951 GM LeSabre Concept Car.
Click here to read more



Ted Leventhal's 1950 Chevrolet Convertible
According to George Barris Ted Leventhal's 1950 Chevrolet Convertible was the first car painted in what became known as Candy Apple Paint. Mel Pinoli of Pinoli's Body and Paint Shop in San Leandro, California laid the paint. While Joe Bailon might have been the first to apply Candy Apple red, George claims that Pinoli's Body and Paint Shop laid the first candy job.
Click here to read more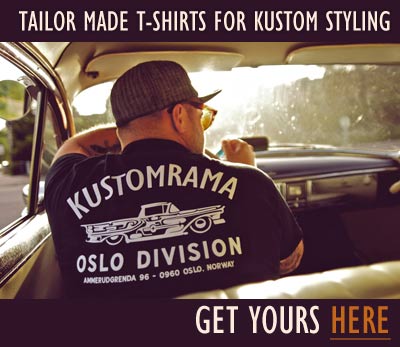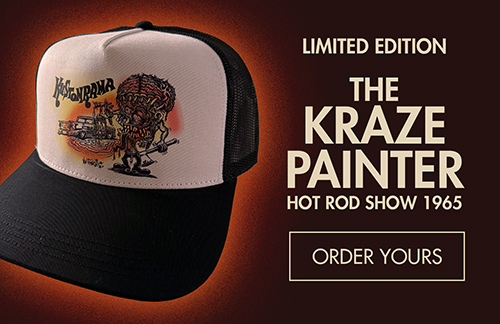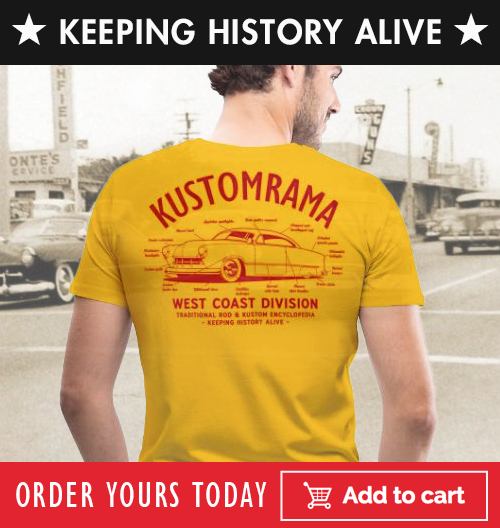 Did you enjoy this article?
Kustomrama is an encyclopedia dedicated to preserve, share and protect traditional hot rod and custom car history from all over the world.
Can you help us make this article better?
Please get in touch with us at mail@kustomrama.com if you have additional information or photos to share about Featured Stories.



This article was made possible by:
SunTec Auto Glass - Auto Glass Services on Vintage and Classic Cars
Finding a replacement windshield, back or side glass can be a difficult task when restoring your vintage or custom classic car. It doesn't have to be though now with auto glass specialist companies like www.suntecautoglass.com. They can source OEM or OEM-equivalent glass for older makes/models; which will ensure a proper fit every time. Check them out for more details!

Do you want to see your company here? Click here for more info about how you can advertise your business on Kustomrama.