Ed Park's 1936 Ford
From Kustomrama

1936 Ford Convertible owned by Ed Park of Marshall, Missouri. Ed bought the car in November of 1959. Back then he lived in Tacoma, Washington. Paying $50 for the car, he bought the old custom from the mother of the son who owned the car. "He was in the Navy," Ed told Sondre Kvipt of Kustomrama in 2020. "At a young age, I always liked this type of custom," Ed explained. "Even though at the time I didn't know what I bought. The flathead motor was against the wall in pieces which I left there. It turned out to have been customized in the fifties in Tacoma, even though the car came out of Portland, Oregon. It was done in the Harry Westergard style that was very popular in the Pacific Northwest."[1]
Parked in the chicken house
Ed worked at a fast-food drive-in in Tacoma from June 1958 until October of 1961. "Shortly after I got the car I got it over to a garage near where I worked. Two young men came by one day and said they would sell a 1950 Olds engine and put it in for me for $125. They did that, but it turned out to have a turned bearing." Ed then moved the car to his parent's chicken house, where it sat until 1977. "By this time I figured out what I had. The grill is a 1940 LaSalle without the top piece that is attached to the hood. The panels that hook the grille to the fenders were made. The side panels of the hood are solid probably purchased from JC Whitney. The headlights were put in the fenders, but that is another story. The bumpers that were with the car were big ugly ones so I left them. Horn grills were stock. The battery was mounted in the firewall. The cowl vent was leaded in and '40 Ford windshield wiper towers were installed. The windshield was chopped 1 3/4 inches, a '49 Mercury dash was narrowed eight inches before installing it. The top frame bows were cut to make it fit. The stock seats were upholstered in maroon and white in a smooth pattern. '39 Ford taillights were attached to the top of the rear fenders, and a gas flip-up door for the gas tank. Since it is the first club cabriolet it had a trunk with the stock spare tire. I believe they used a '47 ford as a donor car for the hydraulic brakes, side shifter transmission, steering wheel, and column."[1]
In 1962 Ed moved to Southern California. He lived in California for eleven years before he moved North to Anchorage, Alaska in 1973. September 11, 1968, Ed bought a 1968 Chevrolet Corvette convertible with a 427 engine and a four speed transmission. "First two years in Alaska it was the only car I had." The '36 stayed in the chicken house for seventeen years before Ed shipped it to Alaska in November of 1977.[1]
Ed didn't know anything about the history of the car when he bought it. In 1977 a photo of the car was published in the "Early Iron" section in the March 1977 issue of Street Rodder Magazine. Seven years later, in 1985, Ed met Red Swanson of Portland, Oregon. Red could tell Ed that he bought the car in 1944. "He said a man he knew put the headlights in the front fenders. And that is all Red had done." Ed still had those fenders in 2020. "Red sold the car in 1949 or 1950 and never saw or heard of it again until he saw it in Street Rodder Magazine."[1]
The first thing Ed did to the car after he got it into the basement of his house in Anchorage was to take the top off. "After the windshield was chopped they cut the main bows of the top frame, welded them together, and the top no longer folded. When removing the top a business card fell out of the padding. It was R.I.Steere's card. I began my senior year in high school in the fall of 1956. During that fall the telephone numbers went from six digits to seven, and his number had six. So that means the car had to have been done in the early fifties." Somehow the car wound up in Tacoma, Washington, in the possession of R.I. Steere of Custom Painting and Repair, Automotive Refinishing Body And Fender Work. "Sometime in the late seventies I did talk to his father," Ed told Kustomrama, "but I found out that he had died in a boating accident. At his shop, they used the major part of a 1940 LaSalle grille and made the steel pieces on each side of the grille." The windshield was chopped 1 ¾ inches, the cowl vent was filled in, and 1940 Ford windshield posts were used in the cowl. Solid hood panels found their way onto the car, along with 1939 Ford taillights, and gas filler cover in the left rear fender. On the inside, a 1949 Mercury dash was narrowed eight inches and installed along with a side shifter Ford transmission and a steering wheel and column from a late forties car. It was upholstered in a smooth maroon and white pattern. "Hydraulic brakes were taken from probably the same Ford with the suspension being early Ford. The rear was lowered by six-inch shackles."[1]
The restoration begins
Ed separated the body from the frame and started with the chassis. "I left the frame stock. The hydraulic brake cylinder had already been put in where the battery used to sit. Front brakes were changed to Ford F100. Front and rear suspension was stock except for six-inch shackles on the rear. Sandblasted and painted in the basement. My wife said she didn't think she would let me sandblast inside the house again."[1]
The body was in excellent shape. "It only required very little work on the rear. The floorboards were replaced with new reproduction ones welded in by my friend Bernie Edwards. You will hear his name a lot. The body was sandblasted and primed. I joined NSRA in 1977. My target was to drive it to the Street Rod Nationals in 1983, where ever it was going to be. A '48 Ford flathead motor was purchased and totally rebuilt. My friend Bernie put it together for me. In the meantime, I was able to pull a totaled '46 Ford out of the brush along the side of the road for a transmission. I didn't want to use the '40 LaSalle grille. I was able to find a reproduction '36 grille and had it chromed. In the meantime, while this was all going on I was able to make the Portland, Oregon auto parts swap meet where I got a name and number of a man that had a '39 LaSalle grille and bought it sight unseen."[1]
"The hood panels were put on by R.I. Steere. They were probably by J.C. Whitney or Cal Custom, and probably not for $500 like today's prices." Ed sent the hood tops to a friend in Washington, and asked him if he could get them louvered somewhere. "He took them to Portland to Russ Meek's shop. When he sent them back to me he said Russ Meeks wanted me to know that he did them personally."[1]
"Building a Repli-Carson Top"
In 1982 Ed found out that the 1983 Street Rod Nationals was going to be in Oklahoma City, Oklahoma. "By early July 1983, I have no top. For years I have had a copy of a 1977 edition of Hot Rod Magazine's How to Build a Street Rod with an extensive article on how to Build a Repli-Carson Top. I got the metal for the top frame. Now I am ten days from leaving for Oklahoma. I take the car to Bernie Edward's shop, and with the article in hand Bernie in ten hours has the frame built. The next day I take the car to Mike Bulkely's house wherein four days I have a new Carson Top. Mike was a member of our car club, Midnight Sun Street Rod Association in Anchorage, Alaska, and he was an upholsterer for an airline. I never said anything to Mike in advance of how to make the top or mention the name Carson. When he finished it and was showing it to me, the first thing he said was, he wouldn't have made a top like this for him. But he figured that a Carson Top was what I wanted. It turned out that when he first worked at an upholstery shop In Anchorage he worked with a man that worked at the Carson Top Shop in California, he showed Mike how to make a Carson Top. Boy did I ever luck out!"[1]
Alaska to Oklahoma - 4000 miles to the Nats!
While the car was being worked on in Mike's garage, Ed and his buddy Ross Jardine finished putting the car together. "Thursday afternoon I drove home and left the next morning for Oklahoma 4,400 miles away. Oh, just before I left Ross Jardine put on a fresh coat of primer. I had no bumpers they were to meet me at John Payne's garage in Lone Grove, Oklahoma."[1]
Ed pulled out of his driveway Friday, July 22, 1983. Headed for the 14th annual Street Rod Nationals in Oklahoma. His original route was to drive down the Alcan Highway to Dawson Creek, British Columbia, then to Seattle. Instead he went to Edmonton, Alberta Canada before he proceeded south. The Alcan was a rough ride, and by the time Ed had reached the end of it, he had lost two hubcaps, one tail-pipe, and he had received a broken windshield, a torn right fender, and a broken valve spring. Not able to source a new valve spring in Dawson Creek, he had to drive to Edmonton, Alberta to get the car fixed.[2]
The three-day paint job
Nine days later Ed arrived at John's place, "where it was to be painted in three days which John was able to do it with Ross and my help. Ross flew to Oklahoma so he could help us." Ed always wanted the car red of the fifties. To check some colors, Ross painted the dash 1954 Buick Tahitian Red. "A very popular custom car color back then. By the time I left for Oklahoma, I hadn't made up my mind yet. Ross took my trunk lid and painted three different maroon like colors. It was that way all the way to Oklahoma. The lid did spark some controversy. I finally got 1981 Ford red." Waiting for Ed at John Payne's garage was his two freshly chromed 1937 DeSoto bumpers and a set of new reproduction bumper brackets. "There wasn't time to put them on so I took them with me. At the nationals, I picked up a set of moon discs. Now there can be a good story alone just what it took to get it painted in three days, but we registered on Thursday." The last paint was laid on at 3:00 a.m. of the morning of August 4, the first day of the Nationals. Ed registered at the Nationals at about 11:00 a.m. on August 4. He had done his best to the car at that time, and Ed was awarded the long-distance plaque at the show for driving the farthest from outside the 48 states.[1]
Back home, Ed took the car Mike Bulkley so he could finish the Carson Top and do the interior. "In my mind I am organizing the changes to make it a real Harry Westergard look," Ed told Kustomrama.[1]
Alaska to Minnesota - 3400 miles to another Nats!
July 8, 1985 Ed and Ross Jardine pulled out of Ed's driveway in Peters Creek, Anchorage heading for the 1985 Street Rod Nationals in St. Paul, Minnesota. Ed driving his 36, and Ross driving his 1936 Ford Coupe. Driving down the Alcan Highway, they made a stop at Regina, Saskatchewan for the Canadian Street Rod Nationals.[1]
Time for an upgrade
"In the fall of 1987, I decided it was time to upgrade. I mainly wanted to get rid of the buggy spring suspension." After getting it to the frame, Bernie Edwards welded in a Heidts MII front cross-member for Ed. A complete suspension, including the power rack from a 1979 Ford Pinto station wagon was installed. "I sent the spindles off and had them dropped two inches. I installed a Progressive Engineering transmission mount in the cross member. Bernie welded in a Progressive triangular four-bar rear suspension with Aldan coil-overs. Then mounted a Ford nine-inch rear end that I changed the gears from 3.0 to 3.5. The car runs four wheel disc brakes with kits from ECI. The rear wheels are fifteen-inch chevy, and the front are 1947 Cadillac sixteen-inch wheels. I had to have them in order to mount the original 1947 Cadillac sombrero hubcaps." The tires were Coker wide whitewall tires.[1]
LaSalle grille
"Now it was time to get the Harry Westergard look that I always wanted." The spare tire set up for the car was stolen shortly after Ed purchased it back in 1959. "When the work was done on the rear I just had the mounting holes filled with bondo in case at a later date I could put it on. Years ago I was able to purchase one, but still not wanting to put it on. First thing was to change the original firewall that had seventy-six holes in it to a new Bitchin Products small block set back firewall." Bernie welded the firewall in for Ed. After the body was mounted it was time for the fenders. "I didn't like the looks of the right rear fender so I got a new fiberglass one from Dee Wescott. At the time of the mounting, I tunneled in the 1939 Ford tail lights so the lenses would stand upright. This was done because with them on top of the fenders the lights could not be seen. I purchased two new fiberglass fenders from Dee Westcott, two fiberglass 1940 Chev headlight buckets, and headlight rings from Chevies of the forties. First filled the horn grille holes then mounted the headlight buckets. Using Spence Murray's build up on his roadster I mounted the 1939 LaSalle grille like Joe Bailon did. Time for a story of that grille I worked on. My friend, Ross Jardine, while attending the Portland Swap Meet bought a 1936 Ford grille for fifteen dollars. It was an original grill that been in a wreck that pushed all the grille bars in. So just like Spence Murray I cut all those out leaving the sides that were in excellent condition. Again Bernie came to the rescue by filling in the vacant places."[1]
Engine upgrade
When Ed purchased the first engine for the car, he got a stock 59AB that had been bored 83 thousand. It ran a ¾ race Iskenderian cam, adjustable lifters, finned aluminum heads, an Edelbrock four-barrel carb intake with a WCFB four-barrel carb. It ran headers with glass packs, stock ignition, and it ran well. "But every time I considered keeping the motor in my head was the mechanic in Dawson Creek, British Columbia, Canada, saying "I can fix it, but where do I get the parts"?. In fact, when I moved from Alaska my friend bought the engine and he still has it sitting on display in his garage in Roseburg, Oregon." Ed never had the chance to run the four carb setup, as he happened to buy a Sharp intake with the four 94s with linkage for $55.
"Someday it will get finished"
"In my mind, while the availability of crude oil was in those days with gas prices changing a lot, I finally decided I would put in a Chev V6." Ed kept the flathead radiator after the swap. "The engine I got was a remanufactured first Chev shortened small block. Two cylinders were removed from the 267 ci engine to become a 200 ci/3.3 liter 95 hp beast. Although the motor runs great I could use more horsepower," he admitted. In 2006 Ed moved to Marshall, Missouri, bringing the old custom along. "In October 2011 I did drive it to Sacramento, California, and back over the Rockies. I needed more horsepower." In November of 2020, Ed was currently building a new 4.3 liter V6 for the car. "At least 200 hp will be nice. Hooked to a 700R4 with 3.5 geared rear end works fine." Ed still considers the build a work in progress, promising that someday it will get finished.
Magazine features and appearances
References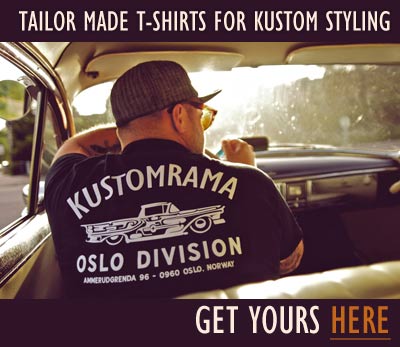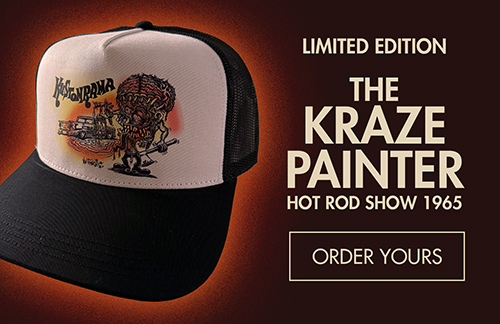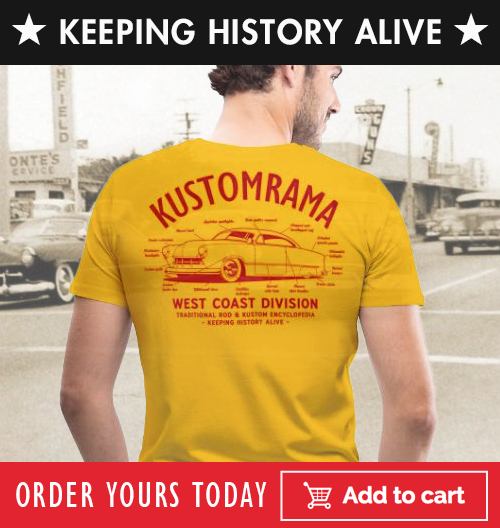 Did you enjoy this article?
Kustomrama is an encyclopedia dedicated to preserve, share and protect traditional hot rod and custom car history from all over the world.
Can you help us make this article better?
Please get in touch with us at mail@kustomrama.com if you have additional information or photos to share about Ed Park's 1936 Ford.



This article was made possible by:
SunTec Auto Glass - Auto Glass Services on Vintage and Classic Cars
Finding a replacement windshield, back or side glass can be a difficult task when restoring your vintage or custom classic car. It doesn't have to be though now with auto glass specialist companies like www.suntecautoglass.com. They can source OEM or OEM-equivalent glass for older makes/models; which will ensure a proper fit every time. Check them out for more details!

Do you want to see your company here? Click here for more info about how you can advertise your business on Kustomrama.