Martin S. Papazian's Cordster
From Kustomrama

The Cordster is a custom roadster originally owned and designed by Martin S. Papazian of Worcester, Massachusetts. Built in the early to mid 1950s, the car was based on a combination of Cord, Jeepster, Studebaker, and Cadillac parts. The Cordster went through three versions of changes covering first the drivetrain and then the body.[1]
Sports Custom family car
Martin's objective when building the Cordster was to produce a "Sports Custom" family car. He felt that the two-seater sports cars of the day were limited to people that could afford to own two cars due to their limited seating capacity, so he set out to create his own. Due to his personal liking for the 1936 Cord's front end appearance, the "snappy" body of the Willys Jeepster, and the good ride of the early 1950s Studebakers, Martin choose this combination for his family sports car.[1]
Vital parts located
According to an early newspaper article on the car, a 1952 Studebaker sedan came in at the auto wrecker that Martin worked. It had 400 miles on it, and the body was badly damaged. He found the motor, rear end and transmission in good shape, so he started planning. He wanted a 1948 Willys Jeepster body and several months later located one in a Leominster garage after writing and phoning all over the state. After looking around, he was finally able to locate a 1936 Cord in Holden. The Cord was owned by a man who had an old car hobby.[1]
Combined frames
The frames of the Studebaker and Jeepster were cut and combined to produce a 128" wheelbase, using the Studebaker frame from the cowl forward The frames were box-welded and re-enforced with quarter inch plates.[1]
Easy maintenance
The Studebaker V8 engine was installed in the reworked frame. All components from the Studebaker frame were welded in to keep the chassis components standard Studebaker to ease future maintenance since the frame from the cowl back was Jeepster.[1]
A low center of gravity for improved handling
The motor, which normally sat on the front cross member of the Studebaker, was dropped inside the frame, two feet back from its normal position. The radiator, steering column, and linkages were all positioned and levered to maintain the Studebaker engineering without disturbing the drive shafts. This gave the car a lower center of gravity, which improved handling, and allowed enough space under the hood to replace the Stude power plant with a V16 Cadillac if desired. The fluid level in the transmission could be checked from under the hood, with all other parts readily accessible for servicing. A Ford ever-hung foot brake was installed on the left of the steering column for enhanced vehicle maneuverability and to provide easy access to the master cylinder. The anti-creep feature and hill hold features were retained as originally designed.[1]
Body modifications
The Cord grille was sectioned and spread to fit the Jeepster cowl. The hood was then lengthened and split in the corners to fit the Jeepster cowl as well. The Cord fenders were narrowed to fit the wheel centers. The ventilator was removed from the top of the Jeepster cowl for a cleaner appearance. The body between the two front fenders was smoothed by fitting a trunk lid from a Model A Ford there. This allowed removal of both front fenders as one piece from the front center of the car to the cowl.[1]

Inside, the 1951 Studebaker dash, complete with instruments and steering wheel, was fitted to the Willys Jeepster body. The Jeepster body was channeled two inches, and Cord rear fenders were chopped and welded onto the Jeepster's rear quarter panels.[1]
Minimum chrome
Martin liked chrome in its place but felt that it was being overdone at the time, so his design kept exterior trim to a minimum. He decided to install bumpers from a 1929 Willys Knight. These were chosen for strength, simplicity, and lack of chrome. Front parking lights were 1948 Chrysler, while the rear lamps were from a 1950 Buick. Most of the chassis and body fabrication work was done by Paul Walker of Paul Walker Restoration in North Oxford, Massachusetts, with Martin's "valet" service serving as an extra pair of hands.[1]
Two-tone green pain job
Final metal finish and paint were performed by Arthur St. Auto Body of Worcester, Massachusetts. It was painted in two tones using a light Seafoam Green paint for the majority of the body, with a darker shade of green for accents. A matching dark green top and upholstery work was tailored by Henry's Trim Shop of Worcester. The top was made from 5 ply guaranteed fade-proof material, while the upholstery was done in two-tone Naugahyde.[1]
First version completed in 1953
The first version of the Cordster was completed in 1953. Total build time was 20 months of evenings and weekends. Martin ran the car on General Super Squeegee tires and was featured in several General Tire Company ads to promote them. The wheels were dressed up featuring 1953 Studebaker hubcaps.[1]
Good for at least 100 mph
According to Martin, the car was good for at least 100 mph, and it rode and handled beautifully. He was not that satisfied with the brakes though he thought their performance was average over the range.[1]
Award winner
Once completed, Martin was also a little disappointed that the Cordster did not cause quite the sensation he had imagined. The car won many awards however, and It took home first prize in the "Open Custom Class" at the 1953 Medford Speedorama, first prize in the "Unusual Design" class at the 1954 Springfield International Auto and Boat Show, first prize in the 1954 New York World Motor Sports Show, second prize in the "Unusual Custom Design" class at the International Auto Show in Boston, Massachusetts, second prize in the "Custom" class at the Rhode Island Motor Sports Show in Providence, Rhode Island, second prize in the 1955 International Automobile Show in Jersey City, New Jersey, second prize at the 1955 Springfield International Auto and Boat Show in Springfield, Massachusetts, and honorable mention at the 1955 Hartford Autorama in Hartford, Connecticut.The Cordster also made a couple of TV appearances, and on numerous occasions, was featured in newspaper articles.[2]
Emil Linder of Linder's Auto Parts in Worcester was a close friend of Martin's as were their fathers. It would appear that during this time, Emil, through his Linder's Auto Parts business, helped out by sponsoring aspects of the project and employing Martin as his Parts Manager.[2]
A fascination for classic cars
Martin found himself much more drawn to classics than hot rods or customs. Before he built the Cordster, Martin had owned stock dual cowl Packards, an Auburn Speedster, and a couple of Kissel Golden Bugs. He installed a Buick engine in one of the Kissels. At the time that he built the Cordster, he was fond of Studebakers, Willys Jeepsters, and Henry J's for daily drivers.[2]
Chopped top and Cadillac engine
Later on Martin chopped the top, replacing the split Jeepster windshield with a widened laydown windshield from an MG. Before that, he replaced the Studebaker V8 with a 331 cu. in. Cadillac engine and Hydra-Matic transmission. The engine swap was done, in part, to solve some camshaft reliability problems he was having with the Stude engine. According to the receipt from Linder's Auto Parts, the 1952 engine and transmission cost $350 when purchased on October 30th, 1954. The engine had a 4 barrel carburetor, and in stock trim was rated at 190 hp, but the dual exhaust and Smitty glasspack mufflers probably added a bit more. The car, with this second drive train setup, before the body modifications, was shown at the 1955 Hartford Autorama.[2]
At the drags
Also in 1955 the second annual NHRA Drag Safari came to the Orange Airport in Orange, Massachusetts. Martin presented a Sook Trophy at the event for "Best Workmanship." Both in business and in his personal life, Martin went by his middle name, "Sook." At that time, he had recently started a gun oil business and was using the trophy as a promotional tool. Martin ran the Cordster at the event as well. It is not known what the E.T. was, but as his son, Bruce, recalled, Martin reported that he finished the quarter clocked at 79 mph, which was respectable for the time.[2]
Martin's oldest son, Billy, takes possession of the car
In 1954, Martin's oldest son C. William "Billy" Papazian joined the US Air Force. By the end of his tour, he was stationed at Sheppard Air Force Base in Wichita Falls, Texas. Around 1957 he took possession of the Cordster from his father, and used it as his daily driver when he was discharged from the military. He enrolled at Midwestern University in Wichita Falls. As a student Billy had trouble keeping the high maintenance car in shape. With all the lead in the body, it was reported that lots of cracks had to be chased to keep the car in top condition.[2]
Billy gives up on the Cordster
In around 1960, Billy gave up on the Cordster and junked it. The last straw was when he cracked the block one cold Texas night when the car didn't have antifreeze in it. The car was out of the Papazian family's control from then on, and they lost track of it.[2]
Bruce starts tracking the car down
In 2000, Martin's youngest son Bruce, posted a request for information about the Cordster on eBay. He offered $100 for information leading to the recovery of the car and included a picture and brief history. He received several replies from people who recalled the car, and who were willing to share memories. However, after a couple of days, eBay removed the ad because it was in violation of their policies.[2]

After the ad was taken down, Bruce made a request to the Texas registry to search for the title via its serial number and Martin's birth date, 9-3-1910. They found nothing.[2]
The hunt continues
In 2001 Bruce contacted the Auburn Cord Duesenberg Museum in Auburn, Indiana to see if they had any records on a 1935 Auburn Speedster that Martin traded to Paul Walker in exchange for the work he did on the Cordster. Bruce was put him in touch with Randy Ema of Orange County, California. Randy was the museum's historian and is a noted Duesenberg expert. Randy had a file on the Speedster, that Martin gave to Walker. When Bruce explained the exchange that had occurred and why, Randy told him that he had a file on that car too and that it was known as the Cordster.[2]
L'Abortion - The Sunset Trading Post lead
Randy sent Bruce a snapshot of the Cordster and two pages copied from the 1978 number 4 issue of the Auburn Cord Duesenberg Club's Newsletter that he had on file. These two pages contained an article about the Cordster titled "L'Abortion." The story featured three photos of the car partially disassembled without an engine. One of the pictures showed a sign for the Sunset Trading Post, which Bruce traced to a business owned by a Jack Glover of Sunset, Texas, about 60 miles from Wichita Falls on an access road to Highway 287.[2]

Later in 2001 Bruce posted a request for information about the car in the Lone Star Street Rod Associations monthly publication, "Street Light", along with a picture of the Cordster taken by Bob Robinson as it stood for sale, in front of the Sunset Trading Post. No one ever contacted Bruce with any information. He continued searching for the car on various websites as well, without luck.[2]
In 2002 Bruce called Jack Glover and asked him what he knew about the Cordster. All Jack could remember was that he got it from Doy Terry of Wichita Falls, and that he, in turn, sold it to someone perhaps from Mansfield, Texas around 1978.[2]
Doy Terry and the Papazian Custom Tourer
Later in 2002, Bruce contacted Doy Terry. As soon as Bruce told Doy his name, he interrupted and said that he once owned a car named a "Papazian Custom Tourer." Doy told Bruce that he had owned it for several years and that he had purchased it from Andy Lodes at a Wichita Falls gas station near the Sheppard Air Force Base. Doy believes he bought it in 1967. He had the Cadillac engine and transmission rebuilt, restored the body, and painted it 1969 Chrysler Gold. He never got it back on the road though, and he told Bruce that he took the engine out to put it into a 1955 Cadillac he acquired before trading the rest of the car to Jack Glover for a piano, despite his wife's objections. That was around 1971, and it is the last Doy knew of the car. Bruce sent Doy a copy of the picture that Randy Ema had sent him. Doy confirmed that it was a picture of the Cordster taken in the driveway of his parents' home in Wichita Falls right after he towed it home with the help of his brother Dale who steered the car while Doy pulled it. According to Doy, the piano was eventually donated to Midwestern University.[2]
Billy Baker comes forward with new information
In 2016 Doy Terry placed ads seeking info about the Cordster on several Craigslists around Texas. He reported that several people responded that they remembered seeing it for sale in front of Glover's Sunset Trading Post, but no one had any new info on where it went after that.[2]

On October 30, 2016, Bruce Papazian received a text message and photo from a Billy Baker of Midland, Texas; "Billy was given my contact info by Doy when he responded to one of his Craigslist ads. I spoke with him the next day. He told me his father, Albert Baker, known as AW, retrieved the Cordster from a salvage yard in Wichita Falls, Texas and got it running again in 1960. Billy was 5 years old at the time, but said he remembers riding in it and being frightened by the noise it made," Bruce told Kustomrama. The Baker family was living in Holiday, Texas at the time, which is about 10 miles south of Wichita Falls.[2]

Albert offered the car to Billy's older brother, Wylie Baker, who was just about to get his driver's license at age 14, but Wylie turned it down. Apparently there were problems with the top mechanism that made it difficult to put it up, and he wanted something more modern. Wylie believes his father then sold to a salvage yard for $75, and that's the last they knew of it. Billy said the car impressed him so much he's thought about recreating it, but the cost of the Cord parts he would need was so high, he never did it.[2]
In 2014 the Cordster was posted in the Kustomrama Lost and Found section, asking readers to reach out if they had any information about the whereabouts of the old custom to share. "On April 24th I received a voicemail from James Bear Roderick asking for a call back to help him track down some information on an old car," Bruce told Sondre Kvipt of Kustomrama in April of 2020. "I called him back and he said he had an old Cordster car he was researching and saw it on Kustomrama. He said it was outside of Tulsa Oklahoma, and he wondered if I could provide him any info on production figures for it. I told him that car was a one-off custom car built by my father and I have been looking for it for 20 years. I told him everything I knew about it was on the Kustomrama website. He said the Cordster he knew of was sitting outside a barn on his family's property for years waiting for him to do something to make it look better for a friend. He said he had gone to school restore to learn to restore old cars but was since out of that business. He said he took pictures of it the other day he would send to me to see if it was the same car. It was. I asked if he thought the owner would sell it, and he said he would find out. Agreed to price was what the current owner, Roger D. Dunham, paid for it in 1978, corrected for inflation."[2]
In April of 2020 Roger D. Dunham told James Bear Roderick that he had a special place in his heart for the Cordster. "As a salesman traveling north on US 287 near Sunset, Texas when from the northbound lane, I saw what I supposed was a Cord sitting on the high ground near a trading post. At the first crossing I turned around and returned to see the Cordster, gold in color and without a top. I asked Jack Glover, owner of the Sunset Trading Post, for the selling price. When he said $1,500 I nearly ripped the pocket of my slacks getting to my wallet." Roger had the car shipped to and stored at my residence at 6611 S. Calendar Road in Arlington, Texas, "just north of Mansfield, Texas until 1980 when we moved to Skiatook, Oklahoma."[3]

Roger had the Cordster stored at the family farm near Vera until 2005. In May of 2005 he commissioned Karl Skalnik of Skalnik Automotive to sandblast the gold paint and primer coat the body and undercarriage with gray primer. The vehicle was delivered to the warehouse of Remediation Solutions Inc. where it was to be refurbished by James Bear Roderick, a recent Wyotech graduate. "We did some research about drive train and the body parts. It was apparent that the Cord front clip was carefully attached to a Jeepster body and custom rear fenders. But, our plans changed and the old girl was stored for work at a future date. James Roderick, President of Remediation Solutions Inc. and father of James Bear Roderick, has been so generous to keep her covered and sheltered for nearly 15 years." After owning the car for 42 years, Roger had an emotional attachment to the car, but he was very pleased to know that it would be in the hands of the Papazian family again.[3]
The restoration
A friend, Carl Whitney, told Bruce that the contents of the old Auburn Cord Duesenberg factory had been purchased by Glenn Pray years ago. Glen had moved it to Broken Arrows, Oklahoma, and it was now a business run by Glen's son, Doug Pray, named ACD Factory. Bruce reached out to Doug, who agreed to pick the remains of the Cordster up and bring it in to his place. "Not only are they the foremost authorities on restoring Cords," Bruce told Kustomrama, "his foreman who just retired is a Jeepster expert, currently owning three. Doug said the pictures I sent did not intimidate him at all, and between the three of us we can bring it back as far as I want to take it. He said it will be a really fun project that they will enjoy working on."[2]

James Bear Roderick kindly pulled the car out of the field it was in for easy access by a flatbed with a winch. May 21, 2020 the car was finally picked up and delivered to the ACD Factory. "The tires hold air and it is being inspected," Bruce could tell Kustomrama, adding that next step is media blast to see what's really there.[2]

After the Cordtsrer had been media blasted, Craiton Cooper and his crew at The Auburn Cord Duesenberg Factory spent some time learning how Marting had put the car together. Craiton advised Bruce to get parts cars for the restoration, not parts, given the condition of the car, and how much they needed to complete it. By November of 2020, Bruce had acquired a 1955 Cadillac Convertible, a [1951 Studebaker]], and a Jeepster parts car.[2]
References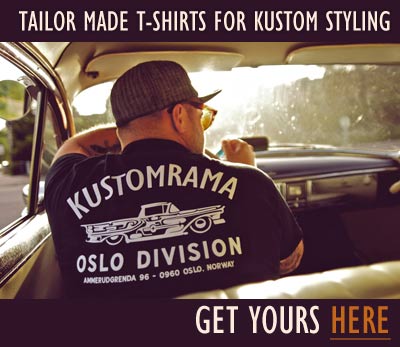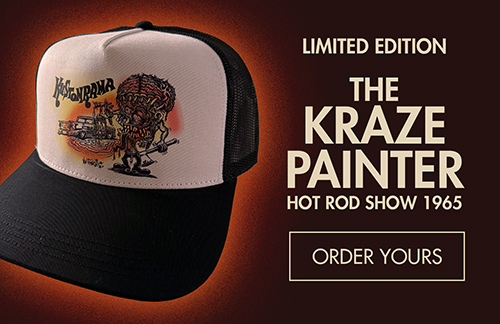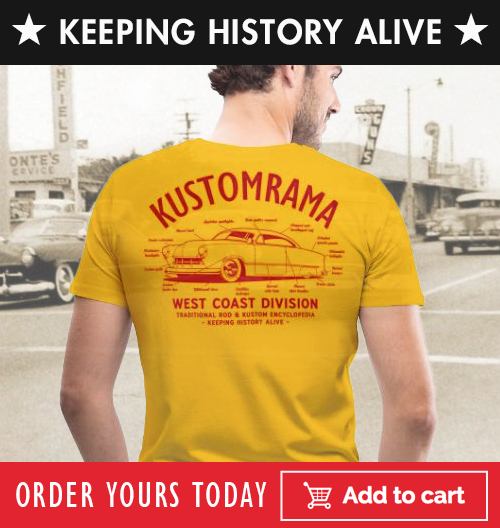 Did you enjoy this article?
Kustomrama is an encyclopedia dedicated to preserve, share and protect traditional hot rod and custom car history from all over the world.
Can you help us make this article better?
Please get in touch with us at mail@kustomrama.com if you have additional information or photos to share about Martin S. Papazian's Cordster.



This article was made possible by:
SunTec Auto Glass - Auto Glass Services on Vintage and Classic Cars
Finding a replacement windshield, back or side glass can be a difficult task when restoring your vintage or custom classic car. It doesn't have to be though now with auto glass specialist companies like www.suntecautoglass.com. They can source OEM or OEM-equivalent glass for older makes/models; which will ensure a proper fit every time. Check them out for more details!

Do you want to see your company here? Click here for more info about how you can advertise your business on Kustomrama.