Herbert Unger
From Kustomrama

Herbert "Bud" Unger (March 12, 1921 - June 1, 2017) of Hancock, Maryland was a legendary East Coast custom car builder.
German Descent
Bud's father was of German decent. He was a master mechanic and taught Bud a lot about the care and respect for using tools. Bud grew an interest in repairing things early on, and as a little boy, he bought a wrecked bicycle from a friend for $3.00. Bud repaired the bike and made it like new again.[2]
First Car
It was Bud's older brother Edward that introduced Bud into the auto industry. Edward worked for Call Karl, a big repair shop in Washington, D.C., and he got Bud started with automobile painting at age 15 in 1936. Bud's first car was a 1936 Lincoln Zephyr that he bought for $12. It was totaled in the front, so he joined it together with another Zephyr that had been totally burned in a fire. Bud had just moved from his home in Hancock to Washington, D.C. when he bought the car, and he was living in his aunt's boarding house. He was only 16 years old and he could not drive the car at the time. Bud couldn't get a title for the car as well, so he made a license plate for it and drove it like that for two years.[2]
The Air Force Years
Bud worked at Call Karl from 1936 to 1941. In 1941, during the Second World War, he went in to the Air Force, where he worked as a frozen sheet metal worker for the Pennsylvania Central Airlines in Virginia, just outside Washington, D.C. It was in the air force that Bud learned to shape and form aluminum. He transferred from the sheet metal shop to the Drafting Department, before he finally ended up in the Engineering Department where he did aircraft interior design. Bud worked on the first B-24 tanker that refueled the B-17 bomber, and he did also do secret work on a B-18 that housed a radar to search for German submarines along the East Coast. During his time off, Bud used his skills to make a scale model Jeep for his daughter Joy out of wood and scrap metal. Once completed, Joy's Jeep landed the cover of PCA News November 1944 with young Joy behind the steering wheel.[2]
Custom Body Work
Bud got out of the Air Force in 1946. Having a natural talent for bodywork, he worked at a body shop in Rosslyn, Virginia for a while after the war. He went on to become the manager for the body shop of Windridge and Handy, a Buick dealer in Rosslyn. Bud's main income came from repairing and painting autos, but after work, and in his spare time, he turned to his secret hobby of hot rods and custom cars. He worked out of his mother and father in laws family garage, where Bud lived with his wife. The first car Bud ever customized was a 1947 Chevrolet, and in 2012 he told Kustomrama that he believed he worked as the body shop manager for a Dodge-Plymouth Dealer in Rockville, Maryland at the time the Chevrolet was restyled. The rear fenders on the Chevrolet were welded to the ¼ panels and leaded in. The rear end of the car was further smoothened by shaving the handle, emblem and license plate from the deck lid. The license plate was installed on the bumper. Bud did also shave the taillights off the 1/4 panels. The holes were filled and new taillights were integrated into the bumper wing tips. The front of the Chevrolet was reworked by installing a 1941 Cadillac grille. Bud also bolted on both front fender extensions from a Cadillac. Buick, Pontiac, and Chevrolet had the same door contour, so Bud took the longer front fender extensions from the Cadillac and bolted them to the doors on the Chevrolet. In 2012 he still remembered that they fit perfect.[2]
After doing numerous leading of hoods and decks, Bud's first major undertaking was the custom work he did on Ray Giovannoni's 1936 Ford Roadster. Ray Giovannoni of Washington, D.C. had a 1936 Ford Roadster that he wanted Bud to customize. The car was a very unusual East Coast custom for its time, as it was built in a tasteful West Coast style. Bud claims that he was not aware of the California custom car trends at all when he set off to restyle Ray's 36. In an interview Kustomrama did with Bud he said that he never put as much into any other custom as he did for Ray: "Ray's "36" was the best custom that I have ever done. It was my pride and joy! I never put as much into any other custom as I put into Ray's. I welded solid and hand leaded all four fenders to the body.I did the same with both 1/4 panels, front aprons, and running boards after narrowing them. I cleared off the back deck, moved the tail lights into the bumper, and made a new back splashpan that housed a license light before I finished it off with a 20 coat jet black paint job. Oh yes, I did a major reshaping of the grille area to incorporate a Packard grille." Once completed, Ray drove his roadster to California to have a genuine padded Carson Top by Carson Top Shop made for the car. The car gained a lot of attraction along the road, and it even landed a featured story in Hot Rod Magazine November 1948. Unfortunately, the story didn't mention Bud as the builder. Welded and molded fenders became a trademark for Bud. He preferred milder changes in body design. A lot of small changes as opposed to a major: " In my humble opinion I think that a custom car should be practical and functional. So many customs are too far out, not practical for street use. Some are too radical- too low to the ground, etc. But as the old saying goes- To each his own. These various designs give variety to the business! After I did simple surgery to Ray's 36. I think I improved the overall appearance of the car over its original design. The car now has simple beauty, flowing lines, gracious looks and oneness, and unity!, and yet you can tell that it is still a 1936 Ford Roadster."[2]
Moving On Up
In the beginning, Bud attracted mostly younger people with hardly enough money to pay for a paint job. They offered him an amount and asked what he could do for such money. This was frustrating for Bud, but after completing Ray's 36, and as his reputation spread, he got swamped with orders on custom cars from people on the East Coast with more money to spend. According to Speed Age October 1949, Bud wouldn't take a build up unless the owner agreed to give him free-reign on the build. His first mission was to kill the identification of the car. This was done by minor changes such as removing all chrome and leading in open spaces making a solid appearance. Next step was to fabricate narrow running boards that blended with the body before converging into the fenders. Then, the top had to be chopped. This was a must, and Bud preferred to fit the car with a "California Top" built from accepted styling. According to a "Customize it Yourself" story that Bud wrote for Speed Age March 1953, "The unmistakable style and class of a Carson-type, padded top is the true signature of a custom car". A padded Carson type top gives the car the smooth curves of a hard top, yet it can be removed for open-air driving. If the owner still had money left, the build was topped off by a 20-coat paint job. For such a job in 1949, Bud would charge from $300.00 to $500.00. In the same story, Bud stated that the day of custom building was past. He continued to claim that the desire for individualistic styling is as great as ever, and he requested that his remarks of present-day styling would be left off the record. He also told the author that he would not work-over a 1948 or later model, "The lines are not there" said Unger. Bud felt that California was 10 years ahead of the East Coast when it came to building reputable hot rods at the time. He also noted that there was quite a difference from coast to coast. In the West, the youth would usually start a build by dolling up the motor before he would turn to the body appearance. The mechanical plant was usually "out of this world" on California cars according to Bud. In the East, youths wanted their motors surrounded by something that would make the "populace" stop and gasp. Usually, under the shiny hood and swept back foreign lines you would find a motor that sounded like the Blue Ribbon Boiler Works on three shifts. Because of this, the guardians of speed laws along the Eastern seaboard had had a lack of a hot rod problem like they had on the West Coast at the time.[3]
Aluminum Body Work
Bud was the only body man in the Washington, D.C. area that knew how to work with aluminum. About that time the US was beginning to import Rolls Royces, Bentleys, Jaguars and Italian cars all made of aluminum. The first of his higher budget builds was a brand new Alfa Romeo that had been damaged while coming from Italy on the boat. Having experience forming aluminum for airplanes from the Air Force, the car came out great, and no one could see that the car had been damaged. Jack Pry, the nation's capital's exclusive dealer of foreign cars at the time was impressed by Bud's skills, and Unger received all the business he could handle from Pry. After that Bud's work consisted primarily of repairing American Cars, repairing foreign cars and customizing numerous cars.[3]
In 1950 Bud opened up his own shop, named Unger Auto Body Company in Bethesda, Maryland, just outside of Washington, D.C. on River Road. Bud had two brothers, Edward and Jack, that worked with him in the shop along with seven other employees. As Bud's reputation kept growing, he got the white house on his customer list, and at his shop, he took care of all the white house's cars. As his reputation continued to grow, Bud had to change his phone number two times to keep customers away.[2]
The Briggs Cunningham Years
International Sports Car manufacturer and driver Briggs Cunningham heard of Bud's talents in the late 1940s, and he invited him down for a visit at his facility in West Palm Beach, Florida. After the visit, Briggs hired Bud to work on his cars in West Palm Beach during the winters. Bud worked as a mechanic and metal worker on the C-4R and C-5R doing strictly bodywork. He spent about a winter working on the C-4R, then another winter working on the C-5R.[2]
The cars Briggs had built were too heavy and too cumbersome, so in 1955 Briggs turned the whole design project over to Bud. Bud had a lot of design experience doing custom work so he told Bud that he wanted him to design a lightweight low slung all aluminum Sports Car. Briggs gave Bud complete liberty to do it the way he thought it was to be done. Known as the Briggs Cunningham C-6R, Bud started the build by making a ¼ clay model. While designing the car, Bud was looking for an aerodynamically flow. Briggs wanted a lightweight, smooth flowing car with a very low profile. Bud came up with the design for the car by combining the air intakes up front, the grille, the air inlets on each side of the grille and the swept in body. Briggs was experimenting with the brakes on the car, and he tried water-cooled brakes. The water-cooled brakes didn't work very well, so while Bud was working on the body, Briggs told him to put some air scoops on the rear fenders and sweep the body in so he could pick up a lot of air. After the clay model, Bud built a full-size wooden mock-up that he hammered and shaped aluminum over. They also had an English wheel and a man from Europe that was an expert with the wheel. According to Bud, he rolled the top of the car so perfect that they didn't even have to grind or sand it. As Bud recalls, the car was less than 36" tall and the body shell weighed less than 200 lbs. From the clay model, to the mockup, to the finished car it took about 2 years. About 1956 Briggs Cunningham closed down, so Bud returned to Washington, D.C..[2]
Back to Washington, D.C.
While Bud was busy building Briggs Cunningham's C-6R in Florida, business went on as usual at Unger Auto Body Company in Maryland. Around 1953 Bud began working for Speed Age Magazine as well. He became their customizing expert and created a series of how-to articles on custom work.[2]

While Bud operated Unger Auto Body Company, he acquired two auto body repair contracts with two automotive dealerships, one a Chrysler – Plymouth dealer, and the other a Ford – Mercury dealer. About 1954, the Mercurys were built at the plant in New Jersey and shipped to the dealers in the Maryland area with very rough places where the body panels were joined together. These cars were brand new, and Bud reworked many of these under his contract with the dealer. The Mercury Factory said " You dealers don't know what we are facing up here with our factory workers!" so a group of local Service Managers and Shop Managers, including Bud, were invited to visit the assembly plant in New Jersey. When they arrived at the New Jersey plant they discovered that the regular assembly plant had to build an additional assembly line to repair one-third of their brand new cars when they came off the line.[2]
Moving to West Palm Beach
Unger Auto Body Company was in business until 1956. After Bud had worked on the Briggs Cunningham cars in West Palm Beach during the winters for some years, he decided to move permanently to Florida in 1956. He packed up his customized 1946 Ford Convertible, and moved with his family to West Palm Beach. Bud's younger brother Jack took over the business when Bud moved to Florida. In West Palm Beach Bud became the manager of the body shop for the local Volkswagen dealership. In 1960, he decided he was called to be a minister. He went off to theology school and returned to West Palm Beach to be a pastor of a church for 22 years.[2]
Bud's Last Custom Project
Bud had two children, Joy and Don L. Unger. Don was three years younger than Joy. He was always fascinated with flying, and after finishing college he went into the U.S Air Force. He became a C-130 pilot and went to Vietnam. In 1972 Don's plane was shot down. There were no survivors from the plane, and Don left a wife and two children. While being a minister in West Palm Beach, Bud didn't do any automobile work, except for customizing a VW Beetle for Don's son, Mark Unger.[2]
Bud Retires
In 1985 Bud retired and moved to Shirley, Arkansas in order to live closer to his only daughter Joy. After moving to Shirley, Bud started working on automobiles again. He became friends with several local auto and body men that he taught some of his old techniques. He did also teach a painting class at the local high school for a while. In addition to this, Bud began buying totaled Subaru's from insurance companies that he rebuilt, drove for years and then resold for a good profit. The last Subaru Bud rebuilt was a 2005 Subaru Outback that he still owned in 2012. Bud's wife Margaret, and the mother of his children passed away in 2007. At age 88 Bud got married again. At 90 he was still very active and exercised two or three times a week. He worked every day, preaching, playing tennis, teaching bible classes and so on.[2]
In June of 2016 the first Bud Unger Preservation Award was given out by Kustomrama at the 3rd annual Customs by the Sea car show in Wildwood, New Jersey. The award is handed out someone that is either preserving an old custom, or someone that is preserving old custom techniques, keeping the torch and tradition alive. Excited about the show, the concept, and the award, Bud wanted to attend the 2016 show to personally pick his winner and hand out the first award. Unfortunately, because of his health condition at the time, he was not able to make the flight from Arkansas to New Jersey. The first award was handed out to Dean Gardiner's 1935 Ford roadster.[4]

June 1, 2017 Bud passed away, 96 years old.
Bud Unger's Cars
Bud Unger's 1932 Ford
Bud Unger's 1936 Lincoln Zephyr
Bud Unger's 1946 Ford Convertible

Cars Restyled by Bud Unger
Ray Giovannoni's 1936 Ford Roadster
Roaring Richard's 1950 Italmeccanica IT160 Coupe
Click here to see cars restyled by Bud Unger at Unger Auto Body Company

References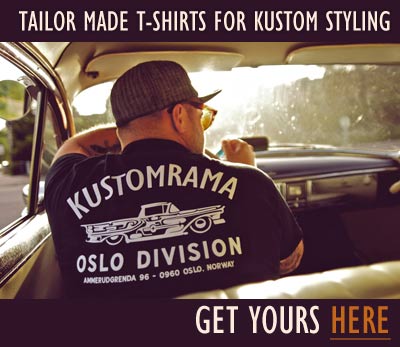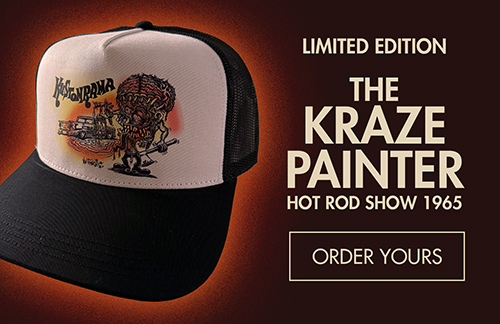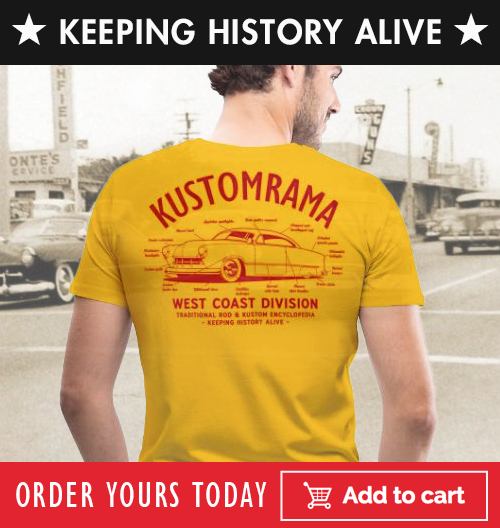 Did you enjoy this article?
Kustomrama is an encyclopedia dedicated to preserve, share and protect traditional hot rod and custom car history from all over the world.
Can you help us make this article better?
Please get in touch with us at mail@kustomrama.com if you have additional information or photos to share about Herbert Unger.



This article was made possible by:
SunTec Auto Glass - Auto Glass Services on Vintage and Classic Cars
Finding a replacement windshield, back or side glass can be a difficult task when restoring your vintage or custom classic car. It doesn't have to be though now with auto glass specialist companies like www.suntecautoglass.com. They can source OEM or OEM-equivalent glass for older makes/models; which will ensure a proper fit every time. Check them out for more details!

Do you want to see your company here? Click here for more info about how you can advertise your business on Kustomrama.