Steve Scott's Uncertain-T
From Kustomrama

What started as a cartoon of a wild hot rod, and a teenage dream in 1960, went on to become one of the most famous, and mysterious show rods of all time. When "The Uncertain-T" first hit the show circuit in 1965, Car Craft Magazine described it as "A real bent out of shape show stopper!" Steve's abstract characterization of a Model T had a short and very influential career. "The Uncertain-T" won the Sweepstakes Hot Rod Award from under George Barris' nose. It went on to become a Monogram model kit, tour nationally, win Sweepstakes in every show Steve entered it, and receive a lot of magazine ink. In the 1970s, both Steve and his radical hot rod suddenly disappeared from the face of the earth. Only a few selected people have seen them since, and numerous rumors about the destiny of Steve and his famous show car have surfaced over the years. For more than 40 years, "The Uncertain-T" was considered lost, and Steve was presumed dead. That was until he made a reappearance on Facebook on November 4, 2012.

Copyright Steve Scott.
"If you can think of something, you can create it"
Steve grew up in Reseda, a suburb in the San Fernando Valley in Los Angeles, California. He was an avid subscriber of hot rodding magazines, and he had very definite ideas about what features he liked and didn't like. "Every time I saw something that didn't appeal to me, I redesigned it in my mind the way that I thought it should be and could be, to look much better," he told Sondre Kvipt of Kustomrama in 2017. The idea for "The Uncertain-T" was born mid-March of 1960. Steve was 17 years old at the time, and it began with a cartoon that a classmate in his advanced physics class drew. It was an abstract characterization of a tipped over Model T, done in a ¾ front view. "When he showed it to a few of us, one of the guys said something like, "Wow! What a wild hot rod! It's too bad you can't build something like that." I then said something like, "If you can think of something, you can create it." As I was saying that, I knew that I had to build something like it to prove my point to myself! After all, it was an advanced physics class!" Stubborn Steve decided to show them he was right and began right after school that day, building a similar car in his parent's one-car garage.[1]
Inspired by a cartoon
"I went directly home after school with my vision of the hot rod that the cartoon had inspired me to visualize." Steve started measuring and drawing it to scale on the wall of their small, narrow, detached garage, trying to figure out what it would take actually to build something like it. "I didn't try to make it exactly like the cartoon because some things were just too cartoonish, but the inspiration was there, and I actually visualized what it should look like right then. My mom kept coming out and telling me how late it was getting. She gave up at about Midnight. At about 4 or 5 a.m., I knew that I could build it! I was so excited and also scared at the same time because I knew that I would have to invent and create things to make it work! Even so, I was determined... no... I felt "destined" to build my vision," Steve recalled in 2017.[1]
More than just a hot rod
Five years later, after completing the build, Steve admitted to Car Craft Magazine that he didn't realize what he was getting himself into in 1960. "Almost all of the components had to be built just for applications on "The Uncertain-T." He had a deep feeling about true hot rodding and insisted on doing all of the work by himself. This led to learning many new skills, and a lot of setbacks when he didn't do something right the first time. Steve spent a lot of time measuring real parts and drawing them to exact size on the drywall in the small family garage. One of his top priorities was to keep everything as clean and minimal as possible. Everything had to work together. To Steve, it was more than just a hot rod; it was also a sculpture, "so it all had to be balanced in size, shape, position, color, etc."[1]
The very distinct body was made out of fiberglass, a material not commonly used in the hot rod world yet. Steve mocked up the chassis before he began constructing the body. This had to be done in order to decide all the measurements, angles of the body, and so on. He used a conduit bender to shape electrical conduit and brazed the pieces together to form a skeleton for the plug. An actual Model T cowl was used as a starting point for the plug. Steve spread polyester resin over fiberglass cloth and matte barehanded, as he didn't like the lack of sensitivity from using gloves. Thin throw-away gloves were useless, as they kept sticking to the resin and pulling off. When he was done for the day, a lot of paper towels and a pan of acetone were waiting. He knew this wasn't good, but he didn't plan to do it as a living, so it didn't matter to him. Steve fabricated a huge wind up-key and installed it as a back bumper. A classic hot rod look was then achieved by installing stock 1921 Ford Model T headlights, radiator shell, and Motometer.[1]
"The Uncertain-T"
Steve was having trouble coming up with a good name for the in-progress build, so he put a sign on the wall of the big extension that he had built onto the back of the little family garage so he could build the car. On the sign, he offered $50 to whoever came up with a name that he used. "It had to be sometime in the 3rd year of construction because after I had written to Revell, Monogram and a few others, Revell sent a very nice young product development guy out to see the progress every couple of months or so. I can't remember if he came up with his suggestion when he first saw the sign, or after thinking about it and told me on a subsequent visit. I can't remember for sure if he said, "Certain T," or "Most Certain T," but I do remember that I instantly turned it into "The Uncertain-T"! I told him that since he came up with half of the name, he deserved half of the prize. He agreed, and I paid him $25 right then. That young product development guy was the famous car model innovator, Jim Keeler!" Steve had contacted Monogram and Revell while building the car. They were both very interested, but Steve decided to make a deal with Monogram because they promised that "The Uncertain-T" would also be produced as a larger-scale kit later on. They also promised that they would return all his materials and that he could buy the molds if they stopped producing the model kit.[1]
A fully functioning show rod
Unlike many show rods of the 1960s, "The Uncertain-T" was a fully functioning hot rod. Steve learned to weld aluminum, so he could make a short boxed aluminum frame. The frame also provided extra cooling via an electric water pump that circulated coolant from the radiator through the aluminum frame. Steve custom made a torsion bar that went through the frame just behind the front crossbar and under the radiator. The dropped tube axle was 8" narrower than early Ford axles. The first version of the car featured 16" motorcycle wire wheels with dragster hubs upfront, and mags and slicks in the rear. The steering assembly was a completely re-designed rack and pinion unit from a 1960 M.G.A. roadster, and Steve still remembers the excitement he felt when he first discovered rack and pinion steering on a foreign car at a junkyard; "They were so simple and straightforward, and I knew that when I found the right one, that I could modify it to do just what I needed. The day that I found the right solution, I couldn't stop grinning."[1]
Fuel-injected Nailhead
Power came from a fuel-injected 1957 Buick "Nailhead" engine that Steve had bored and stroked to 384 cubic inches. "I knew that I wanted to have a "Nailhead" Buick engine so that it would be distinctive, and wouldn't be big and bulky and overpower the design of the body." The rear end was a Halibrand magnesium Quick Change. Steve built a custom coupler that joined the quick change rear end directly to the rear of a 1955 Pontiac hydro, with only a U-joint between. 1960 Buick finned aluminum front brake drums, and 1959 Buick rear backing plates were re-drilled to mate with the Ford truck bolt patterns for the rear brakes. According to the November 1965 issue of Car Craft Magazine, front brakes were not considered necessary with stopping power like that. The front motor mounts that Steve fabricated bolted solidly to the front of the engine with hard rubber pads below and above. When Steve was ready to start the engine for the first time and do the first test drive, he sent the Hilborn fuel injection system to them to flow test and calibrate. "I told them everything about the engine and how I would be using the "The Uncertain-T." When I got it back I double-checked everything, then turned the key, it fired up immediately! It always started right away and always performed flawlessly," Steve recalled.[1]
McNulty and Cushenbery
During the build, the only two-things Steve believed should be left to the experts were the paint and upholstery. As things neared completion, he took the body to Bob McNulty, a bodyman in Castro Valley known for his work on Corvettes, to get it ready for paint. Steve trailered the "Uncertain-T" fiberglass body all the way from Reseda up to Bob's shop in Castro Valley, where he did the excellent final finishing. Coincidentally, Steve's sister and her family lived there at the time. One week and $500 later, it was as smooth as glass. Then it was off to painter Bill Cushenbery. "I first had Bill Cushenbery paint it at the recommendation of several people, and by his reputation. When he came to pick up the body, he asked me what color I wanted it. I still hadn't decided! He said to leave it up to him." When Cushenbery brought the car back several days later, it was a dark, bluish candy apple red. Steve didn't like it at all. "It had vertical sections that started at the top of the back corners and went down to the bottom of the back, with a thin line, then a thick line around it. To the best of my recollection, the color or colors inside these panels were darker and lighter gradient blends. Whatever it was, I really didn't like it at all. Don't get me wrong... it was a spectacular paint job… just totally not my thing. To me... it was hideous."[1]
Steve immediately started calling around, and this time the unanimous favorite was Junior Conway. "Junior came out the same day and took it away to repaint it. When he saw the body, his face lit up. He said that he had a gorgeous new color that will be just right for it. This time, I asked him to describe it to me. I really liked what he had to say. They took it away and brought it back in about a week. It was love at first sight! It was the Metalflake tangerine orange that it was in every car show, with like 30 coats of clear... it looked like you could reach into it!" Junior's gorgeous paint job took home several "Best Paint" awards for Steve.[1]
Lee Wells fit the car with diamond-tufted bucket seats and headliner in his North Hollywood, California shop. It had a flowing, non-symmetrical dashboard filled with switches and Stewart-Warner instruments. The chrome-plated steering column and steering wheel came from a 1921 Ford Model T. The brake pedal worked a 1961 Fiat aluminum master cylinder.[1]
The January of 1965 debut
4-1/2 years and $15,000 later, the radical build finally made its debut in January of 1965. Steve's family was poor, and as his father died soon after the build was started, so Steve had to drop out of college and work many different jobs in order to finance the build.[1]
Born bad
"The Uncertain-T" was the star of the Winternationals show. It was featured on the cover of the souvenir program and it took home the prestigious Special Sweepstakes Award. At the end of the show, George Barris slapped Steve, and Steve took George to court. When Steve filed the complaint against George, Ed Roth drew the famous "BORN BAD" cartoon of Steve in "The Uncertain-T." According to Steve, the reason for the confrontation was that George had rebuilt the well known Ala Kart, promising the owner that they would win the show. George asserted that Steve had "kiss-assed" the judges to win, and decided to give him a slap. At least seven L.A. Policemen and eight-car show officials and workers witnessed the situation. Steve was awarded a permanent restraining order against George, that if he came within 100 feet of Steve, he would go to jail![1]
The prank
Someone put "The Uncertain-T" up for sale in the "Hot Rod Mart" classified section of the July 1967 issue Hot Rod Magazine. The asking price was $7,000. Steve never found out who placed that ad, but he has some suspicions. Everyone must have guessed that it was a prank, as he never received any replies at all.[1]
Days of glory
Steve won Sweepstakes in every show that he entered "The Uncertain-T." After the Winternationals, he entered it in the 1965 Oakland Roadster Show, now known as the Grand National Roadster Show, and the N.H.R.A. National Custom Auto Fair in Indianapolis. The car was also driven on the street, and according to Steve, even with the big roof and very short wheelbase, it rode fine. Steve remembers that there wasn't any turbulence in the cab at all, even up to around 70 mph. The front of the car pushed the air around it, so it didn't catch the cab at all, and the slant of the top helped push it down. Even so, and considering the weight of the engine, Steve was always concerned that when someone passed him, the change in wind direction might catch it wrong and flip it over, so he only drove it on a highway a couple of times.[1]
"The Uncertain-T" was much more than a spectacular show car and very cool street-driven hot rod; it was really something to see in action! At the end of the 1965 Bakersfield Fuel & Gas Championships at the Famoso Raceway, right after Don Garlits won Top Fuel, Steve started out slowly in front of the stands after passing the starting line... then kicked it and really moved out! He remembers seeing the looks on people's faces, and the wild cheers as he sped down to the finish line to give Don Garlits a ride back to get his trophy. However, Don enjoyed riding around the parking lot and pits so much, that he wanted to keep driving around instead of getting his trophy. After that, Steve sent "The Uncertain-T" on a national tour with his very good friend, Dave Pedegana, who managed it for him. On the show-circuit, Steve was able to pull down from $400 to $1000 per appearance.[1]
Steve was a very talented photographer and writer, and in 1965 he landed a dream job as the Associate Editor of Car Craft Magazine. Previous to getting the job, he had been freelancing, selling photos and stories to various automotive magazines for a few years. One day when he showed his latest stories to Dick Day, the publisher of Car Craft, Dick said that he was not going to buy any more stories from Steve. It would be wrong for him to buy outside material from an employee, and he asked Steve how much they would have to pay him in order to get him as their new Associate Editor. Steve had always been a freelancer, so he thought about it for a minute before he said what he thought would be a good salary. Dick told him, "Not a chance. Nobody is going to work for me for that little", and he then doubled the salary. The November 1965 issue of Car Craft introduced young Steve as the Associate Editor. The cover of the magazine featured a cutaway illustration of "The Uncertain-T" by William Moore. Inside it ran a 3-page featured story and a mini-feature on how to scratch build a model of the car.[1]
In 1966 Monogram finally released their 1/24 scale model kit of "The Uncertain-T." Darryl Starbird had been Monogram's previous celebrity consultant prior to the release of "The Uncertain-T" kit. Steve was paid to put together a package of everything Monogram needed to make the tooling and the packaging for the kit. He arranged the photoshoot, set up the shots, and Dave Pedegana took the photos for Steve. Steve then and paid a draftsman to measure everything and make a complete set of blueprints. Steve had made an agreement that he could buy the tooling if they ever stopped producing the kit. Meanwhile, Monogram sold out to Detroit, and as they started focusing on muscle cars, the kit was discontinued way too soon. "I received one good royalty check, then royalties quickly plummeted. Monogram never returned my blueprints or photos, and told me that the molds they promised I could buy were destroyed. This was around 1972-ish." Back in 2017, a complete kit sold in the $350 to $500 range.[1]
In the mid-1960s, airbrush artist Tom Davison worked with Kansas City customizer and show promoter Ray Fahrner. In 1965 Tom had a booth at the Winternationals Car Show in the Pan Pacific Auditorium, selling his airbrushed T-shirts. In 2017 Tom told Sondre Kvipt that the car was revolutionary at that time; "It was the hit of the show. Steve was only a year or two older than me, so yes, it was a very amazing accomplishment. There were only two other car builders at that level in 1965... Ed Roth and Dan Woods!" Tom told Ray Farhner about the car, and he ended up leasing it for a year as a feature for his show. In 1967 Tom picked up the car and trailer at Steve's apartment and towed it to Farhner's shop in Kansas City.[1]
Drafted
Steve worked for Car Craft for about six months until he was drafted. He was on a waiting list for going into the Coast Guard Reserve. After six months of active duty, there weren't any positions available with Car Craft, so he began to work for the Petersen distribution department, learning a lot about the magazine industry.[1]
Repainted candy lime gold
Summers were usually very hot in the San Fernando Valley, and after showing the car for a couple of years, the intense sun and heat made the paint in a small area on the back raise slightly. In an attempt to get show promoters to continue paying him for showing the car, Steve repainted it candy lime greenish-gold, hoping to revive it with the changes. He also replaced the mag wheels and slicks in the rear with a set of wide Indy tires. He initially wanted the wide Indy tires, but he wasn't able to get them, and he really had to do some talking to get them for a non-Indy car. After changing it, Steve let a friend borrow it so he could display it in front of his little speed shop in Van Nuys, California.[1]
Life takes a turn
Sometime around 1967, Steve and "The Uncertain-T" disappeared from the spotlight. "One day driving home from my job at Petersen Publishing Company, I suddenly, and very noticeably, totally lost all interest in anything to do with the automotive world. It just happened. It was like the channel on a TV just changed while I was watching a program that up until that moment was everything I had lived for, and I was left with a total understanding of what had happened, and why, and no desire whatsoever to try to change the channel back. I knew that even if I had tried to change the channel back, the program wouldn't be there. I gave notice the next day that I was quitting, and from that moment on, I just simply went about my life with very different interests and focus."[1]
Where is "The Uncertain-T" today?
In the early 1980s, a friend of Steve acquired the car under very questionable and suspicious circumstances. He was supposed to restore the car, but financial problems have kept the project on the backburner. In 2017, when Sondre asked Steve about the current whereabouts of the car, he was very secretive about it, but he told him that it was in storage at his friend's vineyard in Northern California. "I still love "The Uncertain-T"! I poured my heart and soul and sweat and tears into creating it. Every little bit of it. All by myself! More than sharing the "T" with hot rod enthusiasts, and old goats like me who remember what it did to and for them the first time around, I deeply want to take it to shows and other events again to do the same thing that I did the first time. To watch for that "look" in the eyes of young visitors, and spend time sincerely talking to them, and imparting with them the principles that drove me while creating it... that if you can dream of something, you can create it! To believe that nothing is impossible! If something is worth doing, it's worth doing right!"[1]
Preparing for a comeback
Steve had a short but intense automotive career. In addition to a Cadillac powered 1940 Ford Deluxe 2-door sedan, "The Uncertain-T" was the only hot rod he built. In 2020 he was still living in Hawaii, but as soon as he can afford to move back to the mainland he is planning to attend shows without the T, to meet everyone, and sell T-shirts, photos and other merchandise that can help him get "The Uncertain-T" back and restore it, or if he can't get the original back from his "friend," he wants to build an even better, updated "Uncertain-T"![1]
Support the cause
If you would like to support Steve's cause, you can order autographed photos, T-shirts, and other "Uncertain-T" memorabilia from him through his website at www.SteveScottsUncertainT.com. You can also send Steve a Friend Request on Facebook. He won't tell you where "The Uncertain-T" is hidden away, but he will keep you up to date on his mission.[1]
"The Uncertain-T" tribute builds
Martin and Marion Bennett's Uncertain-T Recreation


Copyright Steve Scott.
Magazine Features and Appearances
Car Craft May 1965
Car Craft November 1965
Popular Hot Rodding June 1967

References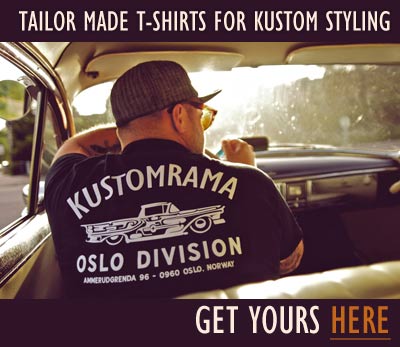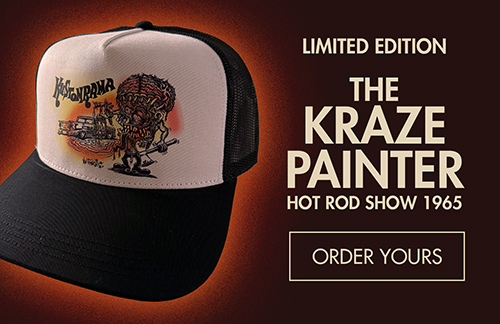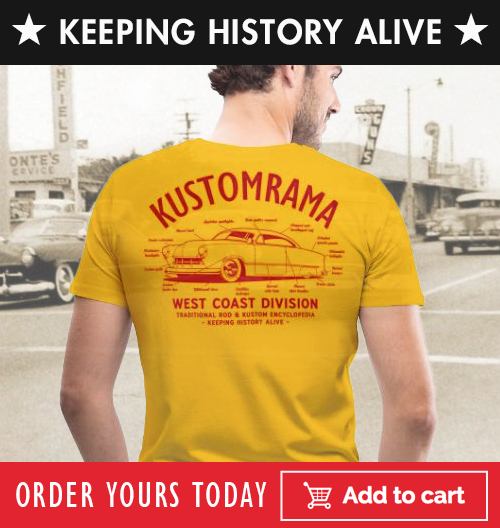 Did you enjoy this article?
Kustomrama is an encyclopedia dedicated to preserve, share and protect traditional hot rod and custom car history from all over the world.
Can you help us make this article better?
Please get in touch with us at mail@kustomrama.com if you have additional information or photos to share about Steve Scott's Uncertain-T.



This article was made possible by:
SunTec Auto Glass - Auto Glass Services on Vintage and Classic Cars
Finding a replacement windshield, back or side glass can be a difficult task when restoring your vintage or custom classic car. It doesn't have to be though now with auto glass specialist companies like www.suntecautoglass.com. They can source OEM or OEM-equivalent glass for older makes/models; which will ensure a proper fit every time. Check them out for more details!

Do you want to see your company here? Click here for more info about how you can advertise your business on Kustomrama.