1966
From Kustomrama

1966 was a year of significant transformation and challenges on the global stage. In Southeast Asia, the Vietnam War reached a fever pitch as US involvement deepened, marked notably by the deployment of B-52 bombers over North Vietnam. The conflict ignited fierce debates at home, laying the groundwork for the robust anti-war movements that would shape the country's sociopolitical landscape in the coming years. In the world of space exploration, the Soviet Union achieved a monumental feat with the Luna 9, becoming the first to successfully soft-land on the Moon.
Popular Culture and Trends of 1966: Shaping a Generation
The entertainment world in 1966 was abuzz with pioneering releases and debuts that would leave an indelible mark on popular culture. The Beatles, the band that epitomized the 1960s, unveiled "Revolver," showcasing a richer, more experimental sound. Not to be outdone, The Beach Boys offered the world "Pet Sounds," a masterful mix of unconventional instruments and harmonies. Film enthusiasts were treated to many memorable movies, from the searing drama "Who's Afraid of Virginia Woolf?" to the epic spaghetti western "The Good, the Bad, and the Ugly." Television wasn't left behind, with "Star Trek" making its debut and taking viewers on intergalactic adventures with Captain Kirk and Spock. Outside of media, the fashion world saw the rise of the "mod" style, characterized by its geometric designs and mini-skirts, even as the burgeoning hippie movement began to influence aesthetic choices with its free-spirited, bohemian flair. Meanwhile, social gatherings saw the introduction of the "Twister" game, offering a fun, if slightly contorted, way to bond with friends and family.
The Automotive Landscape of 1966: Innovation on Wheels
The year 1966 was pivotal for car enthusiasts, marking a defining period in automobile design, engineering, and culture. Detroit's Big Three — Ford, General Motors, and Chrysler — were in the midst of the muscle car era. The release of the Ford Mustang in 1964 had already sparked a revolution, and by 1966, it had firmly established its place as America's favorite pony car. Its success prompted competitors to jump into the fray, with Chevrolet introducing the Camaro as its direct rival.

In Europe, the landscape was quite different but equally dynamic. Lamborghini unveiled the Miura, a groundbreaking mid-engine supercar that not only elevated the brand but also set the tone for supercars of the future. Its sleek design and incredible speed left an indelible mark on the industry.

On the racing circuit, Ford made headlines with the GT40 at the 24 Hours of Le Mans. Its victory wasn't just about winning a race; it was a statement, a culmination of Henry Ford II's ambition to dethrone Ferrari at the world's most prestigious endurance race.

But 1966 wasn't just about speed and luxury. It also saw a shift towards safety and consumer protection. In the U.S., Ralph Nader published "Unsafe at Any Speed," a critique of the auto industry's lax safety standards, particularly focusing on the Chevrolet Corvair. This publication played a pivotal role in pushing for regulations that would make cars safer for consumers.

In Japan, a rising automotive industry hinted at the global powerhouse it would soon become. Companies like Toyota and Honda began focusing on exports, eyeing the vast U.S. market. Their smaller, fuel-efficient cars offered a stark contrast to the gas-guzzling giants of American roads, foreshadowing a shift in consumer preferences in the decades to come.

In essence, 1966 was a year of juxtapositions in the automotive world: raw power versus refined engineering, luxury against efficiency, and the age-old tug-of-war between speed and safety. It was a year that set the pace for many automotive trends we see even today.
Hot Rods in 1966: The Evolution of Street Icons
1966 was an exhilarating year in the world of hot rodding. At the crossroads of tradition and modernity, hot rodders explored new boundaries while still honoring the past.
In the mid-60s, the hot rod scene was undergoing a noticeable shift. The classic pre-war Ford roadsters and coupes remained ever-popular, but the canvas of choice began to include post-war cars. Chevrolet's 1955 to 1957 models, affectionately known as "Tri-Fives," became highly coveted platforms for customization. Their larger bodies offered a distinct departure from the traditional sleek and streamlined hot rod look, giving rodders more space to work with and innovate.

Under the hood, there was a noticeable lean towards bigger and more powerful engines. The Small Block Chevy V8 introduced a decade earlier, had firmly established itself as the go-to powerhouse for many hot rodders. But by 1966, the Big Block Chevy was gaining traction, providing unprecedented horsepower to those seeking an edge on the strip or street.

Drag racing played a substantial role in shaping the hot rod culture of 1966. As the sport grew in popularity, so did the desire for faster, more specialized vehicles. This led to the development of altered-wheelbase cars, early predecessors to the Funny Cars we recognize today. Their exaggerated stance, with wheels moved forward, was both a performance enhancement and a visual spectacle.

However, it wasn't all about raw power and speed. The aesthetics of hot rodding were also evolving. Custom paint jobs became more intricate and vibrant, with Metalflake and candy colors gaining popularity. This was the era of legendary artists like Ed "Big Daddy" Roth, who pushed the boundaries of automotive art with wild, imaginative designs and characters.

Magazines like "Hot Rod" and "Car Craft" were instrumental in 1966, serving as both chroniclers and influencers of the scene. They offered a platform for sharing ideas, innovations, and the latest trends, ensuring that rodders nationwide were interconnected in a vibrant community of enthusiasts.

In the backdrop of the broader automotive landscape of 1966, hot rods stood as symbols of personal expression, innovation, and an undying passion for all things fast and loud. While the cars and trends would continue to evolve, the spirit of hot rodding — that blend of creativity, engineering, and a dash of rebellion — remained as potent as ever.
Custom Cars in 1966: The Artistry of Auto Individualism
As the post-war boom settled and the 1960s progressed, the American automotive landscape blossomed into a tapestry of creativity, exploration, and individualism. The custom car scene was no exception, merging artistry with engineering in a dance of imaginative design.

While hot rods typically gravitated towards performance, custom cars — often referred to simply as "customs" focused on the art of transformation. The aim was to craft a vehicle that bore the imprint of the owner's personal vision, making every car a unique testament to creativity.

The palette for these customizations was vast. Classic cars of the 1940s and 50s, especially models from manufacturers like Ford, Chevy, and Mercury, remained favorite choices. The Mercury "leadsleds," with their lowered stances and sleek profiles, epitomized the custom car look. However, by 1966, younger enthusiasts were also experimenting with newer models, integrating modern design cues with classic custom traditions.

George Barris, often dubbed the "King of the Kustomizers," was at the forefront of this movement. His influence was felt far and wide, and his designs — like the Batmobile and the Munster Koach — integrated pop culture into automotive customization. They weren't just cars; they were rolling pieces of art, conversation starters wherever they appeared.

Key custom car trends of 1966 included:


But beyond the techniques and the notable figures, the custom car scene was about community. Weekend meet-ups, drive-ins, and car shows became the nexus for custom enthusiasts to come together, share their latest modifications, and draw inspiration from one another. Publications like "Custom Rodder" and "Custom Car" played a pivotal role, highlighting innovations, profiling master customizers, and serving as a bridge between isolated communities.

In essence, 1966's custom car culture was a celebration of individuality, a space where imagination reigned supreme and where every car told a unique story. The ethos of this movement was clear: while factory-made cars might be identical, in the hands of an enthusiast, they could become unparalleled expressions of personal style and vision.
Lowrider Culture in 1966: Grounded in Heritage, Rising in Popularity
The mid-1960s marked a significant phase for the lowrider culture. Rooted in the barrios of the American Southwest, particularly in California's Chicano communities, lowriding began as a form of cultural expression and rebellion. By 1966, the movement was slowly making its way into the broader limelight of the American automotive scene.

At its core, Lowriding was more than just about cars; it was about identity, heritage, and community. The vehicles embodied Chicano pride and artistry, directly contrasting the mainstream custom car and hot rod scenes.

Key Aspects of 1966 Lowrider Culture:

The Ride: Classic cars from the 1940s and 50s were the preferred canvas. These vehicles were transformed, often painted in vibrant colors or intricate murals depicting religious, cultural, or personal themes.
The Drop: The defining characteristic of a lowrider was its low stance. Early enthusiasts would weigh down their cars with sandbags or use cut coil springs to achieve the drop. However, by the mid-60s, hydraulic systems started popping up in more and more customs and lowriders, allowing cars to be raised or lowered at the flick of a switch. This technology would become iconic in the lowrider culture, giving birth to "hopping" competitions in later years.
Wire Wheels and Whitewalls: Another distinctive feature was the use of wire-spoke wheels, often complemented by whitewall tires, to accentuate the vehicle's elegance.
Cruising: Lowriding wasn't just about the vehicle's appearance; it was a lifestyle. Cruising played a pivotal role. Streets like Whittier Boulevard in East Los Angeles became legendary cruising spots, with lowriders parading their masterpieces, often with the soulful tunes of oldies playing in the background.
Community and Clubs: The sense of community was paramount. Car clubs began to form, uniting enthusiasts under collective banners. These clubs organized events, supported fellow members, and often engaged in community service, challenging negative stereotypes and promoting a positive image for Chicanos.

1966 was a year when lowriding was on the cusp of broader recognition. While still deeply tied to its Chicano roots, the appeal of the movement started crossing cultural lines. As the years progressed, lowriding would grow in prominence, not just as an automotive trend but as a powerful symbol of cultural pride and expression.

The lowrider culture, with its rich blend of artistry, music, and community, showcased a distinct facet of the American tapestry — one that celebrated heritage and unity on the slow and low streets of the barrio.
Hot Rods Built or Completed in 1966
John Toohey's Royal-T Ford Model T C Cab
Bengt Wennergren's 1931 Ford Model A Roadster
Lars-Erik Johansson's 1931 Ford Roadster - The Orange Fink
Egeo Barci's 1934 Ford Roadster
John Erik Baalerud's 1935 Ford Cabriolet

Custom Cars Restyled or Completed in 1966
KHJ's 1956 Ford Thunderbird - The KHJ Surfin' Bird
Bo "Gamen" Sandberg's 1959 Ford Thunderbird - Wild Bird
Howard Gribble's 1961 Ford Starliner
Richard Mikami's 1963 Chevrolet Corvette Stingray
Bob Huffman's 1965 Chevrolet Impala
Jim Arkin's 1965 Chevrolet Impala
Nick Hoogoian's 1965 Chevrolet Malibu
Bob Stepanion's 1966 Chevrolet El Camino
The Dodge Deora

Custom Body and Paint Shops Established in 1966
The Egyptian Custom Body and Paint

Custom Car and Hot Rod Clubs Established in 1966
Custom Car and Hot Rod Shows of 1966
Hot Rod Festival Linköping
Hot Rod Festival Masthugget
Showtime Sweden Örebro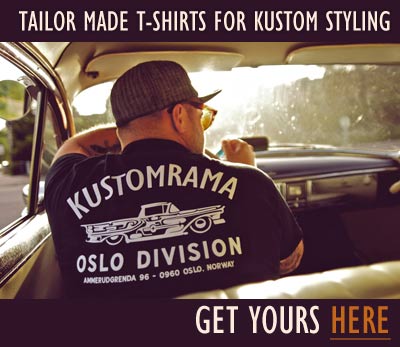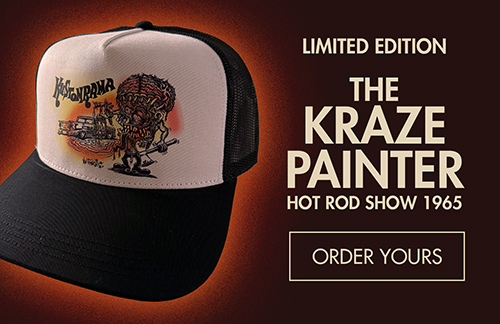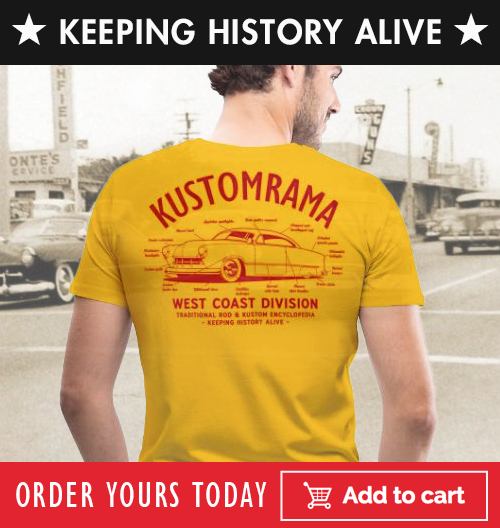 Did you enjoy this article?
Kustomrama is an encyclopedia dedicated to preserve, share and protect traditional hot rod and custom car history from all over the world.
Can you help us make this article better?
Please get in touch with us at mail@kustomrama.com if you have additional information or photos to share about 1966.



This article was made possible by:
SunTec Auto Glass - Auto Glass Services on Vintage and Classic Cars
Finding a replacement windshield, back or side glass can be a difficult task when restoring your vintage or custom classic car. It doesn't have to be though now with auto glass specialist companies like www.suntecautoglass.com. They can source OEM or OEM-equivalent glass for older makes/models; which will ensure a proper fit every time. Check them out for more details!

Do you want to see your company here? Click here for more info about how you can advertise your business on Kustomrama.