Keith Christensen
From Kustomrama
Keith Christensen of Norwalk, California.
Keith's father was a Doctor veterinarian and he did work in Norwalk and the adjoining town of Artesia. Keith had an older brother who hung around with a group of Dutch brothers, the Goedharts. In 2016 Keith told Kustomrama that his dad had built a good sized workshop at their home; "Dad was a lover of blacksmithing, so he had torches, lathes, tools and more. Myself and two of the Dutch brothers would go to every old wrecking yard, as in 1950 there were many here in California. We would buy the inside of a 1936 Ford driveshaft, as the shaft was enclosed in a closed driveshaft housing, called a closed driveline. The actual driveshaft was tapered on either end and had a u joint attached on each end. We would cut the u joints off and cut the driveshaft right in the middle , giving us two equal pieces that both tapered on one end, so the shafts started at 3 1/2 and after 20 inches tapered down to the hollow end that where the u joints had been removed, which had a 2" opening. The 3 1/2 end we would go around it heating in with a torch and tapping it down to a nice bevel, leaving a 2 1/2 opening. That gave us a small end and a large beveled end helped to make the famous motorboat sound that was heard on all good custom cars. We of course had them chromed and they had to be welded on to the cars exhaust outlet, just under the bumper. They were 14 gauge so a low rider could scrape up a driveway without hurting them." According to Keith, this is where the famous name "Driveshaft Tips" came from; "Myself and two Dutch kids invented the Driveshaft Tips and couldn't find enough 1936 Ford driveshafts to make enough for the waiting line of guys that wanted them. Keep in mind, I was 13 years old at the time. My Dad's workshop is where we cut and beveled them. Later on, when I opened Genes Muffler, I realized there were few if any 1936 Ford driveshafts. The supply had dried up, so I started making them out of 16 gauge tubing and putting a taper on the one end with a swedger that I had dies made for. Perfect as one end had a short taper and the other a real nice bevel."
Ball Road street races
Before the Coachmen club was formed, Keith would go out to a street called Ball Road, "in the rural dairy lands." Ball Road was wide, straight, and dead-ended into a river bed that separated Artesia from Anaheim on the other side of the riverbed. "In fact, Ball Road on the other side ran through the property that later was the south side of Disneyland before it was built." Keith recalled that they would meet there at one end, at night, and set up a race court. "There were no side streets to create a problem. I was too young to even have a driver's license at the time, my older brother Bill was an avid car builder and built many hot rods while still in high school. He was a master at building flathead engines and had a hopped up, customized 1940 Ford. He and I would drive out there and race all the big boys with their V-8 Oldsmobiles and even some Cadillac coupes belonging to the Dutch and Portuguese kids. I remember well those, to me, giant old cars with the first of the overhead, high horsepower engines." Two cars were lined up and when someone at the other end, by the dead-end would blink their lights, the cars would take off. "Then turn around and head towards us at the original start line. lt was really intense and exciting. So well do I remember, the two cars coming back towards us, and one being my older brother, would be roaring our way, almost a 1/2 mile off. I could squat down and see the headlights and would get the greatest thrill to see my brother's headlights out from. Easy to tell as a 1940 Ford had headlights in the fenders close together and I could see when he was winning against those big cars that were super wide. A grand memory for me." They had about 20 minutes of no traffic racing, and they knew that the law couldn't jump in, except by the west end of the race area. "It took them that long after finding out about our activities, to get there. We would scramble out that end of Ball Road just in time. Heading towards the tall alfalfa fields on either side. Many a time, my brother and I would get home and have to pull all the alfalfa clumps out from under his car, before cleaning the car." According to Keith, this was truly what was called an age of innocence as there were very few other activities to take part in. "This was a basis and motivator for us setting up the large Motorcade car show and lent to its success, with the wonderful cooperation of Excelsior High School and the Junior Chamber of Commerce being our backers. A mixture of many small cities, Norwalk, Artesia, Bellflower, Long Beach and many other cities."
First Car
Previous to the days of high school and dating, Keith owned many cars, but his first real car to enter the social world was a 1950 Oldsmobile Business Coupe; "It was when Chevrolet was just 6 cylinders, Fords were flatheads or low horsepower OHV engines. The Olds was truly the fastest of the cars in my day as a stock equipped car. Pure stock it was sure fast and a lot of tickets later I learned how to control it. Kettering designed the engines and they were used in Cadillacs and Oldsmobiles. "
When Keith was in high school, he was working part time at an automotive adaptor manufacturing facility just north of Moon Equipment; "I was working at Hildebrandt mfg. A small personal activity I crammed in to my busy high school world. They made engine adaptor plates for installing the big Chrysler Hemi's in to Chevy, Ford and all else. The adpaptor plates were machined aluminum plate with holes drilled to match up to many different transmissions. A truly fascinating business for me. Dennis Hildebrandt belonged to the Qualifiers car club, a group of older hot rodders that built and drove some very exotic cars for their time,"
Keith was the first President, and a founding member of the Norwalk Coachmen car club. In 2016 Keith told Kustomrama that the club started in the living room of his folks home in Norwalk in late 1952; "Norwalk is south east of Los Angeles, approximately 22 miles. It was an area of farms and dairies, which of course have faded due to rural buildup. This is why you will see many names of the two dominate nationalities, Dutch and Portuguese, as owners of many hot rods and low riders."[1]

"We flourished and expanded the club to other communities and had a total membership of 135 members in 1956. At that time I stepped down after being President for all of those years. I went off to College and the car club finally disbanded in 1958."[1]
The Norwalk Motorcade was an outdoor hot rod and custom show sponsored by the Norwalk Coachmen car club. According to Keith, it was inspired by the club, and the show became known as the Coachman Show. It was held with help from the Norwalk Jr Chamber of Commerce. The first show was held in 1954 at Excelsior High School in Norwalk, California. Keith was the Director of the show, and it became a huge success; "We promoted it and developed a lot of contacts. We held it on the grounds of the high school we all attended, Excelsior High School. The show expanded to encompass all of the grounds on all sides and brought a huge crowd, as we drew in entries for many communities in the outlying areas. This was the babyhood of car shows. No one had 'yet started doing this as the customizing era had just started and we were groundfloor. In it's peak, we had displays from all of the local car dealers, the Army National guard, the Motorcycle shops and many others, about 4 acres of show grounds. I was able to get our club member who was a photographer to film much of the shows. We even got him a ride in an airplane to fly over and film for the air." Working for Dennis Hildebrandt, Keith had rubbed elbows with the members of the Qualifiers car club, so he used some of their cars to enhance the Motorcade show; "They helped add that quality touch to the shows."[1]
Before meeting Eddie Martinez, Keith took a car to Tijuana to have it upholstered. "After searching the dingy back streets of the town, I found the one shop that was recommended by a few guys. There were a few cars and their owners waiting to get done. After doing the typical bartering and arguing about the price, I accepted and they pulled my car into the work area. I was 17 at the time, so I wasn't wise to the ways of businesses south of the border." They immediately tore the seats out of Keith's car and took off all the old upholstery. "Then the waiting started. I stood along a wall with the other customers and after talking to them realized what a position I was in along with them. Once our cars were torn apart, we were trapped. The wait was on. I remember so well, the sun going down and there sat my car, seats all over the ground." About 9 o'clock that night they finished and Keith drove the dark dirt roads out of Tijuana and into San Diego and on home `90 miles. "Boy were my folks worried ..."[1]
In his youth, Keith used to hang out at Von Dutch's shop, "which was a garage attached to a motorcycle shop in Compton," he told Sondre Kvipt. "I started, out of first, with idle curiosity and then admiration of the works of Von Dutch. I would go over after class at high school and just "hang out."" Keith recalled that there always was something to look at on the walls or a job in progress by him. "What a world of real art. As I remember, he had a picture on the wall of a giant battleship, with a handwritten caption on it by him, saying "I DON'T STRIPE BOATS."" Back then, Von Dutch's talent and interest were mainly motorcycles, not cars. "He had small inventions sitting around that he was in progress with and they were genius in their design. I remember a motorized set of roller skates that were powered by model airplane motors and the rider had a backpack with a small battery and a fuel tank hooked to the skates. He used one axle as the drive axle, using the shaft of the airplane engine hooked to the wheel. He was mad that he couldn't solve the puzzle of two things, ONE, to be able to not go in circles, due to only one drive axle and SECOND, how to stop as he had to set the motor speed by hand before starting the engine."[1]
"Keith, pull it inside the shop, I have a great idea!"
In late 1954 Keith Christensen bought his first new car, "a 1955 Buick! Polar white and beautiful dark green leather inside. I drove a 1950 Olds 88" before that. It was SUPER fast, but not enough design with all of the new cars out on the market." When Keith pulled into Dutch's shop he saw it and said "Keith, pull it inside the shop, I have a great idea!" "Not knowing what he had in mind and too scared to ask, I pulled it in. "He said those portholes on the side are super cool!" They were the first of the perfectly round portholes. I stood back and he started masking and taping down both sides. There sat my beautiful, NEW Buick, all stock, not customized, yet and at his mercy! Boy, I was scared! He got a small airbrush and proceeded to paint bright "RED" flames coming out of the portholes and running down the sides to the front doors. He was super happy! He said, "They look great. They just fit" I stood there grinning and agreeing with him. I was stunned when he said, "Hey Keith, it's on the house, I've been wanting to do one ever since I saw them." Well, I drove home and into the reality of, "what will my folks say?" I was only 17 and they had cosigned on the car. I hid it around the corner in a friend's driveway. I told my folks a fib, that it was being tuned. I finally brought it home and they were much better about it than I thought. They were so interested in my endeavors, that it was accepted. One solace was, I had started the Coachmen car club at my house a year earlier and when the members saw it they couldn't say enough good about it!! That was in 1954 and it was such a new world of customizing cars, that this just re-enforced the desire to make an outstanding car out of whatever you drove and that was just the beginning of my building that Buick into a real custom car."[1]
Keith had George Barris lower his 1955 Buick as George and his brother Sam had their shop right down the road from Von Dutch. According to Keith; "Sam was the master builder and George was the front man."[1]
Keith is first introduced to Larry Watson
Keith met Larry Watson in 1955 when he visited a Coachmen car club meeting. "He was introduced that evening to the club members. When we took our break, the gang went outside to look at the pinstriping work he had done on his own car - a little 1950 Chevrolet. It was Chocolate brown on a tan car and the quality of work was outstanding. This was previous to him starting up his painting vocation."[1]
In 1958 Keith had just gotten married. He was in College and worked at a Supermarket; "I took my bosses 1956 Ford truck and my 1955 Ford truck to a tiny shop where my younger brother started working. Aman in the Jr Chamber, who sponsored the Coachmen car club, had a muffler shop in Norwalk. A short distance by the way from where Sam Barris lived. He gave my younger brother a job sweeping and cleaning his muffler shop, called Sport Muffler. My brother learned the muffler trade and in my getting acquainted with Gene, I got him a job there. It was called Gene's Muffler. Located on the border of Paramount and Bellflower, the shop was an old real estate office and a two-car garage that Gene had put a pit with a couple of racks in between. Coming into that little shop, I noticed Gene was doing great and I told him if he ever wanted to sell the shop let me know. He was driving a fairly new 1956 Ford pickup, had a wild ski boat and a new car for his wife. Not bad for a young man!"

Later on, Gene got in trouble with the sales tax department and needed money; "I hocked everything and paid $3,500.00 for the shop. The name had a good reputation so I just kept it. Later I bought the land next door and built a very large muffler shop that could do 6 cars at a time. In the front building I put a tire and wheel company and a small manufacturing building in between. It did great so I put shops in Downey and Hollydale, two cities nearby. We did all of the lowering and lifting of cars and installed dual exhaust on thousands of cars over that period.''[1]
In his youth, without a beard or styled hair, Larry Watson moved into a building directly across the shop area from Keith's original muffler and customizing shop. "There he took on his aura of beard and styled hair," Keith told Kustomrama. As Watson progressed, Keith remembers Watson first opening up a little shop next to Nance Chevrolet company on Bellflower Blvd in Bellflower. "He started painting cars,"Keith recalled. "He would wet down the floor of an old garage for the sake of dust, and painted inside. It wasn't long before the fire department came and close him down." Keith remembers Watson then moving over on to Park street in another small garage where he went through the same scenario. "From there he moved in next to my shop on Lakewood Blvd, in Paramount, across the street from the border of Bellflower. He had a group of back yarder's come in and install an old paint booth he had found and bought." Watson was finally legal, and Keith remembers him advancing from a few custom paint jobs to Candy paint and onto gorgeous pearls.[1]

As Larry matured, he became the great painter that everyone would recognize. "In the early 1960s he started innovating painting. From flames, to blending of colors, to two tones of the very expensive Murano pearl, which at that time was made up of abalone seashells blended into the paint. It was astonishing what he developed and did," Keith remembered. "Lacing the sides of a car was marvelous, as seen on Doug Carney's 1963 Pontiac. I helped Larry with a couple of lacing jobs. We would set up saw horses on either side of the car and have to position them perfectly - just inches away from the side of the car - tedious and critical. Then we would take an expensive lace table cloth and stretch it between the sawhorses - even more critical a distance. This is all after the car had just been painted some wild Candy or Pearl." The finesse of the next step was the crucial step, Keith recalled; "Larry had only one pass along the side of the car to fog through the lace. He would take a beautiful paint color and turn the pressure of the paint gun up and walk the full length of the car in one long smooth, balanced sweep. A real test of talent as Larry would not have a second chance, as the paint would fog through the lace tablecloth and onto the side of the car and had to land perfectly and equally - No second chance. If it was not perfect, the whole side of the car had to have the lacing fog taken off." According to Keith, "Larry's intricate preparation and his talent came out in all this. The paint jobs were the talk of the town and won awards at a lot of car shows."[1]
Keith started building Driveshaft Tips and Bed Rail Pipes. He developed a manufacturing division, and after seeing how llifted cars were dragging up driveways, Keith got the idea to put a 90 degree elbow pipe on the front of his driveshaft tips; "I chromed the whole thing, that let us put them on the outside of the fenders, just behind the tires. Since I was next to the town of Bellflower, where I lived, I called them Bellflower Chrome Tips! The name stuck with them to this day," Keith told Kustomrama in 2016.
Lifted Sedan Delivery
In 1961 Keith had a 1959 Chevrolet Sedan Delivery that Doug Carney of Downey installed hydraulic lifts on; "I had a shop in Downey at the time. Doug got his parts from Douglas Aircraft Surplus. Later on he went to Palley's to buy parts for many of his lift jobs, as they were a giant aircraft surplus store in Los Angeles. When you bottomed the Chevrolet, a pack of cigarettes would not fit under the front. Larry Watson painted it a Murano Pearl Yellow with Goldleafing in the inserts on the sides. I had an aircraft company friend of mine that upholstered airplanes, do the interior in a chocolate. The sedan delivery was my daily driver and a bunch of fun to drive as you could lower while driving. That year Chevrolet had a real wide flat hood and it really looked wild on the highway."
For his other shop, Action Mufflers, Keith built a 1949 Chevrolet Sedan Delivery. The '49 was Lavender and fixed up much the same was as the 1959 Chevrolet Sedan Delivery.
The Phone Company Truck
In 1962 Keith bought a 1956 Ford phone company truck with a box on the back that he built into a delivery truck. Larry Watson painted it Pearl Yellow and Keith installed wheels and a big motor.
In 1963 Tom Kelly designed a logo for Keith; "Tom specialized in large murals and pinstriping on motorhomes and big trucks." Tom designed a logo containing two glass packs crossing inside an Iron cross, and Keith had it made in to decals, jackets and shirts. He also painted it on the doors of some of his shop trucks.
In 2016 Keith lived in Lake Havasu City, Arizona where he spent much of his time writing articles for some local newspapers. 78 years old he was going strong with more projects than ever. No time to retire.
Keith Christensen's Cars
Keith Christensen's 1949 Chevrolet Sedan Delivery
Keith Christensen's 1950 Oldsmobile Business Coupe
Keith Christensen's 1955 Buick
Keith Christensen's 1955 Ford Truck
Keith Christensen's 1956 Ford Truck
Keith Christensen's 1959 Chevrolet Sedan Delivery

References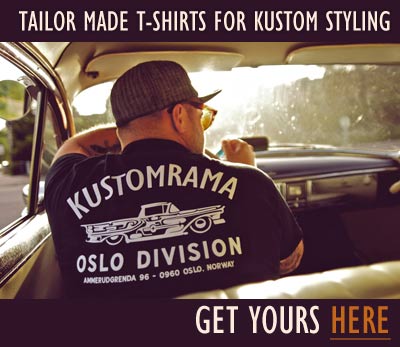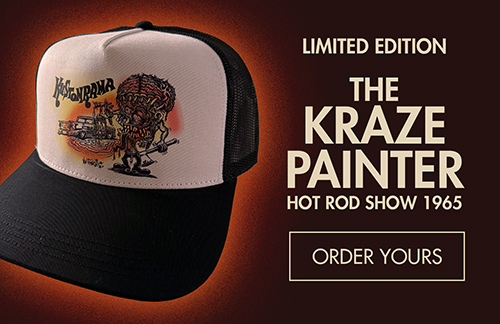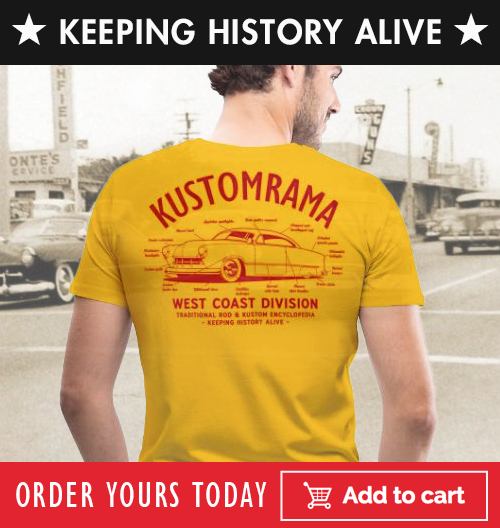 Did you enjoy this article?
Kustomrama is an encyclopedia dedicated to preserve, share and protect traditional hot rod and custom car history from all over the world.
Can you help us make this article better?
Please get in touch with us at mail@kustomrama.com if you have additional information or photos to share about Keith Christensen.



This article was made possible by:
SunTec Auto Glass - Auto Glass Services on Vintage and Classic Cars
Finding a replacement windshield, back or side glass can be a difficult task when restoring your vintage or custom classic car. It doesn't have to be though now with auto glass specialist companies like www.suntecautoglass.com. They can source OEM or OEM-equivalent glass for older makes/models; which will ensure a proper fit every time. Check them out for more details!

Do you want to see your company here? Click here for more info about how you can advertise your business on Kustomrama.