Norway
From Kustomrama
Auto Racing and Nordic Special Racers
February 25, 1912 the first automobile ice-race was organized in Norway. It found place at Bundefjorden outside of Oslo. The race received massive coverage in the news, and extra trains were set up to carry curious people to the event. As the crowds grew, the race turned into a chaos, and the racers had a hard time seing the track. The public were all over the place, and several accidents happened. The organizers eventually decided to cancel the race before it was over due to all the chaos, and public and racers had to leave the ice. The next day, the newspapers wrote about the race as a total failure, and it would take 10 years until the next official ice race was organized in Norway.[2]

In 1922 Gjersjøløpet was held at Tyrigrava outside of Oslo. Gjersjøløpet was also an ice race, and it was held from 1922 to 1939. In 1932 they had to move the race to Mjøsa by Lillehammer due to thin and unstable ice in the Oslo area.[2]
Rationing of Cars
After WWII you needed a special permit to buy cars in Norway, as the Norwegian government wanted to reduce consumption of imported goods. As a result of this, there were only 18 cars per thousand citizen in Norway in 1948. If you already owned a car, you had restrictions when it came to mileage. There were also periods when it was forbidden to use a car. Automobiles were luxury in Norway during this time. When you crossed the border to Sweden, there were several used car dealers, ranging from small to large. Båstnäs was one of the largest. They all had Norwegians as customers. Parts were sold so people could repair and upgrade their pre-war cars. According to the book I grenseland. Bildrømmer på 1950-tallet, thousands of used cars were also bought on the Swedish side of the border. These were dis-assembled before they were brought across the border and assembled again in Norway.[3]
In the early 1950s, Swedish born industrial designer Ralph Lysell built a prototype for a bubble-topped sports car at Norwegian Aircraft Industries LTD at Fornebu, the main airport of Norway, located just outside of Oslo. The car was designed by Ralph, and it was meant to be the first Norwegian produced sports car of the 1950s. During the period of 1950 - 1951 at least three, but maybe as many as five cars were built at Norwegian Aircraft Industries LTD in Oslo. In addition to Ralph's dream car, at least two more cars were started as prototypes for production cars.[4]
Bergen is a city and municipality in Hordaland on the west coast of Norway. One of the earliest custom cars of Bergen can be traced back to 1951 or 1952, when Alf Rasmussen bought a chopped, channeled and sectioned 1936 Ford from a British or American pilot that had worked in the Independent Norwegian Brigade Group in Germany after WWII. The car was sold in 1955, and nobody knows what became of it.[5]
Some homemade cars were also built and registered in Norway in the 1950s. One of these were Almar Nordhaug's Dream Car. Almar built his dream car while working at a barrel company in Tórshavn on the Faroe Island. He moved back to Norway in 1957, and brought the car with him.
The First Generation of Norwegian Hot Rodders
It took about 10 years from the first Hot Rod Magazine first hit the newsstands, to the hot rod movement of Southern California reached the coast of Norway. In the 1950s and 1960s american small size hot rod and custom magazines were sold at various newsstands in the biggest cities of Norway. These were the main source of inspiration for Norwegian teenagers wanting to build and drive hot rods. There were plenty of cars to base a build on, but getting the right parts, tools and equipment were almost impossible. In March of 1957 the Norwegian magazine Motor Avisen wrote a story about hot rods, the latest trend from USA. At the time Norwegian gearheads living Oslo used to hang out at Kontraskjæret, playing music, showing off for the girls, cruising cars and dreaming about owning a modified car such as a hot rod or a custom. In 1958, a year after Motor Avisen had written about the hot rod trend in the United States, Speed-Nytt 3/1958 followed up with a featured story on Per Røed's 1932 Ford Cabriolet of Oslo, Norway. Per's cabriolet was powered by a 1939 Ford V-8 engine that had been hopped up by shaving the heads. Speed-Nytt named Per's Ford "The First Hot Rod of Norway". Tore Tømmerås read the story on Per's Ford the same day as the magazine hit the stands. He immediately called the editors of Speed-Nytt to tell them about a club he and two friends had just started. Speed-Nytt paid the teenagers of Frogner in Oslo a visit, and in the next issue of Speed-Nytt gear headed teenagers of Norway could read all about The Wildcat Motorclub, "Norway's First Hot Rod Club". Oslo was the hotbed for the continuously growing hot rod and custom movement of Norway, and it didn't take long time before another hot rod club was established in Oslo. Oslo Hot Rod Klubb, located further downtown was founded later on in 1958.[6] According to an article by Amcar Magazine on Drag-Racing in Norway, Per Ivar Kolgrov and "Endre" were members of Oslo Hot Rod Klubb.
Drag Racing
September 2, 1958 board members from Oslo Hot Rod Klubb and The Wildcat Motorclub joined forces and held a meeting discussing a possible cooperation and forming of different Drag-Racing classes. Together they decided that the different classes should be formed based on:

a. The weight of the cars, minus the weight of the ballast, gas and driver.
b. The height from the ground to the highest point of the car, minus antennas, flag-poles and other accessories.
c. The number of cylinders: 4,6 or 8. Straight or V-shaped engines should compete in the same classes. An additional class was also formed for engines with more than 8 cylinders.

The dragstrip was also specified during the meeting, and the members of both clubs agreed about having a relatively short dragstrip compared to the shutdown area. By having a long shutdown area, the racers could have as fast as speed as possible when they crossed the finish-line. Good acceleration was therefore important if you wanted to win. The long shutdown area was necessary due to the high speed. A short shutdown area could result in damaged parts on the old cars due to hard braking. Two cars could race head on. The length of the dragstrip was set to be about 405 meters. Unfortunately the Drag-Racing dreams never came through for the young boys. Eager for speed, ice and dirt-track racing became their only alternative.[7]

Both The Wildcat Motorclub and Oslo Hot Rod Klubb were short-lived club attempts. As the members grew an interest in girls, it became hard to maintain the weekly club nights, and both clubs faded slowly out. The boys kept their cars and used them regularly, but by the early 1960s both clubs were history.[7]
Rationing of Cars Comes To and End
In 1960 the rationing of cars in Norway was removed, and normal citizens were allowed to buy cars again.[3]
The Second Generation of Norwegian Hot Rodders
When it comes to building hot rods and customs, Sweden was way ahead of Norway. Just as in Norway, the Swedish traditional hot rod and custom scene can be traced back to the late 1950s. Many more cars were built in Sweden though, and it is apparent that the cars built in Norway in the 1960s were very influenced by the Swedish style. One of the first known custom cars of Norway was Per Ivar Kolgrov's 1948 Mercury. According to Roar Arnegård, it was quite a sensation when Per Ivar got his heavily modified Mercury through the licensing department in the mid 1960s.[8] Oslo was still the hotbed when it came to Norwegian hot rods and kustoms in the 1960s, but things were going on in other cities as well, such as Trondheim, were Einar Valsjø was busy customizing his 1952 Mercury. Einar's Mercury was completed around 1963.
Oslo Hot Rod Klubb and The Wildcat Motorclub were both short-lived club attempts, but they left impressions on other teenagers in Oslo such as Per Arne Knudsen and Roar Arnegård. In 1964 Per Arne and Roar decided to form a new club called Viking Custom.[7] In order to find out if there were other hot rod interested teenagers in Norway interested in forming a club, Per Arne and Roar ran a classified in the Swedish magazine Start & Speed. 14 years old Gunnar Berg-Kristoffersen answered the ad and attended the first club meeting. He was told to take the tram to the church of Gamlebyen in Oslo, as the meeting was held at Per Arne's home at Alnafet street, close to the church. Present at the first meeting was Per Arne, Roar and other teens that dreamed about owning a hot rod.[9] Being a serious club, Viking Custom had their own logo and newsletter. When it came to cars, Per Arne owned several cars, but his under progress hot rod project was a 1934 Ford cabriolet that he had traded for a stock 1923 Ford Model-T. Roar owned a 1933 Ford roadster with 4 or 5 friends. The roadster had been imported from the United States, and both set of to turn these stockers into real hot rods as they had seen in Hot Rod Magazine. Roar's car was rumored to be an old Police car, and the police stars were still visible on the doors.
Bergen
Kjell Trellevik is a hot rod and custom pioneer from the west coast of Norway. Kjell was born and raised in Bergen. In 1959 he moved to Gothenburg, Sweden where he first was exposed for mildly restyled customs. In Sweden Kjell bought a Ford Crown Victoria that he began restyling; "I had big plans for that car, but I didn't have much time to work on it before I moved back to Norway in 1961," Kjell told Sondre Kvipt of Kustomrama in 2017. Back in Bergen, Kjell bought a 1940 Ford that he started hot rodding. "There was a small scene for restyled cars in Bergen back in those days. In addition to my 1940 Ford, my buddy Torolf Viken had a hot rodded 1939 Chevrolet Coupe with a Buick V-8 engine. There was also a 1940 Oldsmobile coupe, a 1939 Studebaker coupe, and a Buick coupe." Kjell believes that he and Torolf had the first hot rods in Bergen.[10]
In the Autumn of 1965 Harald Sannum of Trondheim began restyling his 1959 Chevrolet Impala. In 1967 Harald's Impala was the first Norwegian custom to be displayed at Bosse Gamen's Hot Rod Show in Stockholm.
In 1967 Per Arne Knudsen and Roar Arnegård went separate ways, and Viking Custom went into the history books. Per Arne went on to found a more organized club called Nor-Way Custom.[11] The newly founded club wanted to grow nationally, and they advertised for members all over Norway by running informal ads telling people about the existence of the club. As Viking Custom, Nor-Way Custom also had their own logo and newsletter. The newsletter was called "Rod & Custom News". After a while, Nor-Way Custom counted over 100 members. Per Arne Knudsen was the President of the newly established club, while Lasse Anundsen acted as Vice-President. The main focus of Nor-Way Custom was to locate decent project cars, restyle them, and to work with the authorities to have such cars legalized for use on the streets.[12] As the repuatation of Nor-Way Custom grew, a Norwegian household magazine came to make a story on the club. The publicity didn't do the club good, and people started to steal tools from the garage. At the same time the vehicle licensing department began signalizing that the cars in the club never would pass their inspections.[9] In 1969 the vehicle licensing department refused to approve the club's first hot rod, Per Arne Knudsen's 1934 Ford cabriolet. Kalle Brøderud, another Nor-Way Custom member, remembers the infamous Mr. Neslein of the vehicle licensing department climbing down into Per Arne's 34, taking the car for a spin down Mosseveien in Oslo. As Neslein meant it would be a big provocation against the authorities to show up at the vehicle licensing department with such a radical altered car, he suggested he should come down to Knudsen's garage to take a look at the car instead. When Neslein returned with the '34, he told Per Arne that he would never get Norwegian license plates on the '34.[12] The club held several meetings discussing the case, and some of the members wanted to hire an attorney and take the vehicle licensing department to court.[9] That never happened, and Per Arne ended up trading the '34 to Ludvig Bjørnstad for a rather stock 1956 Chevrolet two-door hardtop in 1970. At the time, organized drag racing gained traction in Sweden, and as the Swedish magazine Start & Speed started to pop up in newsstands all over Norway, Norwegian teenagers began to travel across the border to get a glimpse of the growing sport. As members of Nor-Way Custom realized that they would have a hard time getting their hot rods approved by the infamous Neslein, many of them they decided to turn their under-progress hot rods into dragsters instead. This was the beginning of the end for Nor-Way Custom. Glorified dreams about owning a street driven hot rod, and the previous energy for common club operations were slowly fading away. The drag racing oriented part of the club evetually left Nor-Way Custom, and established a new club called American Cars of Southern Norway. From day one, ACSN's mission was to bring drag racing to Norway. A goal they worked hard to achieve[12]
From Rods & Customs to Drag Racing
During the Summer of 1971, Ludvig Bjørnstad was ready to test run his 1934 Ford cabriolet at the old airstrip at Gardermoen. In May of 1972 he made his debut run with the '34 at the dragstrip in Mantorp, Sweden. Fred Larsen was also present at the same event, racing his Funny Car Hot Lemon, and the two friends became the first Norwegians ever to compete with cars in an organized drag race. Ludvig raced in the Street Altered class, and he ended up as runner up in his class.[12]
Custom Paint Jobs
There were still some enthusiasts left customizing cars in Norway in the 1970s. Their choice of vehicles were often muscle cars, and the restyling consisted mainly of custom paint jobs and interiors. The engines were hopped up, aluminum wheels were installed, and the cars were often raised in the rear. In 1974 American Car Club of Trondheim held an American-only car show in Nidarøhallen, Trondheim named Motormesseshow. The 1974 Motormesseshow was the first US-car show of Norway. Early custom pioneer Einar Valsjø attended the show with his customized 1968 Oldsmobile Cutlass Convertible. The build was completed the night before the show, and it was the first car of Norway featuring a show car paint job.[13]
The Revival of Traditional Hot Rods and Custom Cars in Norway
In the 1980s, Norwegian enthusiasts such as Levi Lundring began to build traditionally styled hot rods and customs in Norway. The inspiration came from a growing revival trend in the United States lead by clubs such as the Shifters of So. Cal, and not the Norwegian hot rod and custom movement of the 1950s and 1960s. In the late 1990s a club dedicated to traditional hot rods and customs called Satelloids was established in the Tønsberg area. In 2000, another club, called the Coupe Devils car club of Norway was established by Sondre Kvipt, Kjetil Kvipt and Ole Kristian Espeland in Bø i Telemark. The club consisted of members from Fyresdal, Seljord and Sandeford, and the club was limited to traditionally restyled hot rods and customs American made cars prior to 1962. Many clubs followed, and many have come and gone over the years.[14]
Hot Rods of Norway
Lee A. Jagla's 1923 Ford Model T Roadster Pick Up
Gunnar Berg-Kristoffersen's 1924 Ford Model T Bucket
Kjetil Kvipt's 1926 Chevrolet Roadster Pickup
Terje Rusthaug's 1928 Ford Model A Tudor
Eldon E. Schmidt's 1929 Ford Model A Roadster
Hans Ola Christensen's 1929 Ford Model A Coupe
Kasper Kaarbø's 1929 Ford Model A Leatherback Coupe
Arvid Johansen's 1930 Ford Model A Roadster
Ole Kristian Espeland's 1931 Ford Model A Tudor
Ole Jørgen Jørgensen's 1932 Ford
Per Røed's 1932 Ford Cabriolet
Leif "Basse" Hveem's 1933 Ford 5-Window Coupe
Roar Arnegaard's 1933 Ford Cabriolet
Jens Birkedal's 1934 Ford Cabriolet
Leif "Basse" Hveem's 1934 Ford 3-Window Coupe
Per Arne Knudsen's 1934 Ford Cabriolet
Sondre Kvipt's 1934 Ford Pickup
John Erik Baalerud's 1935 Ford Cabriolet
Tore Tømmerås' 1935 Ford 5-Window Coupe
Sondre Kvipt's 1937 Willys Overland

Custom Cars of Norway
Ole Kristian Espeland's 1935 Ford 5-Window Coupe
Alf Rasmussen's 1936 Ford Convertible
Hans Ola Christensen's 1939 Ford 4-Door Sedan
Ken Norrena's 1939 Ford Tudor
Lawrence Garrison's 1940 Mercury Convertible
Jon Hegnastykket's 1946 Buick
Ken Norrena's 1946 Ford
Hans Ola Christensen's 1947 Buick Sedanette
Per Ivar Kolgrov's 1948 Mercury Convertible
Tom Carroll's 1949 Chevrolet
Kasper Kaarbø's 1949 Ford Tudor - Pandora's Box
Ole Kristian Espeland's 1950 Plymouth DeLuxe
Bjørn Tømmervik and Ivar Buxrud's 1951 Chevrolet Bel-Air
Kjetil Kvipt's 1951 Pontiac
Einar Valsjø's 1952 Mercury
Tom Røine's 1953 Chevrolet
Kjetil Kvipt's 1953 Ford Customline
Jarle Pedersen's 1953 Mercury
Ken Norrena's 1953 Oldsmobile
Gil Ayala's 1955 Ford Thunderbird - The Wild Bird
Øistein Bondeson's 1955 Ford Fairlane
Kjetil Kvipt's 1955 Pontiac
Ken Norrena's 1956 Buick
Hans Ola Christensen's 1956 Ford F-100
Ole Kristian Espeland's 1956 Ford
Åge Gustavsen's 1956 Ford Crown Victoria Pick Up
Jon Hegnastykket's 1956 Mercury Monterey
Tom Røine's 1956 Plymouth - The Creature
Per Sjøvall's 1957 Chevrolet
Kjetil Kvipt's 1957 Ford Town Victoria
Sondre Kvipt's 1957 Ford Ranchero - The Kustomrama Dream Truck
Espen Volle's 1957 Plymouth Plaza
Hans Ola Christensen's 1959 Buick
Harald Sannum's 1959 Chevrolet Impala
Morten Hovland's 1961 Cadillac Coupe DeVille
Tom Røine's 1963 Buick
Helge Solberg's 1967 Chevrolet Camaro - Low'n Blown
Olav Kvipt's 1967 Volvo Amazon

Nordic Special Racers of Norway
Greger Strøm Special No. 1
Greger Strøm Special No. 2
The Hinsværk Special

Gassers of Norway
Kjetil Kvipt's 1951 Chevrolet Panel Gasser

Dream Cars of Norway
Ralph Lysell's Rally
Joar Kristiansen's LeSabre
Almar Nordhaug's Dream Car

Other Notable Cars
Torbjørn Nygård's Tony Race Car
Olav Kvipt's 1959 Karmann Ghia

Hot Rod and Custom Car Clubs of Norway
Coupe Devils
Oslo Hot Rod Klubb
Satelloids
Squirrels
The Wildcat Motorclub
Thunderbolts
Viken Rod & Custom

Norwegian Hot Rod and Kustom Car Shows
Atna Nostalgic Speed Weekend
Coupe Devils Rod & Kustom Bonanza
Kala Dirt Track Race
Viking Run & Fun

Norwegian Artists
Norwegian Bodymakers
Aunes Karosseriverksted AS
O. C. Axelsense Fabrikker AS / Flekkefjord Karosserifabrikk

People of Norway
Alf Rasmussen
Aslak Momrak
Bjørn Inge Jansson
David Petrych
Eirik Bøle
Eivind Torp
Espen Volle
Hans Ola Christensen
Harald Sannum
Helge Solberg
Henning Fossheim
Jack Roar Rollve
Jan Erik Kvernes
Jan-Odd Jakobsen
Jarle Pedersen
Joar Kristiansen
Johan Johnsen
Johan Megaard
John Erik Baalerud
Jon Aksel Lier
Jon Hegnastykket
Kasper Kårbø
Kay Minge
Ken Norrena
Kjetil Kvipt
Lars Gunnar Nordås
Lars Otto Olsen
Morten Hovland
Olav Kvipt
Ole Kristian Espeland
Paul Wiencke
Per Ivar Kolgrov
Per Røed
Per Sjøvall
Pål Heine Torp
Roger Glans
Sondre Kvipt
Sten Nordby
Stian Nygård
Stig Nygård
Terje Fjellhaug
Thomas Skogli
Tom Røine
Torbjørn Nygård
Tore Tømmerås
Ulf Haugen
Willy Will Gundersen

References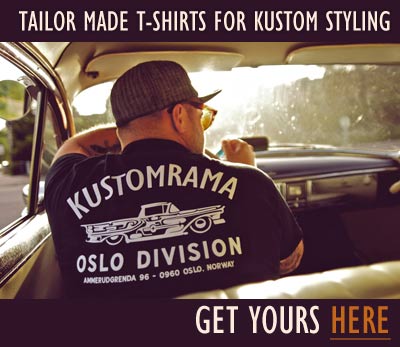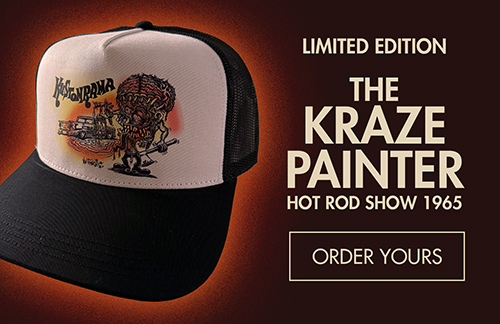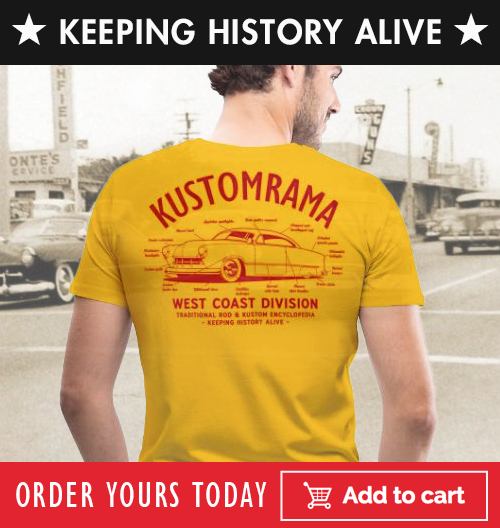 Did you enjoy this article?
Kustomrama is an encyclopedia dedicated to preserve, share and protect traditional hot rod and custom car history from all over the world.
Can you help us make this article better?
Please get in touch with us at mail@kustomrama.com if you have additional information or photos to share about Norway.



This article was made possible by:
SunTec Auto Glass - Auto Glass Services on Vintage and Classic Cars
Finding a replacement windshield, back or side glass can be a difficult task when restoring your vintage or custom classic car. It doesn't have to be though now with auto glass specialist companies like www.suntecautoglass.com. They can source OEM or OEM-equivalent glass for older makes/models; which will ensure a proper fit every time. Check them out for more details!

Do you want to see your company here? Click here for more info about how you can advertise your business on Kustomrama.