Barris Kustoms
From Kustomrama
Barris Kustoms was a Southern California custom body shop owned and operated by the brothers George and Sam Barris.
The Early Years
George and Sam Barris were early custom pioneers. Little brother George learned the craft in the Sacramento area before World War II by hanging around Harry Westergard's garage.[4] George began helping Harry whenever time would permit. He carefully followed the instructions of his new friend who eventually taught him such necessary formalities as layout and paneling. Doing these odd jobs at Westergard's shop brought in a little extra money. With the money George bought a 1936 Ford Coupe, the first car in which he had sole interest. Between the staggering amount of school and working with Westergard, George also found time to work on his coupe. The Ford was completed in 1941. Interest in his various studies was still foremost, and George began studying harder than ever. In addition to the courses already mentioned, he took up shop work, mechanical drawing, designing, and an additional course including singing and orchestration. In 1942 Sam Barris joined the Army, while George was turned down. George turned to the Merchant Marine, and was subsequently told to go to Los Angeles and await assignment to a ship. George packed his belongings, including what body tools he had managed to accumulate, and headed southward in his customized 1936 Ford convertible. His new friends in Los Angeles lauded George on the fine job. Such things as push button doors and deck lids were practically unknown, so his new friends urged him to stay and do body work if he could arrange it.[4]
George was never assigned to a ship. He got a job in a body and fender shop, but that didn't last long as the foreman demanded George to straighten fenders. George wanted to chop or channel something,[4] so he quit the job and went to work for Jones's Body, Fender & Paint Shop instead. At Jones' he worked his way up to foreman. According to George he gained a lot of basic experience while working at Jones's Body, Fender & Paint Shop.[5]
George's First Shop in Bell
A couple of different stories on how Barris Kustoms was born exists. According to the books The Big Book of Barris and Barris Kustom Techniques of the 50's Volume 1, George opened up his own small shop on Imperial Highway in Bell, California late in 1944. When Sam was discharged from the Navy the following year, George persuaded him to join the venture despite his lack of experience. In Hop Up May 1953 another version of the story is told. According to that story Sam looked up his long lost brother in Los Angeles in 1945 after being discharged from the Navy, in order to find out what he was up to. George and Sam sat down and talked about old times. The old 1925 Buick came up, and the boys had a good laugh remembering the work they had done to the old jalopy. In the middle of the conversation George said "Hey, man, I've got an idea. Let's go into the custom business together!" Sam reminded him that he had no experience as either a bodyman or as a painter, except from the work he had done to the old Buick. George began teaching Sam, and after a few weeks, he decided that his older brother would pass for a body man.[6]
The Imperial Avenue Shop
After Sam had knocked out some reasonable bodywork, the two brothers pooled their resources and rented a small shop on Imperial Avenue in Los Angeles in 1946. The first few months of the new enterprise were hard, but as Sam became proficient at bodywork the business began picking up.[6]
It didn't take long before Sam and George had outgrown the Imperial Avenue shop, so they quickly moved to a larger location at 7674 Compton Avenue in Los Angeles. The new shop was located in an old double garage, and the move is believed to have found place later on in 1946. After moving the shop, they changed the name to "Barris's Custom Shop". According to Barris Kustom Techniques of the 50's Volume 1, they were an official Brake Station at the time, something that helped improve the cash flow day to day.[7]In 2011 Johnny Zaro told Trend Books Editor Justin Kudolla that there were actually two shops on that Compton Avenue address. "The one next door, I can't even think of the fella's name, but he rented that to George. It was the fella who owned the property, he had a brake shop right on the corner. They put in one of the magazines that George had the brake shop and all of that, but he didn't have anything to do with that. He just rented the one side out."[8]
The Zaro and Andril Mercs
After being discharged from the Navy in 1947, Johnny Zaro and Al Andril decided to buy a pair of 1940 Mercury's to cruise around in. During their conversations about the coupes, they decided to have the tops chopped. Al had heard about the Barris brothers, so the buddies decided to pay the young customizers a visit. In 2011 Justin Kudolla interviewed Johnny about his Merc. Johnny told Justin that he and Al were both down in San Pedro at the time, waiting to get discharged when Al found the shop. George and Sam Barris convinced Johnny and Al that several other modifications should be done to the car as well, in addition to the chop. Sam started out restyling Al's coupe. Every time Johnny and Al had a chance, they would get out and go up to Barris Kustoms and work on the cars. "See, when you had George work on your car in those days, it wasn't going to be done unless you got down there and worked on it too. Most of it was easy work, like sanding or some little thing, they did all the major work, believe me. It was at nighttime a lot of times. We couldn't get up there in the daytime. Sometimes George would be there until 12 or 1 am, something like that, if he was spraying something. But as far as bodywork, he would get done at maybe 5 or 6 o' clock. And when I knew George he was living in nothing but a garage with a dirt floor and a little bathroom in Huntington Park. And from there, he got a step up; he started living in Warren Breeland's mother's home over near the shop. Warren, he was going to UCLA. I don't know where George lived when he had the shop in Bell." Johnny told Justin that there used to be a fellow that lived right across the street from the shop named Gordo. Gordo used to work for George doing body and fender work.[8]
Running Barris Kustoms was a struggle until George's 1941 Buick custom won top honors at the first Hot Rod Exposition Show at the National Guard Armory in Los Angeles in January 1948. Winning that show put Barris on the map.[7] George soon realized that their shop on Compton Avenue was slightly out of the magazines' reach, so in order to get their cars promoted through the growing amount of hot rod and custom magazines, he learned to take magazine quality photos of their cars and work. When Robert E. Petersen founded Hot Rod Magazine in 1948, he called George and asked if he had some pictures he could contribute with in the magazine. This resulted in a lot of press, both in the form of full features, and how-to stories in many different magazines from all over the country. As a result of this, customers began bringing cars in from the middle West and the East.[9]
Back to Bell
The Compton Avenue shop that had seemed so large in the beginning proved to be too small to house all of the cars that customers brought in, so the brothers were forced to move to an even larger shop at 4120-1/2 East Florence Avenue in Bell in 1949.[10] On the top of the business cards from the Bell shop George put the names "Barris - Hector - John". Hector and John referred to Hector Savadra and John Manok, two bodymen that worked for George at the time.[2]
Moving to Lynwood
Barris Kustoms were only in the Bell shop for a short time, long enough to run a 1/2 page ad with Gaylord in Motor Trend February 1950. Within 6 months or so, George and Sam moved their business to 11054 S. Atlantic Blvd. in Lynwood.[10] Not only did the the size of the shop have to be increased, the staff had to be expanded as well.[4] After moving the shop to Lynwood business really took off, and they were working all hours of the night and day.[10]
A 14 years old kid named Dick Jackson lived in Lynwood. He had a Whizzer bike, and used to stop by the shop everyday on the way home from school. A rope kept visitors out of the shop, so the workers would not be disturbed by curious by-passers. Dick used to stand outside the rope and stare into the shop. One day Sam said "Hey, we're getting tired of you staring at us. You want a job here?" At the time the Manok brothers, John Manok and Ralph Manok, worked there along with Bill Ortega and Sam and George. Dick said yes, and he started to sweep the floors. He was told not to sweep any tools or parts. Dick wasn't paid, but he felt lucky to be on the other side of the rope. While working at the shop George gave Dick the nickname "Peep", telling him "you're only a peep". After six months Sam told Dick that he was doing a good job, and that they were going to start paying him 22 cents an hour. He took parts off, put parts to be used in one pile, other parts in the shed up front, and on the other side. Peep advanced from being a broom boy to becoming the spotlight guy. When George got tired of installing spotlights, he passed the task on to Dick.[11]

Dick was still going to school. He had a paper route in the morning, and lived at home. He was learning at the shop, and he became good friends with Sam. Sam told him more what to do then George, and he was even his babysitter when Sam and his wife wanted to go to a show. Dick would watch the two kids as a favor, and Sam would do favors for Dick. Dick's first car was a 1939 Chevrolet sedan, a pretty, clean and stock car. The first thing Sam told Dick was that he had to put some primer spots on it to make it look like it belonged at the shop. Next he came in and gave Dick a full set of Cadillac Sombreros, telling Dick that he needed those. They found a way to screw them on before Sam told Dick that they had to lower the car. Sam gave Dick blocks for the back and they figured how to lower the knee action in front. Finally he came in with a new set of original teardrop skirts for the car. At the time Sam was teaching Dick how to sand and mask. They were taking him through phases, and Dick did a lot of block sanding on the Hirohata Merc. The first thing he ever painted on a car was the dashboard and steering column on Bob Hirohata's 1951 Mercury. By 1952 he was learning how to weld. George had strict rules, and one of these was that all seams had to be fully welded or brazed, not tacked, before leading, so they wouldn't crack later. Back then they did most everything in brazing, and the welding they did was done with coat hangers as the metal was softer and it flowed easier, almost like lead.[12] In 1952, Nick Alexander stopped by Barris Kustoms in order to find out exactly how much it would cost to have a car restyled by Barris Kustoms. The story was published in Motor Trend December 1952 under the name "What is the Cost of Customizing?". According to this story a "Conservative Restyling" in 1952 would run between $300 and $1500. A "Radical Restyling" would run around $2500, while "Complete Jobs" were from $5000 to $10,000.[13]

As Dick Jackson started making more money he bought a 1952 Ford. He started working on it in the shop, and he remembers that you could always work on your own car in the shop after hours. Everybody had their own key, and everyone worked on their cars in the shop after work. Saturday was payday, and sometimes on payday George would be short of money. He then told Dick that they were even as he had used some primer and some paper. If George wouldn't pay him, and he was short of money that week, he would go work somewhere else. When Sam heard that Dick had been working for George Cerny, he would kick him out, telling him not to work for the competition. "You are loyal to us" Sam told Dick. Both Sam and George had a temper. Sam wasn't quite as bad as George. Dick remembers that if you heard George started cussin' and yellin', everybody in the shop would duck for the floor. When Dick worked for Sam and George, George would come in clean, put his dirty clothes on, and get down on the floor weld and cut like everyone else in the shop. George would weld and lead, and he painted everything back then. Sometime around 1955 he moved up to Hollywood, sharing a house with Bill Carr in the Hollywood Hills. He wouldn't come in until after noon, and the guys would have a car ready for him to paint. Normal hours at the shop were 8 a.m. to 6 or 7 p.m. George would stay late because he came in around noon. The reason for this was primarily because he'd be at the Peterson office in the morning working on articles or books. Sam who had a family, quit at 5 p.m.[12]

As George Barris began promoting his business through stories published in hot rod and custom magazines, the little custom shop on Atlantic Blvd. became known all over the country during the mid to late 1950s. Many well known custom builders have spent some time at Barris' customizing cars. Some worked full time while other worked part time every now and then. Several went on to establish their own shop, or work for other builders. One of these was Hers "Junior" Conway. After graduating from high school in 1955, Junior went to work for Barris as a trainee. He started during the Easter of 1955, and worked until the summer, putting in 60 hours a week at $1 per hour. During the summer of 1955, George told Junior that he wasn't worth that much, so he quit and worked at another shop. Gerorge asked Junior back in the summer of 1956, and he always got paid after that. In June of 1956, one month after Junior came back, Sam left the shop.[12] As Barris Kustoms was progressing, Sam was unhappy with his life. Family pressure, the wants for an easy-paced life and the need to return to Roseville all boiled down, and Sam moved back to northern California. At the time he left there were a lot of projects going on in the shop, The Aztec was one of these. The Aztec was one of the last full custom projects Sam worked on. Sam continued to do some custom work in Sacramento at Barris North. But Sam wanted out of the industry, and the El Capitola was the last full custom he completed in 1960. After Sam left, Barris Kustoms were still creating custom cars and hot rods at fast pace. About the same time, Dick Jackson started working other places as well. He would work for shops that paid better, then come back at night and work but take it out in trade for working on his own car. When he finally was the head painter at Barris Kustoms, full time, he had around $2.45 an hour. This was just before the fire, in 1957. He had his 1957 Thunderbird then. When Junior returned to Barris in the summer of 1956 he and Curly Hulbert were the only full-time employees in addition to George. Lyle Lake came and went at the time. Frank Sonzogni was a policeman, and worked only part-time. Bill DeCarr worked full time at the Ford plant in Pico Riviera, and part time at the shop, and Dale Bird, "The Fireman" did also only work part-time. Dick Jackson left Barris not long after the fire, in 1958, to start his own shop, a body shop and custom car studio called Dick's Paint and Body Studio in Compton. Dick was typical of most employees at Barris at the time, both in coming and going and working after hours or part time.[12]

Von Dutch was working at a motorcycle shop in the vicinity and had a reputation for being a good striper and painter. George Barris hired Von Dutch on a part time basis to do paint work for Barris Kustoms. The first job Von Dutch did for Barris Kustoms was to paint the business sign on the outside of the building. According to himself he fooled with the spelling and came up with a "K" instead of a "C" to spell custom, and thereby establishing the Barris' phrase "Kustom Car."[14] While still working out of his shop on 7674 Compton Avenue "Barris's Custom Shop" used the phrase "Kustom Automobiles" and "Kustom Auto Painting" in their advertising. So I guess this kills Von Dutch's story. Von Dutch worked for a while as a "house striper" at Barris Kustoms. But according to Hersh Conway in the book Dean Jeffries 50 Fabulous Years in Hot Rods, Racing and Film, Von Dutch was too moody.[15] Von Dutch was very eccentric, and would get angry if you asked too many questions. If you said something he didn't like he would either paint something stupid, wipe the stripes off your car, or put oil in the paint so your pinstriping wouldn't dry.[14] So George eventually had to let him go. Until Dean Jeffries began practicing pinstriping, Von Dutch had been the only one around doing modern striping. After the word got out that Dean Jeffries, "The Kid" was a pretty good pinstriper George Barris called him and asked if he could do some striping on Johnny Zupan's 1949 Mercury. After he had pinstriped the car, George asked if Dean would work for him. Dean said that he didn't want to work for him, but that he would gladly rent some space from him. George agreed, and Dean moved in to a little spot next door to the Barris Kustoms shop in 1956. Jeffries had now become the new Barris Kustoms "house striper." After the shop fire in 1957 Dean moved into the front of the new building where he rented space alongside Roy Gilbert, the upholsterer.[5] Custom painting was a major part of Barris' operation, and junior Conway emphasized that most of the scallops, panels and similar designs on vehicles like the Ala Kart, Dream Truck, Chilli Catallo's 1932 Ford coupe and so on were laid out and sprayed by either Junior or George, before Jeffries pinstriped.[12]
The Shop Fire
Wednesday December 4th, 1957, during a windy and wet early evening storm a power line strung along the boundary at the back of the shop and sent a shower of sparks on the rear of the shop and started a smoldering fire. Dean Jeffries who worked at the shop at the time was having dinner right across the street. He was the first person to spot the fire and raise the alarm. He stormed into the shop and saved Carol Lewis' 1956 Chevrolet Bel Air that was located inside the shop at the moment. Carol Lewis was Dean Jeffries girlfriend at the time. The firefighters managed to stop the fire just short of the Ala Kart. According to the book Dean Jeffries 50 Fabulous Years in Hot Rods, Racing and Film, 14 cars were destroyed in the fire, including the Wild Kat, Jayne Mansfield's Jaguar, Archie Moore's Jaguar,[15] Bobby Yamazaki's 1954 Mercury and Ron Guidry's 1936 Ford[16] According to Jet December 19, 1957 the number was 12, and not 14. In the same story George estimated the total loss to be $250,000, with the cars valued at $ 100,000 USD.[17] After the fire the insurance company refused to pay compensation, and claimed the fire was an act of God.
Rebuilding the Shop
After the shop fire, George had Gene Simmons take over as general manager so George could concentrate on getting the business back in order. One section of the shop was not touched by the fire, so he set up the workshop there and renovated the rest of the shop. George also extended the shop out back, and added space up front for a Kustom Accessories store and a pinstriping shop that he continued to rent out to Dean Jeffries.[15] One day George called Larry Watson and asked if he could do some panel paint on the Rod & Custom Magazine's Dream Truck. George had just started painting Candies, and he would shot this Candy Lime over silver. There were a few mistakes, so he called Watson and asked if he could cover them up with scallops in Candy Burgundy over silver metallic. In 1958, not long after painting the Rod & Custom Magazine's Dream Truck George called Larry again, and asked if he could take over the paint department while he, Dean Jeffries and Bill Carr were going east on a 2 month tour with The Aztec and The kopper Kart. When George called they were building a pizza parlor in front of Larry's shop, so he said ok.[5] At the time, Junior Conway was just a prep boy, but Junior did eventually become the primary painter at Barris Kustoms, and he worked for George until 1961.[15] While George was away, Bill Hines cruised by the shop in his chopped and finned 1950 Ford named the Li'l Bat. Bill had moved from Lincoln Park to California in April of 1958. He brought the whole family in a house trailer along with the Li'l Bat. Bill met Gene Simmons, the manager. He saw Bill's custom and asked who did it? Bill told him that he had built it. This was a wednesday, and Gene, also called Gino, told Bill that he could use somebody right now. Bill told him he could start on Monday, but Gino replied "How about tomorrow?" Bill loaded his toolbox and started the next day. He can't remember what he did first, but Larry Watson said that he did all of the work on his 1958 Ford Thunderbird. When George returned from his trip, he saw Bill in the shop working on a car. He kept looking at Bill for days, without saying much. According to Bill, George was a fussy man, but the reason why he stared was that Bill was doing so good, working extremly fast, something that impressed George.[12] When Dean Jeffries returned from his trip back east, Dean and Larry were kicking ass together, knocking out three or four scallop and flame jobs a day, and pinstriping their asses off in between. After about four months Larry relocated back to his own shop in Bellflower.[5] The walls were beginning to close in on Dean Jeffries at the time, and he saw a demand for his business growing to compete with Barris instead of complementing Barris. Jeffries pulled up stakes and moved his shop to Hollywood. A move that would help start his career building cars for movies.[15] Bill Hines stayed at Barris for about 9 months, working on cars such as Dave Cunningham's 1940 Ford, Mitch Nagao's 1957 Ford Thunderbird and Shirley Barris' 1958 Ford Thunderbird. He left the day before Christmas, moving back to Detroit. He stayed in Detroit all of 1959, before he came back to Barris in October of 1960. George wouldn't pay Bill more than $100 a week, so after a couple of months, when a building came up for rent next to Eddie Martinez, Bill started doing part-time work there. One day George called Bill in the office saying "Hey Willy, I hear you got a shop" He was pretty hot-headed in those days according to Bill, and told him he couldn't make it. But Bill was there for 23 years, running his own shop named Bill Hines Kustom Auto. George had respect for Bill, they were still friends, and Bill continued doing some sub-contracting for George when the shop was busy.[12]
Show Promotions
Throughout the 1950s George worked extensively with show promoters all over the country, but especially in California. George saw the opportunity to make good money there, so with the help of his wife Shirley Barris, as his show manager, he organized several shows, including the International Motor Sports Show in Hollywood in 1959, and the first annual Bakersfield Motor & Boat Show in Bakersfield, California, in 1960. Doing the shows turned out to be very time consuming, so George went back to working with other show promoter such as Harry Costa, Blackie Gejeian, Harold Bagdasarian, and Bob Larivee.
Barris Kustom City
During the 1950s Barris Kustoms had turned out numerous TV and movie cars, and George was perfectly positioned to seek more work in that arena. The main focus of Barris Kustoms in the 1960s turned over to doing commercial work for the movie industry and the model car business. The model car business had long been one of George's great interests. He worked with AMT, which turned his long line of customs and hot rods into scale models. The Ala Kart had become the basis for one of AMT's most popular kits, and AMT Vice President George Toteff could see that his company's association with George Barris and Barris Kustoms was distinctly to its advantage. Budd Anderson from AMT and George Barris got together with Toteff and came up with a plan to create cars for AMT that would serve as prototypes for model kits. The first of these cars was the AMT Styleline Thunderbird issued in 1961. AMT created the Custom Car Caravan which toured the country showing the AMT Styline Thunderbird. The Custom Car Caravan became the seed for the Ford Custom Car Caravan. Late in 1961 George moved his business to Riverside Drive in North Hollywood. The new shop, named Barris Kustom City, was a huge facility capable of any sort of auto building and service. His association with the Ford Custom Car Caravan put enormous pressure on the shop.[12] In 1963, Junior Conway who had been George's primary painter, went on his own, and opened up Junior's House of Color in South Gate. When Junior left, George hired Kerry Camper as his new custom painter. Kerry worked for Barris Kustoms from 1963 to 1964.[18]

In the mid 1960s Barris Kustom City was busy building cars For the Ford Custom Car Caravan. One morning William Dozier, a TV producer rang George and asked how quickly he could come up with a car for the new Batman TV Series he was producing for ABC. "A couple of weeks" answered George. Working with the Ford Custom Car Caravan George had made good connections with Ford Motor Company, so three weeks later he could delivered a finished Batmobile based on the Lincoln Futura Concept Car.

After doing the Batmobile Mercury marketers had seen what George and Barris Kustom City could do, so they got in touch with George wanting him to also build them some unique cars for their own Caravan of Stars Program. David Ash, the head of Mercury Design, contracted Barris Kustom City to build two special cars: a shortened Mercury Marauder, and a full-bodied coach-built custom called the Escapade.

After the Marauder and the Escapade Barris Kustom City built the Munster Koack and the Drag-u-la for the 1966 TV season of the Munsters TV series.

Toward the end of the 1960s the customizing business changed dramatically. Detroit was building some real fun cars, and the auto accessory aftermarket was booing with wheels, body kits, decal packages, and tons of chromed and polished aluminum accessories. George could see this trend clearly, and after having created a lot of accessory items for other companies he started to manufacture items of his own. His Instant Customizing line included body kits and other conversions for Firebirds, Camaros, Cadillacs, Barracudas, and Marlins.

George Barris ran the business at 10811 Riverside Drive in North Hollywood, California until he passed away in 2015. In 2009 George told DiecastSpace that he was done with old shoeboxes and Mercuries, and that his main focus those days were in designing and kustomizing new cars such as the Toyota Prius, Chevrolet Camaro, and the Dodge Challenger.
Employees of Barris Kustoms
Bill DeCarr
Bill Hines
Bill Polk
Curly Hurlbert
Dale Bird
Dean Jeffries
Dick Dean
Dick Jackson
Dick Kraft
Dick Sellars
Earl Harman
Frank Sonzogni
Gene Simmons
Hector Ruble
Hector Savadra
Jerry Quesnel
Jesse Lopez
John Manok
Jocko Johnson
Junior Conway
Kerry Camper : 1963 - 1964
Larry Watson
Lloyd Bakan
Louie Stojanovich
Lyle Lake
Michael Gale Black
Oran Breeland
Ralph Manok
Richard "Korky" Korkes
Robert Ruble
Skip Barrett
Steve Tansy
Ted Long
Tom Chafin
Tom Daniel
Tom McMullen

Cars Restyled by Barris Kustoms
The Cal-Loui Roadster
George Barris Track Roadster
Chet Herbert's Streamliner
The Cadillac LeMans
The Ala Kart
Les Callahan's 1922 Dodge Roadster Pickup
Don and Milly Lokey's 1927 Ford Model T Roadster Pick Up - T Plus II
Joe Graffio's 1927 Ford Model T Roadster
Chuck Kirkorian's 1929 Ford Model A Roadster - The Emperor
Jack McDermott's 1929 Ford Roadster
Tom Pollard's 1929 Ford Roadster
Art and Lloyd Chrisman's 1930 Ford Model A Bonneville Coupe
Andy Kassa's 1932 Ford 3-Window Coupe
Clarence Catallo's 1932 Ford Coupe - The Silver Sapphire / The Little Deuce Coupe
George Sein's 1932 Ford 5 Window Coupe - The Flamer
Richard Strock's 1932 Ford
Gil Lippincott's 1934 Ford Tudor
Ed Pink's 1934 Ford 3-Window Coupe
Jim Griepsma's 1934 Ford 3-Window Coupe
George Barris' 1936 Ford Coupe
George Barris' 1936 Ford Convertible
Ron Guidry's 1936 Ford 5-Window Coupe
Dick Fowler's 1938 Ford Coupe
Mickey Chiachi's 1939 Ford
Sam Barris' 1939 Ford Convertible
Bill Spurgeon's 1939 Mercury Coupe
Jim Kierstead's 1939 Mercury Coupe
Bob Crespo's 1940 Ford Coupe - Les Po Po
Dave Cunningham's 1940 Ford Sedan - The Li'l Beauty
Tom Hocker's 1940 Ford
Fred Pape's 1940 LaSalle
Al Andril's 1940 Mercury Coupe
Dick Owens' 1940 Mercury Convertible
John Vara's 1941 Ford Convertible
Johnny Zaro's 1940 Mercury Coupe
Nick Matranga's 1940 Mercury
George Barris' 1941 Buick Convertible
Herb Ogden's 1941 Buick Convertible
Var Martin's 1941 Buick
Vic Grace's 1941 Buick
Dick Arkline's 1941 Chevrolet
Dick Carter's 1941 Ford
Frank Monteleon's 1941 Ford
George Janich's 1941 Ford Business Coupe
Jack Stewart's 1941 Ford
Jesse Lopez' 1941 Ford
Joe Barnett's 1941 Ford Pickup
Joe Graffio's 1941 Ford
Joe Urritta's 1941 Ford
Johnny Zaro's 1941 Ford Convertible
Bill DeCarr's 1941 Mercury
Bob Kierstead's 1941 Mercury Convertible
Bob Tormey's 1941 Mercury
Ann Reynolds' 1942 Ford
Anne De Valle's 1942 Ford Club Coupe
Jack Brumbach's 1942 Ford
Ben Mario's 1947 Buick
Don Vaughn's 1947 Buick
George Sinamark's 1947 Buick
Cliff Rockohn's 1947 Mercury Coupe
John Logg's 1947 Mercury Coupe
Earl Wilson's 1947 Studebaker-The Grecian
Tommy Thornburgh's 1947 Studebaker
Louie Stojanovich's 1947 Plymouth
The High School Confidential 1948 Chevrolets
Bob Petersen's 1948 Cisitalia 202 Coupe
Larry Robins' 1948 Mercury Coupe
Jim Skonzakes' 1949 Buick Roadmaster
Lawrence Kilty's 1949 Cadillac
Bill Taylor's 1949 Chevrolet Convertible
Bob Hirohata's 1949 Chevrolet
Carl Abajian's 1949 Chevrolet Convertible
Dan Landon's 1949 Chevrolet
Gordon Anderson's 1949 Chevrolet Fleetline
Marcia Campbell's 1949 Chevrolet Convertible
Richard Riuz' 1949 Chevrolet Convertible
Tom Carroll's 1949 Chevrolet
Barris Kustoms' 1949 Ford Woody Wagon
Buster Litton's 1949 Ford
Gene Harkins' 1949 Ford Club Coupe
Michael Violante's 1949 Ford Convertible
Bill Busch's 1949 Mercury
Jerry Quesnel's 1949 Mercury
Johnny Zupan's 1949 Mercury
Louie Bettancourt's 1949 Mercury
Sam Barris' 1949 Mercury
Robert La Briola's 1949 Oldsmobile
Helen Manning's 1950 Chevrolet Fleetline
Al Hentch's 1950 Ford Convertible
Chuck DeWitt's 1950 Ford Convertible
Curt Mendalson's 1950 Ford
Don Fiedlar's 1950 Ford Convertible
Fred Calvin's 1950 Ford
Junior Conway's 1950 Ford
Roy Hansen's 1950 Ford
Bob Muccilli's 1950 Hudson Pacemaker
Bob Lund's 1950 Mercury
Buddy Alcorn's 1950 Mercury
Dale Marshall's 1950 Mercury
Frank Sonzogni's 1950 Mercury
Jerry Reichman's 1950 Mercury 4-door
Ralph Testa's 1950 Mercury
Wally Welch's 1950 Mercury
Larry Ernst's 1951 Chevrolet - The Bel Air Royal
Pete Chiello's 1951 Ford Victoria
Bob Hirohata's 1951 Mercury
Dave Bugarin's 1951 Mercury
Fred Rowe's 1951 Mercury Convertible
Mandy Holder's 1951 Mercury
Don Hurley's 1951 Oldsmobile 88 - The Kopper Dust
Frank Airheart's 1951 Oldsmobile 98 Convertible
Lyle Lake's 1952 Buick Riviera - The Blue Danube
Dick Simoni's 1952 Chevrolet Convertible
Larry Lee's 1952 Chevrolet Bel Air
Ron Fagundes' 1952 Ford Victoria - The Ronbardue Kart
Sam Barris' 1952 Ford
Clark Gable's 1952 Jaguar XK 120
Nobby Miyakawa's 1952 Mercury Monterey
Anthony Heinsbergen's Muntz
Jack Nethercutt's 1952 Oldsmobile Holiday 98 - The Vienesse
Allen Bobys' 1953 Dodge Convertible
Albert Gogola's 1953 Ford
Chuck DeWitt's 1953 Ford Station Wagon
Dick Meyer's 1953 Ford
Harry Karl's 1953 Cadillac Le Mans Concept Car
Barry Goldwater's 1953 Jaguar XK-120
Jim Skonzakes' 1953 Lincoln Capri - The Golden Sahara
Bob Zoll's 1953 Mercury
Buck Gallegos' 1953 Mercury
Archie Moore's 1953 Nash-Healey
Bill Glazier and Bob Glazier's 1953 Oldsmobile
Ed Sloan's 1953 Plymouth
Bruce Bartlett's 1953 Studebaker Starlight Coupe
Tod Clare's 1954 Austin-Healey
Sal Mammano's 1954 Buick Roadmaster Riviera
Milton Melton's 1954 Cadillac - The Parisienne
Liberace's 1954 Cadillac
Martin Srabian and Morris Srabian's 1954 Ford Pickup - The Wild Kat
Bobby Yamazaki's 1954 Mercury
Gil Takushi's 1954 Mercury Monterey
Ronnie Dragoo's 1954 Mercury
Don Chapman's 1954 Studebaker
Merlin Windham's 1955 Buick - "Dragon Wagon"
Bill Carr's 1955 Chevrolet - The Aztec
Chuck Potter's 1955 Chevrolet
Harry Hoskin's 1955 Chevrolet
Jim Seaton's 1955 Chevrolet
John McLaughlin's 1955 Chevrolet
Sam Barris' 1955 Chevrolet
Bill Burnett's 1955 Ford Crown Victoria
Dick Day's 1955 Ford Thunderbird
George Contaoi's 1955 Ford F-100
Richard Axcell's 1955 Ford F-100
Ted Long's 1955 Ford F-100 - The Green Mist
James Dean's 1955 Porsche Spyder 550
George Barris' 1955 Chevrolet Truck - The Kopper Kart
Carol Lewis' 1956 Chevrolet Bel Air
George Barris' 1956 Lincoln Continental
Don Coulter's 1956 Oldsmobile 88
Frank Monteleone's 1956 Ford
Johnny Zupan's 1956 Ford F-100[19]
The El Capitola
George Barris' 1956 Continental Mark II
Andy Kassa's 1957 Ford Thunderbird
Barris Kustom's 1957 Ford Ranchero
Buddy Alcorn's 1957 Ford
Dick Jackson's 1957 Ford Thunderbird
Mitch Nagao's 1957 Ford Thunderbird - The Xtura
Archie Moore's Jaguar
Andy Southard's 1958 Chevrolet Impala
Joe Previte's 1958 Chevrolet Impala
Ray Strappazon's 1958 Chevrolet Impala
Larry Watson's 1958 Ford Thunderbird - Vino Pasiano / The Burgundy Bird
Shirley Barris' 1958 Ford Thunderbird
Spencer Murray's 1958 Chevrolet Pickup
Jim Seaton's 1959 Chevrolet El Camino
Joe Burgasser's 1959 Chevrolet Impala
Norman Wesp's 1959 Chevrolet Impala
Yonny Koyama's 1959 Pontiac Bonneville
Tom Von Pertz's 1960 Chevrolet Impala
Dick Axcell's 1962 Ford Thunderbird
Jeannie O'Neal's 1962 Ford Thunderbird
George Barris' 1963 Buick Riviera - The Villa Riviera
Bob Nordskog's 1963 Chevrolet Corvette - The Asteroid
Ken Cohen's 1963 Chevrolet Corvette Stingray
The Cosma Ray
The XPAK 400
The Calico Surfer
Tastee Big "T"
The Geoffreymobile

References
Barris Kustoms of the 1950s
Barris Kustoms of the 1960s
The Rodders Journal Number 39
Take a Ride on The Wild Side with George Barris!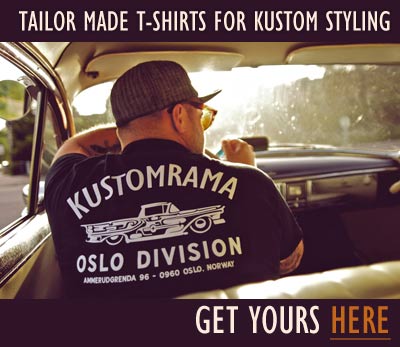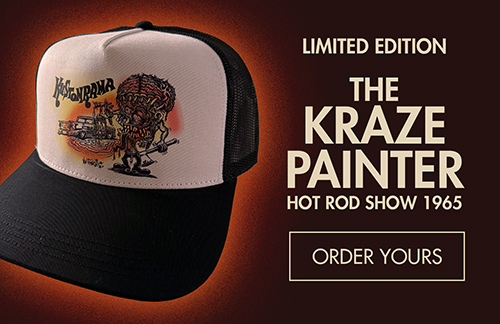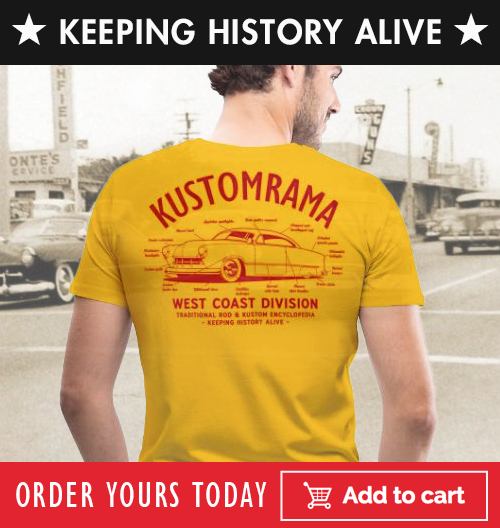 Did you enjoy this article?
Kustomrama is an encyclopedia dedicated to preserve, share and protect traditional hot rod and custom car history from all over the world.
Can you help us make this article better?
Please get in touch with us at mail@kustomrama.com if you have additional information or photos to share about Barris Kustoms.



This article was made possible by:
SunTec Auto Glass - Auto Glass Services on Vintage and Classic Cars
Finding a replacement windshield, back or side glass can be a difficult task when restoring your vintage or custom classic car. It doesn't have to be though now with auto glass specialist companies like www.suntecautoglass.com. They can source OEM or OEM-equivalent glass for older makes/models; which will ensure a proper fit every time. Check them out for more details!

Do you want to see your company here? Click here for more info about how you can advertise your business on Kustomrama.